SUBSEQUENT FINALE – An Israeli music story experienced through the eyes of a British 60s rock musician
Robb's second book in planned triology is now available in paperback and ebook formats.

Available Amazon worldwide plus other outlets for the ebook like Barnes & Noble, Apple, Kobo etc.

Available post free to any country in the world via The Book Depository

Any difficulties in buying then please contact is via our Visitors Book

 Edited from content on this site plus an appendix featuring never published before poems.

Paperback: 266 pages
Publisher: CreateSpace Independent Publishing Platform (21 Feb. 2019)
Language: English
ISBN-10: 1517301688
ISBN-13: 978-1517301682
Subsequent Finale is Robb Huxley's second book in a proposed trilogy of memoirs of the years he spent In the music business. It covers a two year period of the time that he spent working in Israel with the Israeli rock group The Churchills. The absence of elegance and sophisticated ambiance in his writing is apparent in the way he tells his story in a down to earth, easy to read, plain English fashion, with nuts and bolts accounts of day to day life in Israel, intimate stories of playing in an Israeli band, the seemingly impossible task of forging a musical revolution in Israel and details of song writing and recording sessions. All in all Huxley tells it just the way it was and how he remembers it. As an added bonus included in the book is an appendix of a collection of never before seen, illustrated writings, poems and song lyrics written by Huxley together with his songwriting partner Stan Solomon who was the lead singer and front man of The Churchills. Subsequent Finale tells a unique, out of the mainstream music story and is a must read for all Churchills fans and anyone with a curiosity regarding the era of psychedelic musical history.The Churchills were an Israeli rock band that was popular in Israel in the latter part of the 1960s and are even more so now, 50 years later. It is clear to all Israeli music lovers that during the relatively short period of time that Robb Huxley spent in Israel – 1968 to 1971 – he brought about a profound change in the sound of local pop music and laid the foundations to Israeli rock music. No other foreign musician has ever had such an impact on the music scene in Israel. The Churchills' sound reverberates in Israel to the present day. The Churchills were the most prominent, important and prolific rock band in Israel in the 1960s, one of the very few to create and record original music. Robb Huxley's introduction into the band was very important, as he was an experienced musician who had previously played with British band The Tornados and had studio experience, having worked with Joe Meek, who is recognized today as the greatest pioneer of all time in modern recording technology. Stan Solomon had spent some time working in a studio in Miami as assistant to the legendary Bob Crewe. Churchill's was the first rock album ever to be released in Israel. It was the joining of two different worlds of music, Huxley and Solomon's western sound with Mediterranean influences stemming from Gavrielov's Turkish heritage and Romano's Greek roots. The result was a revolutionary sounding blend of British style psychedelic music with a distinct Greek and Arabic flavour. The band also collaborated with the renowned classical musician Noam Sheriff on his composition "Debka", which is featured on the album. The sound of the Churchill's album still sounds remarkably fresh today, fifty years after it was recorded. It is considered one of the rarest and most valuable psychedelic era albums worldwide. Huxley spent four very productive years in Israel. The remarkable change he helped bring about to the Israeli sound may only have been fully appreciated by few at the time but on the several occasions that Huxley, who is now considered a legend in Israel, returned for reunion shows with The Churchills, he was welcomed by audiences fully aware of his great contribution to Israeli popular music.
Available at all Amazon sites in both paperback and kindle format.
Available at most e-book sites like Barnes & Noble, Apple, Kobo etc.
Best deal is available post free to anywhere in the world – from The Book Depository
——————————————————————————————————————————————–
DO YOU COME HERE OFTEN? THE MEEKSVILLE CONNECTION
by Robb Huxley   Available in e-book and paperback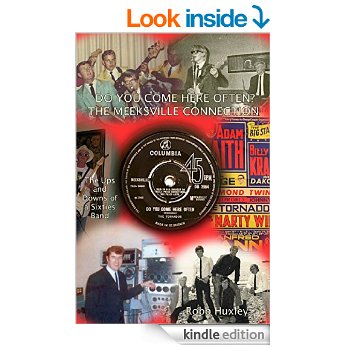 342 pages £3.99 ebook/£10.99 Paperback 320 pages
The book is edited from content on this web site.
Robb Huxley – ex Robb Gayle & The Whirlwinds, ex The Saxons, ex The Tornados has spent years writing his memoirs and now proudly announces an illustrated book which covers his life leading up to the break up of The Tornados and a new start in Israel.
Recording with Joe Meek, backing Billy Fury, encounters with The Kray Twins, summer seasons on a variety bill with Marty Wilde and Adam Faith and bleak journeys to remote venues. All the highs and lows of a recording and touring band are vividly detailed.
Robb was a member of three groups, all managed by legendary producer Joe Meek. This is a fascinating insight into the world of sixties music. Robb shares memories of Joe Meek – his recording techniques and much more. Major label recordings were issued by The Saxons and The Tornados but hidden gems lie in the legendary Meek Tea-chest Tapes.
Stories of sharing the bill with other groups and established old school variety artistes at summer season shows are numerous and insightful. Illustrated by many photos this is a roller-coaster read hurtling through the heady days of sixties groups and jam packed with reminiscences.
The title of the book is from Do You Come Here Often?" the single by The Tornados which was acclaimed to be the first openly gay pop record release by a UK major record label.
Lavishly illustrated with photos from all stages of Robb's life, set lists, newspaper clippings, old billing posters theatre progammes and label shots.
Here's a little taster from the eccentric Joe Meek's 'tap on the wall' request to a detailed recording excerpt:
+++++++
……Joe wished us all good luck as we left, asking us to try to contact him by telepathy from Scunthorpe when we arrived by tapping on the dressing room wall sometime during the evening and he would let us know if he received the vibrations in the flat. He said he would expect to hear a tapping on the wall…..
++++++++
…."Song of the Sun God" turned out to be an interesting project. It was a composition that evolved out of our association with Joe. By that I mean that Joe's influence upon us was mainly in an instrumental vein, which was probably due to his desire to create another "Telstar" and our desire to be a vocal group like the Beatles. So Pete Holder and I came up with "Sun God" which was tied in with this new Saxon image. At the session after we had played the number to Joe he got quite excited and suggested that Pete play an organ guitar that he was developing together with the Watkins electronic people. So after we had finished the basic backing track Joe brought out this weird, little guitar that looked like it could have been home made and plugged it into Pete's amp. Immediately all kinds of crackling and sizzling sounds emanated from the instrument and one could almost expect to see sparks flying and smoke pouring out. Joe did not seem to be
bothered by this at all and proceeded to fiddle about with some wires and controls on the guitar……..
The book is currently on sale at Amazon outlets worldwide as a Kindle book, you do not have to have a Kindle as you can download to read on a computer, tablet or smartphone. We are considering plans to later publish as a paperback also.
The book is edited from contents currently available on this website and has also been serialised in the Joe Meek Society's magazine Thunderbolt which is exclusive to the Society's members.
It is the first time it has been available in book form complete with illustrations.
Available on Amazon sites worldwide: UK / USA / CANADA / GERMANY / FRANCE / SPAIN/ ITALY / NETHERLANDS / SPAIN / AUSTRALIA plus Barnes & Noble sites.
The paperback version also available at above outlets plus available to order in Waterstones book stores (at a higher price)
UK ebook
http://www.amazon.co.uk/s/?field-keywords=Do+You+Come+Here+Often%3F++The+Meeksville+Connection&node=341677031
UK paperback
http://www.amazon.co.uk/Come-Here-Often-Meeksville-Connection/dp/1512369241/ref=tmm_pap_title_0?ie=UTF8&qid=1442486551&sr=1-1
and USA ebook
http://www.amazon.com/Come-Here-Often-Meeksville-Connection-ebook/dp/B00XJJTJVU/ref=sr_1_2?ie=UTF8&qid=1431612914&sr=8-2&keywords=do+you+come+here+often
and paperback
http://www.amazon.com/Come-Here-Often-Meeksville-Connection/dp/1512369241/ref=sr_1_2?ie=UTF8&qid=1442487524&sr=8-2&keywords=do+you+come+here+often