TORNADOS:  PART 1 BELOW  |   PART 2   |   PART 3   |   PART 4   |   PART 5 |   PART 6
In which the Saxons leave Gloucester to become the Tornados.
They meet up with Dave Watts and perform their first Tornados gig.
Upon their return from Scunthorpe Joe throws a temper tantrum and fires the band.
The New Tornados start to rehearse and to perform gigs.
Joe plans out the direction and future of the band.
Robb escapes another uncomfortable situation with Joe.
Joe hates the photos from the grave yard photo shoot.
The creation, recording and release of "Pop Art Goes Mozart "/ "Too much in Love to Hear".
The Tornados get into the cabaret scene with The George Cooper Organization providing the venues.
Tornados go to Spain.
Filming of the TV show, an embarrassing performance by French star Christophe, and Some questionable financial tactics by The Cooper Organization.
Fun, games and practical jokes with the Tornados.
An encounter with some ladies of the night and more fooling around on the way to the airport.
Tornados meet Marty Wilde
I am using the name NEW TORNADOS as a way to differentiate the TORNADOS group that was born out of the Saxons with the addition of Dave Watts, from any other Tornados group that was created by Joe Meek, including the original Tornados. Although Joe stated that we were to be called the New Tornados and that name was printed on a publicity photo – shown below – we were never billed as, or appeared as, the New Tornados. The two singles that were issued in 1966 were released under the name of the Tornados. Altough I refer to the group as the New Tornados, we were always billed as and were known as THE TORNADOS…………..ROBB HUXLEY.
Friday 31st December 1965 was to be the final engagement that we played as the Saxons. It was to be held at Church Stretton, a small town in Shropshire near the Welsh border. It was a very memorable occasion as we knew that at the end of the following week we would be driving up to London to embark on a career in music as the Tornados, later to be known as the New Tornados. It was a great gig. We all felt excited and confident and as the curtains opened for our set, we saw in front of us, lines of girls screaming, and pushing to get as close to the front of the stage as possible. We must have looked great dressed in our suits with our blond hair.
The following Monday morning at work I walked into my boss's office and broke the news to him that I would have to leave at the end of the week as I was turning professional. A little later that morning I was told to report to Mr. Robinson's office. He was the manager of the furniture floor. Mr. Croft, the manager of my department was also there. Mr. Robinson asked me if I could give them a little more notice as we were just going into the January sale. I told them that it was impossible and as I left the office Mr. Robinson said in a sarcastic tone "I wish I could turn professional". I felt elated as I was finally going to do what I had always dreamed of, and in a way I was getting back at them for the demotion I had received when they transferred me to the lino department. At the coffee break many of my friends gathered around me to ask me how I felt about leaving my job for a career in music and wished me all the best of luck. One friend of mine by the name of Richard Wasley reminded me of the time we had taken a trip up to London and we paid a visit to the Two I's coffee bar. This was a place where many of the British rock stars such as Cliff Richard, the Shadows, Terry Dene and many others started out. He reminded me how he had persuaded me to get up and sing with the band that was playing there. It was a great thrill for me to have sung a song there and Rich Wasley told me that he always believed that I was meant to be in show business. He actually went on to be an Actor.
That first week in January was a busy one. I purchased a big green suitcase in which to pack everything that I was going to take with me to London. My Dad gave me a spare electric razor that he hoped would come in useful for me. Joe Meek had called the Holders to tell them that we would be able to stay at a flat that he rented which was a few doors down from the studio in Holloway road. He also said that we should arrive at the studio at 10 a.m. on Saturday morning where we were to meet up with a keyboard player, rehearse with him and then drive up to Scunthorpe to play our first gig opening up for Heinz and the Wild Boys.
Friday came around and it was the usual opening day at the Bon Marche for the first day of the January sale. The warning buzzer was sounded throughout the store signifying that the doors were being opened and that the lines of women shoppers who had been waiting patiently in the cold outside were rushing into the store to the various departments to get the first chance at the great bargains that were for sale. The carpet and linoleum departments were usually high on the list and soon we were surrounded by hordes of lady shoppers screaming and shouting for the attention of the salesmen. At around three p.m. I was told to report to the personnel office as they wanted to settle up with me and pay me my wages. This being done I returned to my department and continued to work and stayed until the store closed at 7 p.m. At around 6. 30. my ex boss Tony Dyer came to wish me luck and praised me for working till the end of the day saying that most people would have left after getting paid and would not have cared to stay. All I had to do now was to get home and finish my packing and look forward to Saturday morning.
Bright and early on Saturday 8th January 1966 Mick, Roger and Pete Holder arrived at 40 Clegram Road Gloucester. Mick Holder was coming along as our road manager and driver. I gave my mum and dad a big hug and a kiss, threw my suitcase and guitar in the back of the group van along with the rest of the gear and took my seat next to Pete. So the great day had finally come and I felt a feeling of nervous excitement in my stomach as we drove over to Cheltenham to pick up our drummer John Davies. John informed us that he had made arrangements to stay with his cousin Graham who lived and worked in London and would not be staying with us at Holloway Road. On the way to London we talked about what it was going to be like to meet this keyboard player who was to be the new member of our band, or should I say Joe Meek's new creation of the Tornados.
Terry answered the door when we arrived, telling us to bring our gear up to the studio and to set up just like we would for a session. We were about half way through setting up when Joe suddenly appeared in the doorway followed by a guy with straight black hair, wearing a big furry overcoat that made him look like a grey polar bear. Joe introduced him as Dave and he would be our keyboard player. Before we had a chance to extend our hands to say hello, Dave Watts pulled out his hand from behind his back saying he was sorry he couldn't shake hands with us as he had got into a fight at a pub last night and had taken a swing at a guy and had missed and hit the wall. His right hand was covered up with a white bandage spotted with a few traces of blood. Joe took over the conversation at this point telling us to start rehearsing all the Tornados numbers that we knew and by taking some numbers from our repertoire and putting them together with some songs that Dave would do we would come up with a set list to play that night at Scunthorpe. As we finished to get set up, Dave took off his huge coat and took a seat at Joe's Lowry organ. Well he wasn't such a big guy after all in fact he was quite skinny although he was about five feet 10 inches in height. Dave immediately burst into this jazzy piece of music throwing in all kinds of jazz chords and intricate progressions saying that this was a piece by the Graham Bond Organization. He proceeded to suggest other songs by Nina Simone.Georgie Fame, Zoot Money, and Brian Auger most of which we had never heard of before, although John Davies did seem to know a lot of what Dave was talking about, and seemed eager to play that music whatever it was. But first we had to rehearse the Tornados hits. Lucky for us we had played many of their numbers in our sets when we were the Whirlwinds and the Saxons and as Dave had a pretty good knowledge of the material we soon got the numbers down with Dave chiming in from time to time criticizing our chords. " Don't put in that silly fat A man make it a Major seventh and follow it with a sixth" We could see that Dave was quite an accomplished musician and it seemed that he was already assuming a leading role in the band. Joe would stick his head around the door from time to time to check on our progress and at one point said that we should wind things down and get ready to leave for the evening's venue which was quite a distance from London. We also had to drive down to Bromley to Dave's place to pick up his Hammond organ which he assured us, in a whisper, would sound much better that that piece of shit Lowry that Joe had in the studio.
Joe wished us all good luck as we left, asking us to try to contact him by telepathy from Scunthorpe when we arrived by tapping on the dressing room wall sometime during the evening and he would let us know if he received the vibrations in the flat. He said he would expect to hear a tapping on the wall. We all bundled into the van downstairs and drove down to Dave's parent's house in Bromley. Dave had a large speaker cabinet with a 100 watt amplifier and a Hammond M 100. The speaker weighed a ton and the organ was bulky to handle and after a heavy struggling session we were mortified to find out that we couldn't fit Dave's gear into the van no matter how we tried. The back row of seats would have to be removed and we had neither the tools or time to do this. Dave said that somebody should call Joe and tell him of our dilemma and Pete Holder was elected to do this task. Joe didn't seem that worried and told us to return to the studio and pick up the Clavioline which he had there. The Clavioline was a small keyboard attachment that was played together with a piano. It was exactly the same model as my dad had and played in the pubs with. On the way back to the studio Dave complained and assured us that he would not play that little Mickey Mouse organ. He began to throw a feeling of depression over the whole scene with negative talk of how this was not going to work out. On arrival at Holloway road Mick Holder ran up the stairs with Dave and they returned with the little keyboard. We set out on our journey to play our first professional gig and I must say it felt terrible and depressing. Dave kept on about how he would not play that Clavioline and seemed to be trying to influence us not to show up for the gig. He even persuaded us to stop for a Chinese meal and after we ate he suggested that we call up the venue to tell them that we had broken down in the van and would not make it. My level of enthusiasm was at about minus 100 at this point as my first day as a professional musician was turning out to be a complete disaster. Mick Holder was delegated to make the phone call. Mick spoke to the promoter and was told we had better find a way to get there or he would sue us for every penny we had. Hearing this we all piled back into the van. The spirits must have been against us that day as if things weren't bad enough, as we were traveling through Lincolnshire we suddenly became bombarded by some very strong winds. Mick Holder could hardly keep control of the van and we almost got blown off the road. We ended up arriving late for the gig. Heinz and the Wild Boys had just finished their set. We were supposed to open for them but due to our late arrival they had to go on first. We were hoping that the Wild Boys would have an organ that we could use but they didn't and that sealed our fate. Dave refused to perform and we decided that we would just go on and do our Saxons show as the Tornados. We rushed to set up our gear and put on our Beatle suits. We still looked good and played a reasonably good set. Just over a week ago we had played the same set as the Saxons and now we were doing exactly the same thing only now we were called the Tornados. To me it seemed like a lie but the audience didn't seem to care or know the difference. We told the crowd that the organ had fallen off of the van and was broken. Throughout our set Dave Watts stood and watched from the audience. I guess he was weighing up this new set of Tornados that Joe Meek had come up with. With our first professional gig over we returned to London.
We dropped off Dave Watts and John Davies and made our way back to Holloway road and wearily climbed the stairs up to the flat at about nine in the morning, only to find out that there were not enough beds for us to sleep in so I wound up sleeping on the floor under the dining room table. As I was so tired I had no trouble falling asleep. There was absolutely nothing to eat in the flat and there was nowhere open to buy anything all we had were a couple of pints of milk that Mick got from somewhere and that was our breakfast. That Sunday afternoon Mick, Roger, Pete and I took a walk down to Charlie's restaurant which was a small establishment a couple of hundred yards down the road from the flat. It was kind of a grubby little place but the food was good and I enjoyed a beef curry which I devoured with relish as I was very hungry. There was no television in the flat so we wiled away the rest of the day and evening playing our guitars and chatting.
At around ten o'clock Monday morning a knock came at the door. It was Terry saying that Joe wanted to see us up at the studio. We all got ready and made are way up the stairs to Joe's place where Terry told us to wait in the office where we all sat down. Joe appeared and looked his usual self but there were no smiles or congenialities. He came straight to the point, asking us why we had not used the Clavioline in our act on Saturday. Seeing that Joe was very aggravated we started to explain that Dave did not want to use it and was embarrassed to play it. Joe's voice started to rise in pitch and his face began to turn red and he screamed that the Clavioline was good enough to use on Telstar which sold a million copies and it was for sure good enough for us to use. Waving his hands frantically in the air and looking like he was about to explode he screamed "You can all get out of here and fuck off back down to Gloucester". He then abruptly turned around, stormed out of the office and seeing a tray with cups and a coffee pot picked it up and hurled it against the wall smashing it to pieces. He then strode into his living room and slammed the door behind him.
The room was then filled with a deathly silence. Nobody spoke, we couldn't, and we were all in a state of utter shock. We couldn't even look at each other; we just stared at the floor in disbelief. Our professional musical career had lasted only fifty hours! Now it was all over, forcing us to have to return to Gloucester in shame, humiliated and completely broken. We had never seen this side of Joe Meek before and after the harrowing weekend that we had just experienced it can be imagined the feeling of utter despair that we all felt inside.
I guess that we should have all got up and left, but we couldn't move we just sat there for what seemed like forever in total silence; the three Holder brothers and me. Eventually Mick Holder managed to get out a few words. "Maybe I should go and have a word with him?" he asked. We all nodded in agreement. It was the only chance that we had. Mick stood up and left the room. We heard him knock gently at the door and heard Joe's voice saying "Come in". Roger, Pete and I continued to sit in complete silence and the waiting seemed endless. Somewhere in the back of my mind I felt that everything would be o k or maybe I was just hoping that it would be. Even in that utter silence no sound of conversation could be heard from the other room, so we could not ascertain what our fate might be. After some time we heard Joe's door open and Mick appeared in the room.
We all looked up waiting to hear what Mick had to say, fearing the worst but hoping for the best. Adopting a very serious tone he said, "Well, he said he's going to give us one more chance". It was as though the whole world had suddenly become a much friendlier place. A feeling of complete relief poured over us as we all melted inside. Mick continued to say that we must always follow Joe's instructions if we were to be a success, and that the only reason that we were the Tornados right now was because Joe had fired the previous band that had disobeyed him deciding to only keep Dave Watts on as organist. Joe told Mick that he liked us as we were from the same part of the country as he was and thought that we deserved an opportunity to make it in the business.
Looking back it was kind of unfair that the four of us had to bear the brunt of Joe's wrath. He may have admonished Dave at some other time and John Davies only heard about it from us and was not there to experience it first hand. However the memory of Joe's outburst always stayed with me throughout my association with him. There was always an eerie feeling whenever you were around Joe especially at the sessions. It seemed that at any minute he could suddenly burst into a fit of rage. Whenever he was joking or teasing anyone and we were all laughing everything was fine.
The following two weeks were spent rehearsing with Dave Watts. The repertoire that we played in the Saxons changed vastly partly because Dave came up with quite a few numbers that he wanted to play and sing. One of the first numbers that we learned was "Wade in the Water" by the Graham Bond Organization in which Dave really excelled. We also got off a few numbers by the Four Tops, did a version of " Somewhere Over the Rainbow" Dave did Nina Simone's "I Put a Spell on You", "Midnight Hour" and we even played an instrumental called "Rinky Dink". Although we were now the New Tornados we really felt that we wanted to be a vocal band just like all the other bands that were big at the time. Instrumental bands were becoming a thing of the past and were definitely not in. We always had to play "Telstar" as we were riding on the coat tails of the original Tornados and we dealt with their other hits by combining them all into a medley. We still had our blond hair except for Dave whose hair was dark brown. We did a few gigs here and there over those first few weeks. At some venues we were confronted by promoters and fans who claimed that we were not the real Tornados and if we were, where was Heinz and Clem Cattini?
One Sunday morning a knock came at the door, it was Terry with a message from Joe that I was to go up to the studio as Joe wanted to see me and wanted to talk to me. A sick feeling developed in my stomach as I was overcome with dread at the thought of being alone again with Joe. I turned round to Mick saying that I was not going up there. I was still hiding my shame from the first episode with Joe, and still could not bring myself to tell anyone what had happened. Roger and Mick wanted to know why I was refusing to go up to Joe and all that I could say was that I had heard stories about Joe. Roger tried to assure me that Joe was not like that and I had no choice in the matter, I had to go. Pete however remained silent as I believe that he knew what I could be in for. The next few hours were unbearable for me. It was almost like being on death row awaiting execution. Throughout my time with the band I always assumed the position of being the head cook and bottle washer, but due to my highly nervous state I made the worst meal that I had ever made and totally cremated the food much to the complaints of the guys. It was fine for them; they didn't have an appointment to see Joe. I resolved to make the best of the situation and although I was very nervous I decided that yes I would have to go. I would just keep strong thoughts in my mind of my girlfriend that I had left down in Gloucester and hope that somehow I would be able to get through the ordeal. Two o'clock came around and I got ready to report to Joe. He opened the door and smiled when I arrived and escorted me into his living quarters where we sat down on that old floppy sofa together. He had turned on the television and lowered the lights. He went on to tell me of all the great plans that he was making for the band and how he wanted to change my image by possibly using a different hair color. He also said that one of the main reasons that he had taken us on as the Whirlwinds in the beginning was because of the way that I could sing like Buddy Holly. Then we got around to the type of clothing he wanted me to wear and when he asked me to stand up so that he could check out the pants I was wearing I knew what was coming next. When he started to fumble around with the zipper I knew that this would have to be the time that I would have to be strong and not give in as I did before. "I thought that we were just meeting here to talk, Joe" I blurted out and he stood up and said "O. K", and without any further attempts to approach me showed me the door and I was out of there in a flash. The thousand ton weight that had been on me was gone and I could breathe again. The Holders wanted to know the details of the visit so I just told them about the image change that Joe wanted me to undertake I did not mention anything about the attempted advances that Joe had made. "See, we told you that there was nothing to worry about" Mick said.
After all these years, looking back it wasn't so bad. Joe had not been forceful with me and politely gave up his attempts at my request. His demeanor was soft and non aggressive. He could have tried to rape me but didn't. He was basically a soft, loving and caring person inside; the complete opposite of his other unpredictable sometimes even violent personality. That was the last time that I was ever in that kind of a situation with Joe. I have never held anything against him for what he did or tried to do. I have seen various big stars in the music business poking fun at Joe's homosexuality on various T V documentaries. His memory does not deserve that. In this modern age with its tolerance towards gays and gay issues, actions such as Joe's would go virtually unnoticed.
We had a meeting one day up at the studio with Joe where he proceeded to outline a plan to us of what his intentions were with regard to the direction of the band. "Firstly we must take some publicity photos" he said. Dave asked if we could abandon our stage suits in favor of mod gear which most bands were now wearing. Anyway we didn't look so professional anymore with the four of us wearing our Beatle suits and Dave dressed in his own different suit. Joe agreed with the idea and fronted us some money to visit Carnaby Street where we bought some brightly colored hipsters with wide belts, some floral shirts and snazzy ties. We still wore our Beatle boots though. Joe also made an appointment at the hairdressers for me and instructed them to dye my hair black. All this being done and me with my freshly dyed black hair, which Joe paid for, we were sent to a photo session with a photographer that Joe had arranged. We drove over to the Photographers studio which was also his residence which he shared with a friend. They had a big Old English Sheep dog which padded softly around the place. The whole atmosphere and feel of the place was arty and bohemian. I saw a definite similarity between our photographer and David Hemmings who played a mod photographer in the movie Blow Up which had just been released, so everything felt very hip, modern and exciting. The photo session was held at Highgate Cemetery. The reason for this was, as we had no particular ideas of a theme for the shots, the photographer suggested the cemetery as he thought it would be an interesting location and would provide some unusual shots. We all agreed thinking that Joe would probably dig it as we knew that he had spent time in graveyards with his portable recorder in the past, hoping to get some supernatural recordings. When the photographer asked the name of our band and was told that we were the New Tornados he wondered what had happened to the Old Tornados. "They are all dead" we joked. "Well here you all are," said the photographer," You are paying your final respects to your dead predecessors, the Old Tornados" We all thought that this was very appropriate and proceeded to pose around various gravesites looking very sad and forlorn. Highgate cemetery was a very creepy place to be in, and by the end of the session we thought that we had taken some excellent shots that really would enhance the image of our new band. How wrong we were.
A few days later Joe called a meeting at the studio. On the desk in the office were the contact sheets and a few samples from the shoot. Joe picked them up and tossed them carelessly back asking whose idea it was to shoot the session in the cemetery. We could see that he was displeased so we nervously replied that it had been the photographer's idea and we feared another outburst. "This is not what I wanted" he stated, "It should be nice, simple, publicity shots featuring your faces and not a bunch of people staring at a grave" He went on to say that the dead should be left in peace and not used in such a fashion and furthermore he would call the photographer to complain and would also refuse to pay for the session.
The next session was held up at our flat on Holloway road with a different photographer. We posed in front of the wall in the living room with the wallpaper as a back drop. A few days later at another meeting to review the shoot Joe was angry again. "Look at your faces" he said "You all look so miserable" and he had drawn big smiles on our faces with a pen. "This is how you have to look if you're going to make it in this business" The publicity photo sessions were abandoned for some time and no further attempts were made until we started in the Night Club business.
In reflection I feel that the photo session in the cemetery was somewhat indicative, as it was an example of the way things were changing, particularly in the direction of psychedelia where it would be the in thing to freak people out and to look weird. Obviously Joe had this clean cut, all smiling, good boy image in his head, just like Brian Epstein had with the Beatles, but somehow he failed to realize, or refused to accept the radical changes that were taking place in music and art in the mid sixties. Dave Watts introduced the word "brown" to us as a derogatory term to address anything that was not "hip" or "in"; something that you might refer to as being square. So you could be a "Brown Band", wear "Brown Clothes", play "Brown Music" or just be "BROWN". Joe's desirable image of the New Tornados made us look like a "Brown Group" and with all the bands like The Pink Floyd, and The Yardbirds beginning to get big on the scene with the "New Music", we were just in that same old rut that was fastly becoming history.
Joe said that we should go over and pay a visit to the George Cooper Organization as they were to be our booking agency. We were introduced to George Cooper. Who, from behind his desk said in a very heavy London accent "Well boys, we'll see what we can do for you, we'll get you some work and we'll see how it works out" We then got to meet George's associate Harry Dawson. Harry would be in charge of getting work for us. He hinted that there might be a chance to get us some gigs in the cabaret field and also maybe some summer season shows. George Cooper handled many artists albeit many of them were on the decline. Artists such as Marty Wilde who had some big hits in the late fifties, but this was the mid sixties bordering on the psychedelic era and artists such as Marty, Adam Faith, Cliff Richard and many others were falling under the onslaught of the changing times and the new trend in groups such as the Beatles, the Rolling Stones, the Hollies and so on. Taking all these things into consideration at least things were getting a bit more organized and the general feeling of the band was improving. We were playing enough gigs in order that we could eat and none of us had to pay rent or utility bills so we were surviving. We might not have been doing what we all wanted to artistically but at least we were in the music business which sure as hell beat working in a department store or on a farm. Mick Holder was the only exception to this as he opted to return to Newent to work on the farm, we couldn't blame him as he had gone from being the manager of the Saxons to the driver of the New Tornados and that did not look like being a very appealing future for Mick..
Joe called us up to the studio one morning to tell us that it was time for us to put out a record and that he wanted to show us how we were to go about it. He said that he wanted to do a classical piece of music for the next Tornados release, He invited us into his living quarters where we sat down on Joe's old creaky sofa which when you sat down on it your knees came up to your chin. Joe stood with his back to us and put on a disc of a movement by Mozart. As the music played Joe clicked his heels and jerked his head in time to the music. We were in a state of surprise and things really got bad when Dave, unseen by Joe, stood up just inches behind him and frantically pretended to conduct the orchestra. This forced us into a state of almost not being able to contain our laughter and at the end of the piece when Joe turned around to see our reaction nobody knew what to do with themselves. We just hoped and prayed that he would say something funny so that we could release the laughter that was bursting to escape from us, but he didn't, so we all had to straighten up quickly. Joe proceeded to say that we should get some ideas from this piece, and take the gear up to our flat and create a new instrumental based on key parts of the song. We were all concerned about what we thought that Joe wanted to achieve. We had heard this Mozart piece a few times and with only the memory of this we were supposed to come up with a piece of music. "Don't worry lads" Dave assured us "I know what Joe likes" and we went on led by Dave to create this classical sounding instrumental based on something that Joe had played us by Mozart. We created it up at our flat in Holloway Road but the session ended when the Irish family that lived upstairs knocked on the door warning us that if we didn't shut up that they would call the police. Anyway to us it sounded like Joe would be pleased with it but we were wrong again.
The following morning we all met up at the studio and got ready to record. Joe hooked everything up and said "O K play it for me" This was tough for us as we could hardly remember what we had done the day before. Anyway we got into it when about half way through the recording he turned off the machine, walked into the studio with his hand in the air, "No, no, no, that's not what I meant" he proclaimed and led us back downstairs to listen to the Mozart record again. He played us a few specific parts saying that we should incorporate them into the tune. "You play this part first and then go into this part and follow it by this part and that's it" Joe explained. With Dave's leadership we got the main parts rehearsed. He perfected the melodies and helped us work out the chords and the bass lines. At one point in the recording Dave complained that due to the bad action on the piano he was not able to play a certain part correctly and was stumbling over some of the notes. If only he could play it slower it would be easier. With Joe's expertise he slowed down the speed of the tape so that Dave could play the melody line an octave lower at a much slower speed. Pete also played a lead part but at the normal register. This was all done on the second tracking. When we heard the play back, the piano part sounded great as it had adopted a special sound .Also Pete's guitar which was recorded slowly at normal register on a tremolo affect now sounded an octave higher resembling a mandolin Joe was obviously delighted with the results together with the praising that he got from the band, mainly Dave. "If anybody asks you how you got the sound on the keyboard tell them you used a Splatter Board Joe announced with a big smile on his face. Joe also had John Davies turn his bass drum over flat on the floor so it resembled a timpani drum. He loaded it with echo and had John beat on it throughout the piece in certain passages that Joe selected. We even put in the typical last verse, Tornados style vocal backing track. In the end Joe had created the typical Tornados single with the typical "Joe Meek" sound, receiving credit as writer, Trad. Arranged Meek; which was exactly what he wanted. Using a band of musicians and using their ability to provide a way to create what he felt and heard in his mind, Joe Meek created "Pop Art Goes Mozart".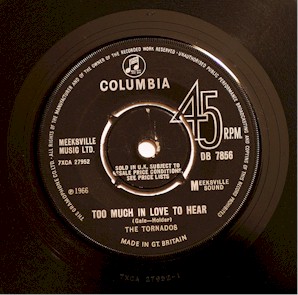 Joe asked us if we had anything for the B side. We had a song that I had started to write on my Dad's old, out of tune piano down in Gloucester and Pete holder helped me finish it off. It was called "Too Much in Love to Hear" We played it to Joe and he liked it but he said that it should be done in three four and not in four four as we were playing it. My immediate reaction was that Joe had no idea what he was talking about until Dave Watts said "Yeah man! That's it" and started to play the chords with what turned out to be a six eight feel. It seemed that like magic the song took on a completely different feel and appeal and all this had basically come from Joe. I have read over the years many articles portraying Joe as some one who could not sing in tune and was tone deaf but I do not agree entirely with that. He had a vivid imagination and heard things in his mind that he could only bring to the surface with the help of others. If any one was singing off key he would know immediately and any one who was tone deaf would never have known this. Joe could sing but he was not a very good singer as he would often waver and go off key. Nevertheless he would stop the tape at once during a take and shout out you're off key and we would start the take again. He was also very critical with regard to the attack and presentation of the vocal. He would almost always tell me to smile when I was singing and even to this day I employ that technique to my singing in certain songs.
"Too Much in Love to Hear" actually came out very well. Dave watts put a very nice jazzy almost old world feel to his piano parts, Pete Holder put in a nice typical Shadows style solo and together with jazzy style drumming and a good bass line, I put down the vocal and played rhythm guitar.
So here we have the typical Tornados instrumental written by Joe Meek coupled with a perfectly acceptable vocal "B" side," Too Much in Love to Hear" written By Pete Holder and myself; showing how the music scene had changed and was still changing. We had the famous writer of "Telstar" consumed with the hope that he might create another "Telstar" with another of the groups that he had formed to be the Tornados. On the other hand we have the virgin pure recently "Turned Pro" Saxons, together with Dave Watts, a seasoned professional musician, all with their individual desires to be part of what was "IN", while masquerading as the Tornados.
When the record was released Joe sent a letter together with a demo disc to Keith Becket at Thank Your Lucky Stars in a bid to get the Tornados on the show. He illustrated that they say that every hit song has a gimmick which was really anyone's opinion, but he said our gimmick was the special sound on the piano which was achieved by using a "Splatter Board" He went on to tell Keith that it was a chunk of gear, that was attached to the piano and that it looked like the inside of a grandfather clock that some body had trodden on! Joe also encouraged Becket to give the "B" side a listen as it was good enough to be an "A". Unfortunately Joe's efforts didn't pay off. However there was a revue made in the Melody Maker which was done by Steve Marriot of the Small Faces. Without reading the revue we knew that we would get crucified. Here is Steve Marriot of the very popular and very "IN" Mod band the Small Faces reviewing an instrumental By the Tornados, that I'm sure he looked upon as a bunch of old "Brown" guys.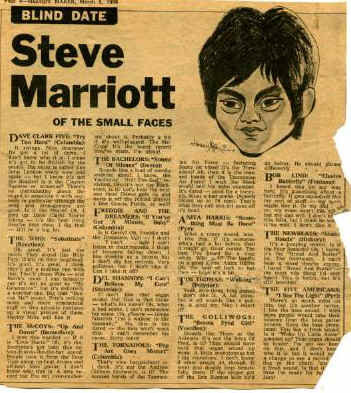 He seemed to like it in the beginning and even commented on the sound of what he thought was a harpsichord, and even said "That's nice". However after asking who the band was and being told that it was the Tornados, "It's the Massed Bands of the Tasmanian Air Force featuring Sooty on vibes" he joked and "A bad scene" and "Joe Meek should lose his echo chamber". He immediately put the 45 rpm disc on to the 78 rpm setting increasing the tempo to almost double the speed, saying that this was "Pop Art Goes off its Head", Steve Marriot gave us a royal thrashing, which we were expecting any way, but I believe that had he been played the "B" side "Too Much in Love to Hear" and not told who the band was till the record had finished, we may have avoided our thrashing. This was all part of the on going changes in the musical scene at that time.
Today, critics not influenced and unaware of those changes in musical history hold "Pop Art Goes Mozart" in high acclaim. It really was very good, even for that time. Joe's inventiveness with the play on words with the title, together with the conception of the music was great. Using his ability to cope with the problem when the poor action on the piano affected Dave's ability to perfect a passage, Joe was able to slow down the recording and by doing so provided this special sound that was created by the non existent "Splatter Board" The only problem was that this music did not fit in with the current musical trends of that time. "Too Much in Love to Hear " is rarely mentioned or talked about, although I did record it again later in Tel-Aviv with an Israeli band called the Churchills. It reached number one on the Israeli charts in 1968.
One Saturday afternoon we made an appearance at the Marquee club in London. It was just an appearance and we didn't get to play. Other bands would get to perform there but we just got our record played in the break and were paraded around on the small stage. It was more like a fashion show. The New Tornados all dressed up in their new mod gear. I for one was not happy with this and I felt rather embarrassed. How much nicer it would have been to be playing and performing some great vocal number instead. We went on to another non playing appearance afterward where we judged a beauty contest at a Fete in Lodden which was a small community just outside London.. I gave a small speech saying how happy we were to be there and we basically stood around signing autographs. We were to continue to appear and perform for charity throughout our career as the Tornados. Joe was a believer in doing this. Later he wrote us in a letter that we should always be good and kind, as goodness and kindness was always repaid by goodness and kindness.
We all met in the studio one afternoon and Joe announced that we were going into the cabaret business. He said that he wanted us to come up with an act that featured Tornados hits, night club music and comedy. Within a week he said that we should work on this act and then perform it for him at the studio. We immediately started on this project, drawing from our experience when playing in the Saxons. We used to play "Call up the Groups" by the Barron Knights and at one time we had even made up Birth of the Saxons which was a parody on certain hit songs of the time directed at ourselves. We were basically poking fun at ourselves. We decided to do a similar thing with new songs and artists. We had The Spencer Davis group promoting the laxative Exlax with the hit song "Keep on Runnin'", Sandie Shaw singing about the brand new "Bra" she bought today. We even had the Walker Brothers singing "Washing up is so very hard to do, so make it easy on yourself, there's some Squeezy on the shelf. Marianne Faithful was singing "Yesterday". "Why he went all the way I don't know he wouldn't say I did something wrong now I'm in the family way". Within a week we came up with a set of music which we believed that, maybe Joe would like. This time we were surprised to find out that we were right.
We all met up at the studio to run through our new cabaret act for Joe to listen to. Dave sat at the Lowry organ, Roger, Pete and me stood in front of our amps each with a microphone that Joe had set up for us and John was over in the corner at his drum set peering out from behind the screens. We began to perform but Joe stopped the set and put his head around the door and said "What about the comedy?" At that point we started the comedy routine and played it through. At the end of the routine Joe virtually burst into the room with the biggest smile on his face, actually laughing out loud and clapping his hands with utter joy. We all breathed a sigh of relief. Any time that Joe burst into a room you never knew if he was going berserk and would scream and shout at you or what! We knew that we had pleased Joe and could all relax. We all felt good knowing that Joe felt good. Joe then proceeded to run downstairs to call up Harry Dawson at the George Cooper Organization to arrange for Harry to come over and see our cabaret act.
On the day of the audition Harry Dawson came over and sat in front of us up in the studio smoking his pipe and watched our complete cabaret act. At the completion Harry smiled at us saying "Very nice, boys" and went to talk with Joe in the control room. They appeared shortly with smiles on there faces and after Harry Dawson left Joe congratulated us telling us that Harry was very pleased with the set and that he would start to book us on the night club and working men's club circuit up in the north of England. These venues usually ran for a week at a time.
The first of these dates that we did was at the working men's club in Greasbrough. We were to be the supporting act for singer Kathy Kirby. In the mid sixties Kathy Kirby was recognized as the top British female singer. She bore a striking resemblance to Marilyn Monroe and was also famous for her glossy lips and her blond hair. She had a big hit in the mid sixties with the Doris Day song, "Secret Love" and enjoyed much success on British television. She was known as the "British Songstress". In 1965 she had a hit in the States with a song called "The Way of Love" which received little attention in the U.K. Unfortunately she was to become another casualty of the onslaught of the Mersey Beat and the changing musical scene which we in the Tornados were desperately trying to fight against and hopefully to overcome by trying to persuade Joe to let us become a vocal group. This was to be a very new and exciting experience for us as we had always played dance halls and were now playing to sit down audiences.
As the Whirlwinds and Saxons our venues had been confined mainly to the south of England in and around Gloucestershire, but now as a professional band our travels took us further a field. Pete, John and I would usually travel to the gigs in the van with the gear and Roger and Dave would travel by car. We had not seen much of the north of England before and on our way up to Greasbrough which is situated near Rotherham in Yorkshire we noticed that the further that we traveled north the appearance of the towns and cities began to change. Everything began to look more industrialized and the buildings began to get blacker and blacker just as though they had been covered with a layer of soot. This basically gave me a kind of depressed feeling as I stared out of the van windows. This was a big difference from the green grassy hills dotted with quaint little villages with their little black and white cottages and village halls that we had been used to in the south. Another important thing we realized as we spent more time up north is that the further you travel north the stronger the beer gets.
When we arrived at the working men's club in Greasbrough, which in Old Saxon language means Grass or Grassy brook we found a hive of activity outside the entrance. As we approached the old guy that was on the gate directing the traffic asked "Are you artists, luv?" We were amazed by this as we had never been called "love" by a man before and found it quite amusing but soon got used to it in this new "Foreign Land" that we were exploring. The club had a large seating capacity inside but I remember the stage as being a bit on the small side. We set up our gear and made sure that everything was in good working order and went on to find a place to stay. We found rooms at some old Gothic looking hotel on the main street and were given some very good Northern hospitality such as tea and sandwiches by the proprietor and his wife. As it was a Sunday we did our show in the late afternoon. The place was hopping when we arrived and was full to capacity and the pints of Newcastle Brown were being downed with great fervor. We got dressed up in our new mod gear and took the stage to perform our first cabaret show. We ran through the Tornados hits and played "Pop Art Goes Mozart" together with our comedy routine and a few vocal numbers. In the middle of one of the vocals, some guy jumped up on the stage and grabbed my mike shouting "Stop, stop". Thinking that there was some kind of emergency we immediately ended the number while the guy shouted into the microphone "Hot pies are now being served!" He then calmly handed the mike back to me saying "Thanks luv". We all stood staring at each other with complete disbelief not quite knowing what to do. We had never been interrupted in the middle of a set before and we all found it embarrassing. Dave just counted the number in and we played it again wondering when the next interruption might come. Well we got to finish the set and we got a good reception from the audience. We got requests for an encore but not having anymore material that was suitable for cabaret we just played "Telstar" again. We stayed around to watch Kathy Kirby's performance and she went over very well. The audience loved her and she received great applause when she performed her string of hits.
The week went on without a hitch. We were now starting to get used to this new musical scene that we were getting into. John, Dave and I had discovered Newcastle Brown Ale, which the locals called "A trip into outer space". We found their description of this beer to be quite true, and most nights we wound up banging on the big old door of the hotel at 3 o'clock in the morning, laughing and falling all over the place with some groupies that we hoped to smuggle into the hotel. The hotel owner got tired of this after a couple of times and ended up giving us a key to let ourselves in.
The cabaret work came in fast and furious. The George Cooper Organization had us working very steady. We would do a week of cabaret followed by a few weeks of "One Nighters" and then back to a week of cabaret again. The money was not that good but at least we were being seen around the country. We discovered that it would be more appropriate to wear stage suits for the Club and Cabaret circuit and to leave our "Mod Gear" for the "One Nighters" So the Tornados still had two personalities. We were the "Joe Meek created" instrumental group striving to break out and become a hit vocal group and a polished professional Night Club Act. In the clubs we performed with a smooth professionalism and at the dance halls we put on our Mod Gear and turned up the volume. We had a Club set and a Dance Hall set. Harry Dawson suggested that we should get stage suits and we paid another visit to Dougie Millings and got fitted for dark blue mohair suits which I believe that Joe paid for. We also attempted another photo session. This one was a success, as far as Joe was concerned. As the bulk of our work was to be Cabaret it was decided that we should wear our suits and look real sharp. So we ended up with the typical glossy black and white shots with every body smiling and looking like such a nice bunch of blokes. This was perfect for the Night Club scene but definitely the wrong image for a band that was hoping to become a hit group and be a part of this new changing world of music. Anyway Joe finally got exactly what he wanted and was happy.
We found out from Joe that Harry Dawson had landed us a T V show in Barcelona Spain. We would fly over there for about three or four days and be part of a show featuring various artists. Harry said that the money was good and that it would be like a holiday for us. We would be booked into a first class hotel and have a few days to enjoy ourselves. We were obviously thrilled and after having to get John Davies an emergency passport we flew out to Barcelona. Harry Dawson said he would fly out there too and meet us there.
Well Harry was right about the hotel, it was a real nice place, much, much nicer than the seedy bed and breakfast places we stayed at when we worked the working men's clubs. We spent the first afternoon and evening checking out the area around the hotel and having a few drinks. John and I were really happy when we realized that drinks seemed to be much cheaper in Spain. The next day Harry Dawson showed up at the hotel along with his wife and two kids. Harry took us over to the T V studios where we were shown the set and we checked out the equipment. Dave was not too happy with the "Mickey Mouse" organ but what choice did we really have? One by one the other artists arrived. They had a full orchestra of musicians for the singers. There was a black girl singer from England and also a singer from France called Christophe. They had each act run through their set. We were first and we had no problem with anything. It was easy for us, we didn't need any orchestra, we just played "Pop Art goes Mozart" "Telstar" and probably we did a vocal. Then the black girl did her set and in the last number she ripped off her skirt which took the orchestra and especially the conductor completely by surprise. They were all centering their attention on her and not on their music and with the conductor bending his head around as far as he could to get a good look at her, the orchestra practically fell into disarray. We were amused by this scenario as we were not shocked by her skirt coming off at all we just presumed that maybe this performance was unusual or maybe even not allowed on Spanish T V. Sure enough we were right, and much to the disappointment of the orchestra she was asked not to remove her skirt during the final take. Christophe, who we presumed would probably be the star of the show performed last. It seemed to us that there looked like there were problems from the start. We couldn't understand what every one was saying but when we kept seeing them go over and over the same song with the orchestra getting more and more annoyed, we figured out that Christophe was probably screwing up. He looked like he could have been stoned but who knows? In the end they looked like they all probably gave up with the rehearsal and we proceeded to do the actual show. There was no audience so I guess they added in the crowd sounds later. Every thing went fine. We did our set, the black girl did her set and kept her skirt on and Christophe was still trying to get his stuff down when we decided to leave. We couldn't stand the embarrassment any more.
Just before we left we were told that we could get paid so Dave and Pete went to pick up the cash which was in Spanish currency. Back at the hotel we met in Pete's room where we proceeded to split up the money. It did seem to be much more that we were used to getting paid and after taking out Harry's commission we divided up the balance of the cash between ourselves. We had no sooner done this when a knock came at the door. It was Harry Dawson coming to pick up his commission. We gladly handed it to him but were informed that Harry had to collect the taxes from us that were to be paid to the Spanish government. We doubted that very much but we ended up by handing over more of our money to him. It probably went into the pockets of the George Cooper Organization. We were green in the business and let them get away with it. Anyway our work was over and we still had a couple of days left to enjoy ourselves.
The following morning we hired a couple of cabs and along with Harry Dawson and his family we took a ride to the beach to spend the day there. We laid out in the sun which was a great luxury for us and from time to time John and I paid visits to a little kiosk on the beach which amongst other various sundries they sold wine on draught. It was hot so we downed the wine in large quantities much to the concern of the kiosk guy who continually laughed and pointed to his head signifying that we would get smashed on that stuff. Well we did, and when it was time for us to leave John and I were falling all over the place and with extreme difficulty we managed to pull our clothes on and stumble over to where the cabs were waiting. The drive back to the hotel was a complete blur for me and the next thing I remembered was that I was lying in a hot bath in the hotel room with John Davies. We were both laughing and completely out of our minds and at one point John got out of the bath and left to wander the corridors of the hotel, much to the disgust of some of the American guests there. When he returned John pulled me up out of the bath as I was sinking under the water. The bath actually straightened us up and after a meal at the hotel we decided to go out on the town again.
After a few drinks we wandered around and came across this amusement arcade which had what you might call a "Ghost Train" ride. As we were all in a jovial mood we decided to take a ride. Two people could fit in each car so Pete and Dave sat in the first car, followed by John and I in the second. Roger said he would not ride and waited for us at the exit. The ride started and Pete and Dave disappeared into the darkness, John and I followed shortly. It was a typical kind of Ghost Train you traveled in complete darkness and here and there you were subjected to various scary situations. Suddenly as John and I rounded a bend we saw a light up ahead which turned out to be a cluster of mannequins depicting some macabre scene. All at once somebody jumped out at us from behind the display making these ghostly sounds. It was Dave. He had jumped out of his car that he had shared with Pete and was now jumping into our car that had hardly room for two. Of course we were all hysterical until close to the end of the ride we were suddenly faced with a huge decline in the track which was followed by a very sharp turn. We all screamed as we hurtled down the track and when the car reached the turn it flew off the rails, there was a loud explosion and a huge electric flash and the three of us were thrown into complete darkness. This occurrence gave us a more serious outlook and we stopped laughing and started to be a little concerned about our safety. There we were in complete darkness not able to see how to get out or where we were. Somewhere in the darkness we saw a flash light and two of the proprietors of the ride approached us. We couldn't understand what they were saying but we could tell that they were really annoyed. All they could say was "Two no three, two no three". They led us out of the darkness and when we appeared from a hidden door somewhere, Roger and Pete were in fits of laughter. Roger could not understand what had happened to Dave as he saw only Pete emerge from the ride, and when the big power failure happened he expected that something weird had occurred. We tried to buy tickets to go on the ride again but for some reason they would not sell us and were quite happy to see us all leaving, stumbling and laughing down the street.
When we were doing the T V show we met an English guy there who had been living in Barcelona for some time and he advised us that we should pay a visit to the Red Light district before we returned to England. He assured us that all the girls were clean and anyway the oldest profession was legal there and he provided us with details of how much to pay & etc. He told us that they all hung out in the bars. When I asked him how you knew who the whores were he told me that if they are in the bar they are in the business. So after our joy ride on the Ghost Train we all headed down to the Red Light District where we proceeded to check out the bars. We looked different to everybody else as we were wearing our new mod gear, clothing that was different to what guys were wearing in Spain and as we spoke no Spanish I guess that we were looked upon as some kind of tourist novelties. For us, the guys fresh up from the country, it was unreal. You walked into a bar and standing against the wall was a line of women. At one end of the line stood young chicks and as the line grew in length, you ended up with the big tough, heavy mommas. The young chicks were kind of nice to us, but the mature women teased us and called us babies. After a few bars and a few drinks, Pete and I got separated from the other three guys and ended up in a bar together and we thought "What the hell, let's do it" and after plucking up enough courage we took a girl each, and they were pretty nice looking girls and they led us upstairs over the bar to the rooms there. My heart was pounding as the girls took us by the hand and led us up to the top of the stairs where there was a small kiosk with a guy who took the money for the room. Before we could pay he demanded our passports, which unfortunately Pete and I were not carrying. And in broken English we were told" No passport, no fuckee, fuckee" Anyone could imagine how we felt. After we went through the whole thing we got refused at the end. Not to be outdone, Pete and I grabbed a cab and raced back to the hotel and with passports in hand made our way back to the same bar, where we fulfilled our desires, but not with the same girls.
All good things come to an end and it was time to return to England. We were picked up from the hotel by taxi. On the way to the airport Dave announced that he had to take a piss real bad and as the driver spoke no English we could not communicate with him Dave decided to piss in an empty bottle of Johnny Walker whiskey that John Davies and I had just finished. When we arrived at the airport we had no idea what to do with the bottle of pee. We were immediately surrounded by a bunch of burly porters all ready to carry our suitcases and guitars into the terminal, which they did and after putting the baggage down for us on the conveyers they stood around as if expecting a tip. Dave, in one of his most memorable actions pointed to the bottle in his hand gesturing that he was giving them this bottle of whiskey as a tip. We all picked up speed to get out of there as the biggest guy of all bent down to pick up the bottle that Dave had put down on the ground for them. We saw them walking away with big smiles on their faces together with a lot of very excited conversation of their anticipated drinking party that they would be having. We were so glad to reach the safety of the plane as those guys could have killed us.
The next few months were filled with the usual gigs either doing one night stands or weeks of cabaret up north. We were getting more and more used to the life as professional musicians, getting used to staying in all kinds of places, most of them pretty bad, as that was all we could afford, and working and living together. We would still occasionally get people who questioned our authenticity as the Tornados and we were relieved when Joe announced one day that we were now the New Tornados, if anybody asked. Our publicity photos depicted us as the New Tornados but the two 45's that we had issued with Joe, "Is that a Ship I Hear?" and "Pop Art Goes Mozart" were as the Tornados.
We began to discuss various ideas with Joe at our recording sessions. Joe was getting very hot on the idea of us becoming a comedy act. We toyed with the thoughts of making an LP all based on comical songs, and which Joe decided would be called "They're not just Pretty Faces". There would be spoken parts as well as music on the record. The closest that we ever got to that was on "Do You Come Here Often?" B side of "Is that a Ship I here?". At one point in the instrumental Dave Watts and I held a conversation just like we were at a club somewhere. We also put down a track which was based on the old country folk song "A North Country Maid" but in our version she was Sandra the Stripper who had strayed down to London and eventually died from pneumonia from standing around in the nude. That track (backing only) must still exist somewhere in those tea chests. We also thought of writing a song about flat hunting, as Joe just a few weeks before had told Roger, Pete and Me that we would have to move out of the flat on Holloway Road as he thought that he had carried us this far and now we should take care of ourselves. He actually gave the flat to Richie Blackmore and his wife as Joe said that they needed it more than we did. We had no problem with that and found a decent place at 75 Portland Road in Bayswater. We had told Joe the funny stories of our efforts in trying to find a suitable flat. We got several addresses and checked them out. Joe laughed when we told him of how we entered a street and how everything looked great but the further we drove down the street the worse the houses got and when we finally reached the building where the flat was located we found holes in the roof and rotting floor boards and God knows what else. Joe thought that we could get some kind of comical song and situation out of this. Looking back I think that it could have been a good idea and would have certainly been fun. I believe that Joe would have enjoyed it too as when he was a youngster he liked to dress up and perform in theatrics. Had he lived maybe we would have created an LP based on comedy or at least it could have been a concept album.
Sometimes at the sessions Joe would take a break and go down stairs for a while. He would leave us up in the studio and would be secretly recording our conversations. We would be there just sitting around talking about things. We were oblivious to this except for Dave who somehow knew what Joe was up to and by sign language and whispering we got the message. Dave took over the conversation and we all went along with it. Dave said that what Joe says is right and we all agreed just saying the right things to make Joe happy. When he returned he played the tape back to us and really got a big kick out of thinking that he had tricked us. He was giggling and totally enjoyed the prank. After he heard what Dave had said Joe proclaimed in a very happy voice of authority "Of course I'm fucking right" and followed it with a big smile.
Joe was very happy to tell us that he had heard from Harry Dawson, and that Harry was interested in booking the group to appear on the Big Star Show of 1966, which was a summer season show held at the South Pier at Blackpool. We would also have to back the whole show. The three main stars were to be Marty Wilde, Billy J Kramer and the Dakotas and Adam Faith. Adam was to be the star of the show followed by Billy J Kramer and then Marty Wilde Joe asked us if we thought we could do it and we said that we could so he arranged a rehearsal with Marty Wilde as a trial run to see how things worked out. Marty said that he would show us the songs. We met him one afternoon at a theater to run through his set. It was a great thrill for me and probably the Holder brothers too as we remembered him from the first rock shows like "Drumbeat" and "Oh Boy" and he had some big hits such as "Donna", "Sea of Love", "Endless Sleep" and "Teenager in Love". He was big and tall and wore these thick dark glasses and sported a fine toupee.
Marty was friendly and very comical. He used a Gibson acoustic/ electric the same as John Lennon had used and he proceeded to show us the chords to the songs. It was quite easy for us as we had grown up listening to that music and had also played some of the songs before. So we had no trouble in learning his repertoire so our first rehearsal with him turned out fine.
At the rehearsal he was accompanied by his wife, Joyce, formerly Joyce Baker of the Vernons Girls. Marty and Joyce met on one of the shows promoted by Jack Goode in the late fifties and early sixties. The Vernons Girls were a collection of girls employed by Vernons football pools in Liverpool who were recruited into being a choir that performed on a charitable basis at old people's homes. Jack Goode gave them their break when he invited them to appear on his TV show OH BOY. They put out a number of singles in the late fifties early sixties. It was ironic that once Marty got married, and it was very well covered in the press with a picture of Marty and Joyce frolicking in a swimming pool on their honeymoon in some far off exotic island, that his career really seemed to taper off. But we cannot blame Joyce for this entirely. Although when a big singer got married it was usual that he might lose many female fans, Marty was also battling against the up and coming younger entertainers such as the Beatles and the Rolling Stones who were appealing to the younger generation. It is notable how when John Lennon got married to Cynthia, Brian Epstein insisted that the marriage be kept a secret as he thought that it would be bad for the group's image. Maybe Brian Epstein had learned from what he had seen happen to other singers and anyway he was very friendly with Larry Parnes. Marty liked the Beatles and at that time included their song called Every Little Thing in his act. Marty was also a very accomplished songwriter himself. Irregardless of whether Marty had got married or not his bright star would ultimately have dimmed considerably just like other singers such as Adam Faith. In fact the show that we were going to back as the New Tornados on the South Pier, Blackpool in 1966, starring Adam Faith and Marty Wilde was a fine example of a show featuring artists that were on the decline. As the Tornados we were also a part of this waning group of entertainers who were making their way down the stairs of success. As we had been recruited by Joe Meek to become the Tornados we were on the way down and we had not even been to the top. Even so I would not have missed this opportunity for anything as I will always remember the thrill of standing onstage beside these entertainers who had been to the top and had been performing on TV before my young eyes in days when I had not even touched a guitar.
I guess that Marty was satisfied with our first rehearsal and so a second one was arranged at the same location. This time we had arrived early and having set up our gear we decided to sit in the auditorium and wait for Marty to arrive. Soon he arrived and was accompanied by two very attractive girl singers. They were tall and wore mini skirts and high heels. Our attention was immediately captivated and we all got up and approached the stage led by Roger and Dave. Marty introduced them as the Diamond Twins. Their names were Sonia and Sandra. They were two very pretty girls who were medically identical but their looks were different. Sonia had brown eyes and dark hair while Sandra was a blond with blue eyes. They were born an hour apart and were the only birth of their kind that doctors knew of at that time. Not only did they have great musical talent in their piano playing and singing abilities they were also gifted with Perfect Pitch, which means that they could pitch any note that they wanted and it would always be perfectly in tune. In fact many times when we wanted to tune up our guitars we would say "Hey Son, give us an E", and sure enough it would be right on key. The Diamond Twins would be appearing with us on the Blackpool show and had agreed to also appear as Marty's vocal backing group along with Marty's wife Joyce. They also brought their musical sheets which they gave to Dave. These were the numbers that they would be featuring in their act and had been written out by their pianist for us. We concentrated on Marty's stuff that day and together with the three piece vocal backing by the girls, with occasional help from Pete and me things began to start to sound pretty good. A few years later Roger Holder married Sandra and Dave Watts married Sonia. They are still married. What a musical combination. We have Dave, an excellent piano and organ player who could also sing and entertain, with Sonia, a great singer and accomplished pianist and Roger, bass player and vocalist with Sandra, a great singer and pianist. That's a whole lot of music right there.