THE CHURCHILLS:  Part 1  |    Part 2   |  Part 3 In Denmark 
On the cruise back to Israel the ship docked at a small primitive harbor in Turkey. It was a dusty, decrepit little place which consisted of an unpaved road which led up to tumbledown shack which served as a gift shop for tourists. It was run by a group of seedy looking men dressed in shabby Arabic style clothing and I noted that their dusty old shoes which had probably never seen a shoe brush or polish were trodden down at the heel so as to enable the wearer to slide his foot into the shoe without having to untie the laces. This footwear reminded me of the clog style shoes that we had seen people wearing in Denmark When we entered the tourist shop we immediately attracted the attention of the men in the store who as it seemed could not take their eyes off us. There they were in their dusty old attire and we in our bright almost psychedelic clothes together with our long hair. In all likelihood they had probably never seen anything like it before. To our amazement they started to whistle at us and blow kisses at us. Either they were all gay or they were poking fun at us; probably a bit of both. It reminded us that we were no longer in Denmark where nobody seemed to care how anybody looked or dressed and that the further east we traveled the more looks, stares and comments we received. On our way out of the store I was approached by a shifty looking old Turk who rather reminded me of Fagin from Oliver Twist. Not wishing to be bothered by him I turned away but he tapped me on the arm and uttered "Energy, energy" and opened his hand displaying a piece of what looked like green Moroccan hashish or "Keef". I was a bit wary of this solicitation and turned to an Israeli crew member nearby who we had become friendly with for advice. He assured me that it was safe to make the purchase as he knew the old guy and had made similar purchases from him before. I was told to pay $10.00. I made a quick whip round with the guys in the band and we scraped up enough cash to make the purchase.
Back on board ship along with an American chick that Stan had become friendly with the Churchills sat on the floor of their cabin and partook of the "Keef" in Stan's silver hash pipe. Before long we were disturbed by a loud rapping on the door followed by a female voice ordering us to open the door. It was one of the ship's attendants who proceeded to berate us for our irresponsible actions stating that is was bad enough that we were using that garbage and even worse that we had to bring it on board and smoke it in our cabin. "We can smell it all over the ship' she yelled. We of course lied blatantly insisting that we had no idea what she was talking about and decided that it would be best for us to leave the cabin and take a walk up on deck where we could enjoy the affects of our Moroccan substance.As we sailed into Haifa harbor on February 18th 1969 I stared out of the lounge window at the coastline of Israel and had a strange feeling that I was coming home. I had lived and worked there from December of 1967 till October 1968 and had experienced the Israeli way of life and in many ways had become adjusted to it. I was in a relationship with an Israeli girl and England was somewhere far away both in distance and my mind. Yes I was coming home, but Israel was not my home. It was the same routine that we had experienced while entering and leaving the countries we had passed through over the last three months. Although Stan and I could not understand the language it was clear to see that there were issues with the equipment. When Yehuda Talit showed up it looked like things were going to get sorted out but he and the customs officers continued to wave their hands about with Yehuda pacing up and down protesting loudly to the officers' demands. Apparently the officers were demanding that the band pay taxes on the gear and were asking for a large amount of money. We of course could not leave the customs area until this was all sorted out so we sat around on the amplifier cabinets. Stan looked at me and said "Hey Robbie, we're back in Israel man!" Well it didn't get sorted out and we were forced to leave all of the new Marshall gear right there as the customs people had decided to impound it until the taxes were paid. As I mentioned earlier when we left Israel for Denmark Miki and Haim had taken some old useless amps and cabinets out with them and we had dumped them off the ship. As we would be bringing in the new Marshalls this was a way to avoid them having to pay the import taxes when we returned. As I was not a citizen of Israel I was not required to pay those taxes. Haim and Miki thought that the customs officers would not scrutinize the gear when they would return and they would be able to slip them in but they were wrong. . The serial numbers had been recorded in their passports. Haim Romano remembers that it was the same customs officer that had recorded the serial numbers upon their departure and it was he again who had re-inspected their gear and passports upon their return. A day or so later it was decided to put the matter in the hands of Haim's uncle, Pepo Romano. Pepo was a high ranking employee of a prominent Israel bank and according to Haim he was also a bit of a Mafioso. Pepo suggested that he would bribe the customs agent and work out a way to get the Marshalls in tax free. Yehuda came up with the bribe money. Yehuda told Stan and I that we would have to accompany him to Haifa. A local roadie drove us up in the group van. When we arrived we made our way to the customs and met up with the agent. Pepo Romano arrived and shared a few words with Yehuda and the agent and then Stan and I were called over and were asked to produce our passports. The agent proceeded to record the details of the gear in our passports. Haim's Marshall stack along with my stack was put on my passport and Miki's bass stack and the sound system were put on Stan's. Stan being a Canadian and me a citizen of the United Kingdom we could bring in the gear without import duties. It was a good plan but it would not have been possible without the bribe. As Haim Romano, although unwittingly had been instrumental in helping us get the gear out of Italy, his uncle Pepo Romano had been the one who pulled off the scheme to get the gear into Israel. Yehuda had secured a flat for us, once again on Sokolov Street. It was getting dark as we climbed the stairs up to the second floor of the building. We dragged our suitcases in through the front door to see a very decently furnished one bedroom flat. There was one full sized bed in the bedroom and the living room held a second bed in the form of a sleep sofa. We agreed that Stan would take the bedroom and I the living room. As we were tired out from the traveling and it was getting late we decided to turn in. As I rummaged through my suitcase and finally found my toothbrush I scrutinized the items that I had bought for Efrat; the black leather boots the dresses, pants and various other articles of attire I stopped and wondered if all these things would fit her, if she would like them and even if our relationship was still in good order. I had written to her that I was coming back some time in February but had not received a reply before we left Copenhagen. As the new flat was no more than a stone's throw from where Efrat lived I decided that the following afternoon I would walk over and call for her.I stood in front of the apartment building on Nordau Street where Efrat lived and looked up to the fourth floor I called out "Efrat" and a few seconds elapsed before somebody came and looked over the railing of the balcony. "She isn't here, wait I'm coming down" I soon found out that the voice belonged to Zmirra and she was Eftrat's older sister. She told me that Efrat was going to be at Ora's flat close by and she would walk with me over there. When we arrived I found that Ora was the oldest sister and she reminded me of Efrat. "Thank God you're back" she said, "My sister has been talking about you non stop". Efrat was not there, and I felt a feeling of sadness inside; but before very long she showed up. She just kind of appeared in the doorway like out of nowhere. She still looked as beautiful as I had remembered and she swept her long, shiny black hair over her shoulder, smiled and said, "Oh, hello Robb". It was rather uncomfortable for Efrat and I as we had not seen each other for three months. There was an awkward silence which was finally broken by Ora saying "Go on Efrat, you can give him a kiss". We shared a fleeting peck on the cheek and sat down and chatted while Zmirra made some coffee. Later that evening I took Efrat over to my new flat on Sokolov. Stan was out when we arrived so I pulled out my old green suitcase from under the bed and showed Efrat the clothing gifts that I had brought for her. She held them up and checked them out and with a happy smile thanked me with a kiss which was not a fleeting peck this time. I suggested that she try them on but she politely declined, saying that she would try them at home. The next day when we met again she was decked out in her new attire and was all smiles. By a stroke of luck everything fit her perfectly. I later found out that she had very little of her own clothing and had previously had to rely on what she could borrow from her sisters.
Just before we left Copenhagen Yehuda Talit had called and asked us to learn some songs that the audiences in Israel would be familiar with. We had been used to playing whatever we wanted to in Denmark, and although there was a big appreciation for pop music there, nobody had ever requested that we play any of the "Bubble Gum" music currently at the top of the pop charts. We feared that it was going to be back to the same old thing with fights with Yehuda and the pushy people in the clubs demanding that we play all the crap that they heard on the radio. Miki and Haim came up with an idea to play some Greek style music. Although a little foreign to Stan and I, we went along with the idea and agreed that it wouldn't be so bad to do. At least it would be better that having to play the pop shit. It was suggested that we play a Greek song called Agapimu. It was an old Greek folk song that they had both known for years. Haim taught the words to Stan and Miki showed us the melody and chords. Haim and I played the guitar parts in harmony to sound like bouzoukis. We actually rehearsed it on board ship while returning to Israel.The first gig we played after returning from Denmark was at the Cinerama Theater in Tel Aviv. It was a brand new facility which showed movies on an extra wide screen. It was basically three screens using three projectors Yehuda insisted that it was a welcome back show for The Churchills and we must play songs that the people knew. There was a feeling of something special amongst us. We were wearing our new mod style clothing and as we stood in front of our Marshall stacks we shared that feeling that the band had really grown. We had lived together in the same room for over three months, away from home: a professional travelling band. We were unsure of how we would be received. The Greek number raised a few eyebrows but on the whole I remember it as being a cool reception. Nothing had really changed except for the Churchills. The audience had no idea how to react to The Doors numbers we played. They could only react to songs that they heard on the radio. They couldn't appreciate the music for what it was and how it was being played. We also played at a new club in Tel Aviv which was just a block away from the Masakha on Hamasger Street. It was called Madon Hipoushiot, in English the Club Beatles. The reception there was similar to the Cinerama until we played Agapimu, when all hell broke loose and the kids in the club went wild. It was mostly a Moroccan and Yemenite crowd there and they absolutely loved it. The kids were snapping their fingers above their heads and swayed their bodies from side to side to the rhythm of the music with smiles of ecstasy plastered on their faces. When the song was over there was a momentary hush followed immediately by whistles, cheers, applause and the kids rushed up to the stage shouting "Od hapam, od hapam"! "One more time, one more time" We stood there stunned for a few seconds till Stan looked over to me and said "Unreal Robbie at last an Israeli audience loves us and it took a fucking Greek song to do it" We immediately launched into Agapimu for the second time and the reaction was as it was before.. The crowd tolerated the other songs that we played even though they didn't know most of them but they were on our side for the sole reason that we had played a Greek number and they had loved it. We must have had about another half a dozen requests to play Agapimu again which finally became embarrassing and forced us to refuse the requests Yehuda was somewhat happy but it appeared that what he really wanted from us was pop music. "You see, I'm right Yehuda confirmed, "Stan, Robb just play what the people like and they will love you" And so was our "triumphant" return to Israel, back to the same old scene.We fell back into the same old routine just like it was before we went to Denmark. We were working regularly doing at least two gigs a week and made the rounds of all the clubs in Tel Aviv and its suburbs and all over the State of Israel from Kiryat Shmone in the north to Beer Sheva and Ashdod in the south. We didn't play too much in Jerusalem but there was a certain place that we played at that turned out to be a nice gig for us. I never knew the name of the place but it reminded me a bit of a village hall in England where I played with the Whirlwinds. It was a small hall with an elevated stage and curtains, where you might go to see a play performed by some amateur dramatic society. The gig was well attended and as we opened up with our first number we noticed the familiar site being a group of young guys hanging around in front of the stage. They looked like the types that would continually harass the band throughout the night with requests to play the songs they knew from the radio. We were surprised to see that this was not as it seemed. They stood in a line in front of the stage and prevented any body from making requests or bothering the band. From time to time they would look up at us and smile and give us a wave. We left the stage at the end of the first set feeling happy. We had played our music without any interference from the crowd and enjoyed it. Stan and I were hanging about behind the stage when Ami Trebich came up and told us that that the guys from the front of the stage wanted to see us in the alleyway outside the hall. Stan and I looked a bit concerned but Ami assured us that it was cool. "They're the Israeli Black Panthers and they want us to smoke a Bakbouk with them". Outside in the alley we were introduced to them. They were Moroccans and their leader was called Charlie. Their English was very limited so we relied on Ami and Miki's translation of what they were saying. From time to time we heard the name of Jimi Hendrix come up. They began to prepare the Bakbouk. Bakbouk is bottle in Hebrew. They had an empty wine bottle which one of them expertly broke against the wall leaving the neck intact with enough glass still left attached so as to form a large bowl. Each of them stood with their cigarette tobacco and hashish, rubbing it together in the palms of their hands. A filter was made by rolling up an empty cigarette packet into a tight roll and then pushing it into the bottle neck The others then ceremoniously emptied the content of their hands into the bottle tamping it down. They gave me the honor of lighting it which gets the smoker blasted and with a little trepidation I went ahead and accepted. The Bakbouk was passed around and we all got blasted. The smiles turned into laughter and we were all having a good time and digging it. They made air guitar motions saying to us "Jimi Hendrix, good, good very good" When we went back up on stage what else could we open up with except "Manic Depression"? What could be better than playing a Hendrix number on stage in Jerusalem with no hassles from the crowd, protected by the Black Panthers and stoned out of your mind? We saw the Panthers a couple of other times when they insisted that we accompany them to see their "club" as they called it. There was a cholera outbreak in that part of the country at the time and we were wary of where we went but we were assured by our guests that it was fine. Their "club" was a large room and was decorated by the gang. They had panther emblems and other artifacts adorning the walls and the furniture consisted of some small wooden stools and tables. They told us that it was there that they held their meetings and get togethers. They talked mainly about political issues and their leader Charlie a rather small and colorful character predicted that one day he would be involved with the government and be a prominent politician. I believe that his predictions came true.Stan and I got our first taste of the Jewish holiday Purim in March of 68. We had no idea when we walked out of our flat on Ben Ezra buzzed on hashish what we would find when we got down to Dizengoff Street in the center of Tel-Aviv. It seemed that the whole country had gone crazy. The Israelis were all in fancy dress costumes and they were milling around in the street hitting each other on the head with plastic hammers. Stan asked me was this really happening or was he tripping. I confirmed that it was and then Stan realized that it was the Purim Holiday. Although Stan was Jewish he, just like me, had never seen this before. We fit in pretty well with our long hair and mod clothes that the people probably thought that we were dressed up as hippies. They beat on our heads relentlessly with their plastic hammers. It didn't hurt but it was aggravating and Stan an I adopted an attitude like two grumpy old men and showed our displeasure at the antics of the revelers. We were able to find some relief when we flagged down a cheroot and drove down to café Noga to meet the band. Stan said to Miki as we walked up to where the band was sitting "Your country has gone fucking crazy man, my ears are ringing from getting banged on the head by those fucking stupid hammers".
The next memorable holiday was Passover on 12th April 1968 which was Yom Shishi Friday evening and the beginning of the Sabbath. We had not been invited to any Seders so Stan went out with a chick and I stayed at home with Efrat where we sat listening to music and smoking. Just after we had finished a joint a knock came at the door. Efrat looked through the peep hole and turning to me she said "It's my sister Ora". I motioned to her to open the door and I invited Ora and her friend to come in. They sat down and Ora introduced her friend as Aubrey and he was a Brit like me. He made a little remark about the smell of smoke in the flat to let me know that he was aware that we had been smoking hashish. Ora said that her parents wanted to invite Efrat and I to the Seder celebrations in their home. I was keen to go but Efrat declined and only after persistence by Ora did she agree that we would go. Ora and Aubrey left and we told them we would follow them. I got changed and dressed up in my black outfit which was a long draped coat over my black bell bottoms and with my red "Che Guevara" tee shirt and copper colored shoes I had bought in Denmark I hoped to look like John Lennon. We climbed the four flights of stairs up to the top floor and were greeted by Efrat's parents Abraham and Yonah Vahab. The flat was small but homey and the living room was set up with a long dining table set ready for dinner. We took our seats and started the Passover Ritual. I had never witnessed this celebration before. Efrat's father read from a book and her sisters along with her giggled and joked about how they were hungry and could "Abba" please hurry up the prayers so we could eat. I took the whole ceremony in a serious manner hoping that my hosts would find me likeable. Mrs. Vahab smiled at me from time to time and I had a very relaxed feeling as I sat there with the family. There were a few bottles of wine on the table which were opened up and before we began to eat we had downed a few glasses so I was feeling in a jovial mood. When the food arrived it was very good, tasty Yemenite food prepared with spices and in particular I enjoyed the hot chili sauce called Zehoug. The more I ate the more Mrs. Vahab smiled at me and she told Efrat to explain to me that she was happy that I was enjoying the food. She was surprised that I liked the hot sauce and she said that I was a Yemeni and we all laughed. As I was leaving that night after a lovely meal and good wine I was told to be sure to come back and visit. Stan and I began to make an effort to write some songs instead of writing poetry and designing collages. We finished off a Doors inspired song called "Straight People" which I had started in Italy. We were busy playing our gigs and travelling from one end of the country to the other; Tel-Aviv to Haifa, then to Ashdod on to Tiberius, Akko, Nazareth, Netanya, and Beer Sheva we played almost every club in the state. Stan and I knew that before too long we would get tired of playing all the same old songs in the same old clubs. Although we were trying to create new songs the process was not that easy as we continually thought that even if we came up with a lot of material what would we do with it? It was hard enough playing others groups' songs that nobody in the audiences knew or appreciated let alone play our own music that nobody had ever heard. We were desperately hoping that something would turn up and for the most part we hoped that we could get another chance to leave for Europe again and get that freedom to be ourselves. It looked like there was nothing on the horizon that could inspire us or give us hope.We had to leave our Sokolov apartment as it was being sold and Yehuda found us another place on Rabbi Moshe Ben-Ezra Street. It was a fully furnished two bedroom flat on the ground floor. It was owned by an old lady called Shoshanna. It appeared that she was moving over to a friend's house so that she could rent it out. We met Yehuda Talit outside and before he took us in to meet out new landlady he told us to be polite and smile a lot so as to make Shoshanna feel comfortable. He said that he had told her that we were actors from America and that we were working on a movie about the Bible and we had to grow our hair long for our parts. We did as we were told and although we could see that poor old Shoshanna was a little nervous when we were introduced her demeanor changed when Yehuda pulled out the money and offered it to her. Then she was happy. She explained to us that there was a lock on the telephone so that we could only accept incoming calls. Most of her personal effects were still left in the flat except for her clothing. She didn't speak any English, only Yiddish and Hebrew so Yehuda translated and Stan and I threw in a bit of our very limited Hebrew whenever we could. Shoshanna and Yehuda left and on his way out Yehuda begged us not to cause any trouble there.Shoshanna turned out to be a real pain in the ass. She had a habit of just coming by whenever she felt like it and would never knock on the door just letting herself in no matter what we were doing. Efrat was always there whenever she came and Shoshanna always insisted that Efrat was living there and demanded more money from us. One day I was using the iron to press a shirt when she just walked in, screamed something in Hebrew and grabbing it out of my hand she unplugged it and left immediately carrying the red hot iron and leaving me with a half ironed shirt. Efrat had found the key to the lock on the phone in one of the kitchen cabinets and very occasionally we would make a local call. On another of her surprise visits she saw that we had forgotten to replace the lock on the phone and screaming again she left with it in her hand. She returned a few days later with a telephone bill showing calls to the U S A. On examining the bill we pointed out to her that the date that those calls were made was months before we ever came to live in her flat and it was indeed an old bill. Nice try Shoshanna. One day after she left Stan swore that the next time that she showed up he would walk out of his bedroom completely bollock naked in front of her. Maybe that would persuade her to knock on the door in future. Stan never got the opportunity to do that but it would have really been something to see.On a late afternoon Stan and I were walking around Dizengoff circle when all of a sudden out of the blue this blonde chick appears in front of us. The first thing she said to Stan in her Danish accent was "Can I sleep in your bed tonight?" Stan's face lit up, she was speaking his language. In the conversation that followed Stan explained that we were recently touring Denmark and we were in a band called the Churchills. Her name was Birit and needless to say she did sleep in Stan's bed that night which brought about a relationship. Events during the time they spent together would contribute words for some of Stan's songwriting in the coming months during our writing of the songs featured on the "Woman's Case" Churchills Album. At that time of course we had no idea that we would ever make an album. Birit and Efrat got along well together and would often come to the gigs with us. On one occasion we played an outdoor gig with several bands appearing. One of those bands was The Electric Stage. They were the guys that I had jammed with before I joined the Churchills. A few weeks earlier Stan and I had met their drummer Rafi in Tel-Aviv and had gone to Jerusalem with him to one of their rehearsals. They had got themselves a guitar player by the name of Shlomo Mizrahi. Stan and Rafi hit it off good and it looked like the beginning of a friendship for them. At the outdoor gig the Stage played the music they wanted to which gained our respect as it showed that they were not willing to knuckle down and knock off all the same pop songs that all the other Israeli bands were playing. In fact we heard them play "Hush" even before Deep Purple put it out on their album. At the outdoor gig Birit met Rafi and in her friendly Danish manner she made conversation with him when Stan and I were playing our set with the Churchills. A couple of weeks later Stan and I left for a gig in Haifa leaving Birit and Efrat at the flat. We returned around 2 am. Stan could not find Birit anywhere and we woke up Efrat to ask where she was. Efrat told us that Birit had gone out for a walk and had returned to pack her things as she said she had met Rafi from the Electric Stage by accident on Dizengoff and was leaving for Jerusalem with him. Efrat told Stan that Birit said that Rafi was her boyfriend now. Stan was devastated and visibly upset. I believed that he really loved her; she was the right chick for him, mellow and cool. We sat up and talked about it till about 5 am with Stan trying to accept that he had been dumped and that it was over. His cute blonde Danish chick was gone and to make it worse she had left with Rafi. I had to get Efrat home so we left and as we walked. It was beginning to get light and we said goodbye. I later found out that she had passed her father on the stairs as he left for work. Efrat said that her father never said anything to her about her lateness. He did actually say something to me on my next visit to the Vahab's, which was that he understood that I lived in the world of entertainment and that we were on a different time scale, but he said he would appreciate it if I would bring Efrat home by midnight. I actually did my best to do that. On my walk back home, standing on the corner of the street was a stack of milk crates loaded with bottles of milk. They had just been dropped off by a delivery truck and had been packed in ice. I reached inside my pocket and pulled out 30 agorot (the price of a pint of milk in those days) left it on the top of one of the crates and walked away with a pint of ice cold milk. By the time I got home I had finished it.On a bright spring afternoon Stan and I were enjoying a cup of coffee outside of Café Noga when we saw Stan's old buddy from Canada, Jack Sternthal. He had just returned from travelling in India and the Far East. As we talked and Jack heard about our problems with Shoshanna at the flat he suggested that we leave there and move over to stay at Hotel Nes Ziona where he stayed. He was having a blast there. It was affordable, many hip people from Canada stayed there and it was situated in the red light district on Ben Yehuda Street and Rehov Nes Ziona. Before he left Jack pulled out a carton of cigarettes from his back pack and tossed a pack across the table to us. I looked at the packet label and it read Gold City. "Where did you get these cigarettes from?" I asked. They're from Thailand" Jack replied "But they're not cigarettes they're made with weed". Jack explained that he went to the cigarette factory and they made them up to order by the carton. They looked exactly like filter cigarettes and he said that he would walk down the street with one in his mouth and nobody knew the difference. Stan and I were delighted and just to test them out we both smoked one as we walked along Dizengoff Street to get a taxi back home. Jack was right nobody noticed a thing.The idea of living in a hotel was appealing to us so one afternoon we took a taxi down there and checked it out. The owner's name was Uri and he was on the front desk when we arrived. When we told him that we were interested in a long term rental basis he told us that he had just the room for us and took us upstairs. It was a nice size room with a sink and two single beds situated in the rear of the hotel overlooking some apartment buildings. There was a communal shower and bathroom at the end of the hall. We took it and within a few days had moved over there.It seemed that everything changed when we moved over to Nes-Ziona; it was great to be living there. We were surrounded by a lot of hip people; mostly Canadians who were turned on and into music. Many of them had been all over the world and they all had great stories of their adventures in exotic locations. There was Max from Montreal living with his girlfriend. They sold clothing. I bought a pair of green velvet jeans from him. There was English Mike, Tommy from Montreal, Jack Sternthal, Solly from Montreal, an Israeli guy called Nati and the list goes on of these characters that drifted in and out of Hotel Nes-Ziona. One night Jack Sternthal came knocking at our door and invited Stan and I to go with him up on the roof. He had found a door that gave access to the roof and it was unlocked. Jack was carrying a large bag of grapes. He walked us over to the front of the building which overlooked Nes-Ziona Street and pointed across the street to the small area of bushes and trees. Before too long he pointed to where a hooker and her customer had showed up. They walked down the street and then inconspicuously disappeared into the bushes. It would have been hard to notice them from street level but from our position up on the roof we had a good view of all the activities that were going on. The hooker bent over and threw her dress up and her customer approached from the rear. Jack waited till the guy was in top gear and suddenly pulled out a large, juicy grape from his bag, took careful aim and hurled it across the street. It landed close to the mating couple with a loud splat which caused the guy to jump, withdraw and turn around to see what had caused the noise. He looked out across the road and up and down and decided to continue with his enjoyment. By this time Solly and English Mick had showed up on the roof to see what all the action was. Jack handed out grapes to all of us and we watched until the guy reached top speed then we all let go with a fusillade of juicy missiles bespattering the interlocked couple in the bushes. This time they both jumped up and turned around and once more the guy looked around and nervously paced around and in between the bushes. Suddenly the hooker appeared out on the street and was walking away followed hastily by her swindled customer who complained at the top of his voice "Ani lo gamarti, ani lo gamarti"! "I didn't finish, I didn't finish"! We cracked up at the spectacle and continued to terrorize the following couples until we finally ran out of grapes.Yehuda Talit called to the hotel to tell us that he would like to meet us to talk over a few things. We agreed and Stan and I walked over to meet him at the Café Noga. We thought what the hell does he want? Is he going to beg us to play some bubble gum music or something. We sat down and ordered some coffees and bought some roasted peanuts from the little old guy who walked there every day selling his wares from a small metal tray. "Stan, Robb" Yehuda addressed us "I know that you really want to play other kinds of music and maybe your own music; well I have something to talk to you about that might give you the chance to do that" Stan and I looked at each other in disbelief were we hearing this right? Yehuda went on to tell us about a guy by the name of Jacques Katmoor. He was a film director and had asked Yehuda if the Churchills were able to write music for a movie that he was making. "Well Robb, Stan" asked Yehuda "Do you think you could do it" It was suddenly like everything had changed, everything looked brighter, what great news we had hit the jackpot. We assured Yehuda that we could do it and after a few more rounds of "Are you sure" from Yehuda he said that he would call Katmoor to tell him that we were ready. As we said Shalom Yehuda said "Stan, Robb, go back to the hotel and start to write songs" which was exactly what we did.
Efrat and I saw each other most days. It was a short cab ride to and from Nordau Street and she came down most afternoons. Honoring her father's request that she be home by midnight I usually sent her home in a taxi at around that time. Of course there were exceptions when we had a room full of people and we all got so stoned that we stayed up all night. It was usually around 1am or so that Stan and I would sit down on our beds and I would strum on my 335 and we would see what came out. We had already finished "Straight People" and we were glad because at least we knew that now it looked like it would be going somewhere and have a purpose. I had some things in my head that were starting to materialize which now took on a different light knowing that now there was something to write for.
Jacques Katmoor called up Yehuda requesting to see the band. We were invited to meet him at a screening studio in Tel-Aviv. His appearance was of a French style movie director. He spoke Hebrew and English with a French accent. He was of average build, casual dress with a well-trimmed full beard. After the usual chat was completed Jacques explained that he was making a modern style movie and wanted some exiting, weird unusual rock music to embellish the movie. I think he was trying to look for the word Psychedelic which is what he got from the Churchills. He took us into the screening room which was like a very small movie house where we sat and watched a few rushes of the movie. Jacques' wife Elite Katmoor was the leading lady in the film. After we saw the excerpts we looked at each other and we got the impression that this was some kind of sex movie. I think that Jacques probably picked all those parts showing his wife naked to really get our attention and I guess it did. He told us that it was a modern movie of that time, showing a relationship between a man and a woman and in English would be called  A Woman's Case.
When Stan and I got back to the hotel I immediately picked up the guitar and we sat down together and talked about the movie. I thought and suggested that we should write something which would be a great opener for the movie. Something upbeat and lively something to make people open up their eyes and see what was going on. Stan started talking about taking a look around you and we came up with "Open up Your Eyes… Faces, lips, and teeth and eyes and touch me girl and trip with me you're not made of stone you respond to forces……Open up your Eyes". These were examples of the lyrical styles of Stan Solomon. I helped with the melody and got the chords down. It was initially called "Take a Look around You" but we dropped it in favor of "Open up Your Eyes".
In those days we didn't have recording studios in our phones, we didn't even have phones so everything that we worked on and wrote together was committed to memory with the aid of lyrics scribbled on scraps of paper. It was a big thrill to bring a new song to the band, especially when it was an original song. It was great to see it take shape and watch it develop. Miki and Haim would often come up with ideas for the arrangements and Ami was always good at coming up with a good solid beat. It was great to work together and I can't even remember one time that there was a disagreement or a fight over something in our music. It all seemed so easy and flowed out naturally. We knew how to play together as a band and nobody ever had to be told "hey man you're playing too loud" because we were blessed with being able to balance our selves well.
With the completion of "Open up your Eyes" under our belt the songs began to pour out of us. Our writing sessions were paying off. Invariably Stan would hear me playing a riff on the guitar and he'd say "Wait, wait, play that again Robbie and he and I would build a song around it. Songs born out of those situations were "Song from the Sea" and "Comics". With "Song from the Sea" I started playing a kind of jazzy, classical riff which led into a Jim Morrison related feel and lyric which I believe that Stan picked up from "Moonlight Drive" by the Doors. Likewise Comics came from a riff I had messed around with from an instrumental we had put together back in Robb Gayle and the Whirlwinds called "The Freak", which we kinda borrowed from an instrumental we had heard called "Chop Sticks". Stan's lyrics although very simple, reflect the duality of the band's inability to play its own music; due to pressure from management and demands of its audience and also Stan's personal life where he had been guided into a career of dress design and manufacture by his family and to show his rebellion against this he was singing in a rock band in Israel.
While sitting alone one night after putting Efrat in a taxi I came up with "When You're Gone", a song that I wrote for her. I had been playing around with a few ideas when we lived in Moshe Ben Ezra Street which had come to me after walking Efrat home one night. When I returned I sat on my bed feeling sad that Efrat was not still there with me and I investigated the thought that she could have no idea of the way that I felt when I was missing her when she was not there, hence You don't know how I feel in the morning when you're gone. Now at Nes Ziona it all came to me and fell into place as I included lyrics related to Efrat and me and how we were two different people of different religions and different upbringing and it was all very exotic and exciting for me. I went on to write Subsequent Finale one night when I was alone at the hotel. I had been playing around with a new chord that I had discovered by accident. It had open strings in it so it had a bright ringing sound to it. I also discovered that if you slid your fingers down a tone it also gave a similar sounding chord with the same open strings. The jangly sound and the chord progression really turned me on and I played it over and over again. The words that first came to me were "If you really love me girl won't you please come on home" but I could get no further than that. I remembered that over the past few days I had been scribbling down a few lines that had come into my head. I was imagining myself as a junky sitting on a bench in the sun and thinking about my life. When I tried the words with the chord progression they wouldn't fit until I changed the rhythm pattern and suddenly I had "The screaming soaring waves of my mind are thinking of seagulls by the sea". To write and complete the rest of the lyrics came to me relatively quickly and easily. Then came the idea of combining some kind of Middle Eastern influence together with what I had come up with and by the time Stan came in it was as good as finished. While he sat on his bed, rolling a joint on the back of an album cover I played him the song. "Huxley you're a fucking genius, show me those lyrics" he exclaimed with delight. He asked me to play it again and he picked up the melody from me and very soon he had it down and holding the scraps of paper in his hand he interpreted the lyrics in great form. We ended up playing it over and over again until we got tired and finally as the sun was coming up we rolled off to bed.
At first when Stan and I were told that a classical musician and conductor Noam Sharif had written a melody called "Debka" and wanted to feature it on our album with our lyrics, we were not that thrilled. Yehuda gave us the address and we flagged down a cab on Ben Yehuda Street which took us to a nice part of town and an elegant apartment building. As we walked upstairs looking for the right apartment we could hear the faint sounds of a piano being played and someone singing an eastern sounding melody. We followed the sounds until they led us to their source and we rang the doorbell. When we met Noam we changed our minds as he turned out to be a very hip and pleasant person to work with. It turned out that the distant melody that we had heard upon our arrival turned out to be"Debka". The initial idea was that we were supposed to write lyrics about Debka which was a fictitious dance craze sweeping through the Middle East hence "Come Debka, Debka with me". Stan and I didn't go for that and came up with serious lyrics. I was reading the Tibetan Book of the Dead at the time and that reading shed an air of mystery and mysticism over the song while people were doing the Debka and dancing circles under a tree.
Yehuda Talit called the band for a meeting and we were told that Jacques Katmoor was interested to hear what kind of music we had been writing for his movie and asked if we could go over to a screening room and play some of the numbers for him. We showed up one afternoon and had our roadie set up our gear in front of the cinema screen in the screening room. Jacques started rolling a clip and we launched into "Open up Your Eyes" and then followed it with "Comics" which we were calling "It's so Hard" at that time. It was a great feeling to see a movie with our music behind it and we smiled to one another as we turned around to witness the combination of Churchill compositions and Katmoor's movie manifesting before our eyes and ears. We had great aspirations that this was going to be an exciting undertaking. Jacques came out from the control room holding a big hash joint which we passed around, while he raved about the music and expressed his great pleasure in what we had come up with. We played him some more examples and he particularly liked my song "When You're Gone' which he acknowledged as being a beautiful song. With our first run through with Katmoor complete, Stan and I returned to the hotel to continue writing. As we sat on our beds I started strumming away and Stan asked me what I was playing to which I replied "Hang on a second Stan, I'm painting pictures in my mind" Stan came back with "Wow! What a great title that would make Robbie" and we went on to see the birth of "Pictures in My Mind" which we put together quickly. The reason it is such a short track was because Katmoor insisted that we cut it down to a specific length to fit a certain part of the movie. We accommodated his request but when the movie was finished the song did not appear in that way so it could easily have been longer. In fact when I got to see the premier of the movie I was very disappointed in the way our music had been chopped up in a seemingly haphazard manner and most of our music just got lost in the movie. Katmoor did not use it in the way he had originally intended to.
Yehuda was all smiles and pleased with the way things were going along especially as he indicated that negotiations would soon be taking place with Katmoor which would bring about an album recorded by the Churchills with references to the movie. With this in mind Yehuda was concerned that the band might not have enough original music to fill the album. Stan and I told Yehuda that we would come up with the material and Stan went on to write Strangulation which he wrote with Miki. They put it together at a rehearsal. Stan seemed compelled to write continually about his lost love Birit in fact the whole song was about her. I think that not only was he hurt by her dumping him but he was also angry that she had done this to him. We found out by watching the rushes for the movie that Elite Katmoor gets strangled in the end and so he called the song "Strangulation". Stan's constricted scream at the start of the fade depicts a trio of events which are the strangling of Elite Katmoor, the strangling of Birit (Stan probably felt like he could have strangled her for what she did) and his own personal strangling brought about by the trauma of his losing Birit. Stan and I then went on to write "So Alone Today". I had been fooling around with a new riff that I was working on which perked up Stan's ears. "Could you imagine how that would sound backwards?" He asked. We had always been impressed by Hendrix's use of backward tracks on the Are You Experienced? album and the thought of being able to record something in that manner was very appealing and desirable. Stan thought that the riff I was playing was suitable for such an endeavor and so we put the song together and once again Stan's lyrics were centered on Birit. I will elaborate more on this song later in the story. We now believed that we had enough material for an album.
With all of our attention focused on the songs for the album life still went on as normal around us. We were playing at least two nights a week, rehearsed a couple of times a week on the songs for the album and still had to deal with the pressure of having to play to audiences who demanded to hear what they wanted to hear. We felt that writing and recording our own original music for a movie was a step towards achieving our dream of being an original band. The work on the album kept us going but in the back of our minds we knew that at that time the only way that we could succeed in that would be to move to Europe and in particular England. Yehuda had honored his deal with Birger Gylling and had brought over the Danish band The Beatniks to tour for a couple of months. We had seen them play at the Revolution Club in Copenhagen. It was the same line up as we had seen in the Revolution and their lead guitarist Janne was using that same old beat up red Fender Strat. It had a great sound to it. We started to put a couple of our songs that we had written into our live sets that we played in various clubs every week. Haim had a mandolin so we used it in "Subsequent Finale", and some others we featured were "Open up Your Eyes", "Song from a Sea" and "Straight People". Playing these songs live was a great benefit to us as it would ensure that the songs were well rehearsed by the time that we got around to the recording.
The Beatniks were a good band and they played the same circuits in Israel as the Churchills did. We often ran into them at gigs. They played only cover tunes from the top twenty and although they played them very well we would have held them in higher esteem if they would have showed that they could play some original numbers. They ran into some trouble at the Beatles Club on Hamasger Street one night. They were good looking guys and were always on the lookout for attractive girls. Their singer while onstage was making eyes at a local girl and made a few comments to her. This really pissed off her boyfriend who was of Moroccan descent. All at once he and several of his friends rushed the stage. They greatly outnumbered the band and set upon the band members and gave them a serious beating. Not long after this we noticed that lead guitar player Janne had been replaced. He had returned to Norway due to some problems with his girlfriend. One night we played on the same bill as them in a big festival in Haifa. I had taken Efrat with me to the gig which was a mistake. For some reason she started hanging with the Beatniks when I was on stage and throughout our set I could see her talking and laughing with them off to the side of the stage. I was unable to concentrate on my playing and began to get pissed off. After the set when I walked up to her and started to talk to her she ignored me. This made me angrier and finally when she did speak to me she told me that she was going back to Tel-Aviv with the Beatniks. I was furious and before I knew it my hand shot out and I slapped her across her face. She didn't cry but she angrily told me that I would never see her again after that night. She ended up coming back to Tel-Aviv with me in the Churchills van but we never spoke. It was awful and I felt real bad for what I had done although I felt that she deserved it. She had brought out the worst in me. The next day I went round to see her and she came down to see me. She was sporting a black eye. She told me she was sorry for what happened and that her mother had told her that she had probably deserved it. We have been together now for forty five years and such an occurrence has never happened again.
One afternoon Ami showed up in the group van to pick Stan and me up to go over to the Masakha Club on Hamasger Street to rehearse the album songs. We got in the van and I put my beloved Gibson 335 in the back but got distracted and left it standing up in its case propped up against the Marshall cabinets. I totally forgot to lay it down and sat in the front seat with Ami and we drove off. We had gone about a mile or so when a guy on a moped pulled out in front of us causing Ami to slam on the brakes. We heard a loud crash in the back of the van and I looked over my shoulder to see that my guitar had fallen over and was lying on the floor. I didn't pay much attention to what had happened and only commented on how it had fallen over before and nothing had ever happened to the guitar. We arrived at the club and as we got out of the van I picked up my guitar and noticed a rattling sound coming from inside the case. I wondered what it could be and opened up the case to find to my horror that the headstock of the guitar had snapped off. I was devastated. My beloved Gibson that I had previously lost and then miraculously found again thanks to my old pal Dave Watts was seriously damaged. What was I going to do now? How would I be able to play now? Haim Romano came over and took a look at the damage and suggested that I take it over to …….violin maker on Pinsker Street and let them take a look at it. We abandoned the rehearsal and went over to the shop which was across the road from Cinema Tel-Aviv. The violin maker was an old man and he studied the damaged instrument and to my relief he told me that he could make a satisfactory repair but it would take about a week to complete it. This was good news but we had two shows that week so what was I going to do? Ami suggested that we call Yehuda and tell him what had happened. Yehuda explained that he had a guitar that I could use for the moment. It was Janne's red Fender Stratocaster. Apparently Janne had borrowed money from Yehuda to fly back to Norway. Yehuda insisted that Janne leave the guitar behind as collateral for the airline ticket. So the problem was solved and we drove over to Yehuda's office and I picked up the guitar. To say that the Fender was road worn was an understatement. On inspection I saw that the middle pickup was missing and the gap for the missing pickup was covered by a piece of cardboard; the paint was worn off down to the bare wood in a few places. The tremolo arm was also missing. I ignored the cosmetic flaws and was just grateful that I had a guitar to play. When I played it at the show I became very attached to it mainly because it had that great Fender sound and was terrific for creating that Hendrix feedback sound which I could never quite duplicate with the Gibson. I also found out that by inserting a screwdriver into the hole where the tremolo arm was supposed to fit I was able to create those great dips in pitch and wavering feedback sounds that if you were standing in the correct place in front of the stack would go on forever. This was just like I had heard Hendrix doing on record. I was thrilled as I could now create those distorted feedback sounds which gave a new sound to the band. The violin maker did a superb job on repairing the Gibson and added additional support to the back of the neck behind the headstock. Apart from the extra support you would never know that the guitar had been repaired. However even so, the Gibson had lost its appeal to me as I was in love with the beat up old Fender because of all the new sounds I was able to create. What was I to do? At the next meeting with Yehuda I heard that Janne had contacted Yehuda and told him to keep the Fender as he would not be returning to Israel. So Yehuda told me he was going to sell the guitar to get his money back. When I told him that I would like to have the Fender Yehuda suggested that I sell the Gibson and whatever money I got for it I was to give to him and the Fender would be mine. Haim said he knew a guy that was looking for a Gibson so I was able to sell it and the Fender was mine. I got a good price for it and although I thought that the money I gave Yehuda was more that the Fender was worth I didn't really care as I was now able to play in the Hendrix style and that was all that mattered.
Around late summer of 1968 we were beginning to see an influx of European bands touring in Israel. Some were from Scandinavia like the Beatniks and the Teen Makers. There was a black trio that appeared at Frederique's Club on Ben Yehuda Street. They were from the U.K and the lineup was Hammond Organ, Bass and Drums. The organ player was the singer and they played what I would call Soul/Jazz. They were a very good trio and when Stan and I checked them out one night Stan said "These guys are good Robbie and the bass player in very stoned!" This type of band could only play the exclusive clubs in Tel-Aviv. If they would have played on the same circuits as The Churchills they probably would have died a death. Another band that appeared at this time was a group called the Aristocrats. I first heard about them from Stan who had been at one of the Tel-Aviv discos and saw them play a set. What follows is an account of their fateful stay in Israel as told to me by my good mate Ave Orchover.
In the summer of 1968 Alan Stockman and Raymond Morris decided that they would take a vacation in Israel. They were members of an English band called The Aristocrats. They booked a hotel in Tel-Aviv and one day they decided to go to the beach for a bit of sunbathing. They took with them a portable cassette player, which at that time was the first and only portable music device on the market besides a transistor radio. As Alan and Raymond were listening to some music they were approached by an Israeli guy who struck up a conversation with them. He asked them where they were from and inquired about the music they were listening to. Alan told him that they were listening to a recording of the band that they played in back in England and it was a recording of one of their rehearsals. The Israeli guy turned out to be a taxi driver by the name of Mossa Marron and he told the boys that he had some contacts in the music business in Tel-Aviv. The conversation led to the point where Mossa said that he would like to bring The Aristocrats to Israel. He promised to provide the band with gigs and would pay them a weekly salary for the time they were there He suggested that Alan call the rest of the band and get them to fly over so that they could perform a week of gigs that would serve as an audition for the band. Alan and Raymond decided that they would make the call. Keyboard player Ave Orchover and lead guitarist David Franks agreed to come but their drummer declined to make the trip. Mossa said that he would get a drummer for them so they went ahead with their plans. The Aristocrats had actually made some recordings with Joe Meek in late 1966 but Meek's murder/suicide had put an end to any hopes of a record release. Alan Stockman played guitar and sang lead vocals and Raymond Morris played bass. Ave had attended the prestigious East Sheen Grammar School in London and had a degree in applied physics from The City University in London. Ave quickly accepted their offer but there was one setback. Their drummer declined to join them for the audition. When they called Mossa to tell him of their dilemma he assured them that he would provide them with a drummer who turned out to be a guy called Nissim Cohen. Ave and David bought round trip tickets to Israel and it was agreed that they would stay for a week and take it from there. Mossa paid for their hotel and food and after performing a few gigs at some Tel-Aviv clubs Mossa liked what he saw and made them an offer. Now it was time for the boys to return to England and settle their affairs. After a few weeks when this was accomplished they had given up their jobs in favor for a musical adventure in the Middle East. Just like we did in the Tornados they packed all of their gear into an Austin van and a Ford Zephyr Zodiac and drove across Europe to board the ship to Haifa. And just like the Tornados they got ripped off by the French customs by making them pay money to transport musical equipment across France. On their return to Israel the Aristocrats decided to change the name of the band to Revolver. The agreement was that they would be contracted to Mossa for one year. During that year they lived in Bat Yam, at that time a growing suburb of Tel Aviv. They lived together in a rented villa along with Tony Price who was Alan Stockman's cousin. Tony had just showed up one day out of the blue and wound up being a driver/road manager for the band. I remember them as being a fun loving set of decent guys always eager to have some fun and a good time. In early October of 1969 something happened that would be indelibly etched in their memories for the rest of their lives.
It was a peaceful sunny afternoon at their Villa in Bat Yam and the band had a day off and was hanging out together. A little before two pm Tony Price decided that he would take his girlfriend home and drove off in the group van which they parked outside with all their equipment stored inside. Ave decided that he would go to take a dump in the bathroom while the rest of the guys hung out in the living room listening to music. Ave suddenly heard some commotion and screaming coming from somewhere outside in the street but knowing the noisy and boisterous mentality of Israelis he paid little mind to it. His tranquil interlude answering the call of nature was interrupted by a loud banging on the bathroom door. It was David Franks who was insisting that Ave let him into the bathroom. Ave's surprised reply was that he was taking a crap and what was David thinking asking to come in. David's pleas became insistent and Ave reluctantly pulled up his pants and opened the door. The site that met his eyes was David looking scared to death with the figure of an Israeli soldier in uniform holding an Uzi machine gun standing behind him. The soldier had a crazed look in his eyes and pushing David aside he lunged at Ave sticking the barrel of the machine gun into Ave's stomach. He was clearly out of his mind on some kind of drug. He screamed at Ave in Hebrew "Ten li Kesev, ten li Kesev" As Ave was Jewish and had learned Hebrew he understood that the soldier was screaming "Give me money, give me money".
Ave was mortified. He knew that there was no money in the villa, All at once Ave told their assailant that he would get the non-existent money and motioned that it was in the bathroom and grabbing David Ave was able to get them both into the bathroom, locking the door behind them. Outside the soldier became irate and began screaming for them to open the door. Ave and David huddled in horror behind the door and when they did not comply with the soldier's demands he fired a quick burst of fire through the door. Meanwhile Alan Stockman and Ray Morris who had managed to get out of the house heard the gun blast which was shortly followed by a second one and greatly feared for their friends' safety. The police and ambulance had already been called to a prior situation where two crazed soldiers had beaten up some guests in a hotel down the street. The first gun blast brought David to his knees as he collapsed having been shot in the legs his blood was spurting out onto the tiled floor. Ave who was uninjured quickly picked David up and put him into the bathtub and laid himself on top of David to shield his body. Then came the second burst of fire which missed them. This was followed by a deathly hush and as Ave watched David's blood running down the bathtub into the drain the horror sequence from the movie Psycho appeared like a deja-vu in his mind. As the silence persisted Ave gingerly raised himself up from David who was now moaning in pain and with great trepidation pulled open the bullet ridden door. Seeing no sign of the gunman he quickly turned around to attend to David.
At this time Tony Price was returning in the van from dropping off his girlfriend and as he pulled up outside of the villa he had no idea what awaited him. The crazed soldier had run out of the villa and just as Tony pulled up he released a blast of fire into the van. Luckily Tony escaped injury but the soldier commandeered the van and ordered Tony to drive. Inside the villa Ave picked up David and with them both covered in blood Ave carried him outside. Miraculously an ambulance was just pulling up outside. .At that time in 1969 Bat Yam was still a growing city and many of the roads at that time were no more that gravel trails filled with potholes. The soldier held his Uzi to Tony Price's head which made Tony very nervous and he asked the soldier to please lower the gun from his head. The soldier complied and as he lowered the gun Tony aimed straight for a huge pothole ahead in the road ahead which caused the van to lurch violently and the Uzi went off shooting the soldier in his foot. Tony put on his brakes like his life depended on it and the van stalled and with his adrenaline at bursting point he gets out of the van and runs for his life.. The soldier made his escape making off in the direction of some other villas down the road. When the police arrived at the villa where the ambulance men were tending to David, Ave told them how the soldier had driven off with Tony in the van and the police sped off in that direction. When they arrived at the stalled van Tony who had made his way back to the van showed them the direction that the soldier had taken. The police followed the blood trail and by sheer coincidence the gunman had found a hiding place in a villa that was the home of another rock band. They were an Israeli band and they were called the Spiders, no doubt a spin off from the Beatles. I guess they should have been the Spyders When the police knocked at the door the Spiders had no knowledge of any intruder. The police then noticed that there was a door which led to a basement. When they opened it up they saw the soldier huddled in the corner but pretended not to see him. "Hoo lo po" "he's not here" they said and closed the door. They were just waiting for backup and when that arrived they entered the basement and the soldier surrendered immediately.
Ave later found out that it was a duo of soldiers who had taken some drug or other and had gone crazy. The second soldier had apparently run off after the incident at the hotel. David ended up with over 20 pieces of shrapnel in his legs; many of them still remain today. It was ironic that he was the only one who had good insurance and was flown back to England for top of the line treatment. Not long after the incident the band went their separate ways, so this traumatic experience brought about the demise of Revolver, the band that got hired to play in Israel just from sitting on the beach in Tel-Aviv and listening to a recording of one of their rehearsals recorded on a on a cassette player. The caption above the story in the Daily Mail newspaper in England read "Gunman tries to rob Revolver and shoots himself in the foot"……. Ave Orchover stayed on in Israel and became a member of Uzi and the Styles. At a later time when Ave along with Uzi and the Styles went to England for a tour they changed the name to Uzi. Years later Ave jokes about how he was in a band called Revolver and then joined a band called Uzi. It was a story of two guns and a shooting incident.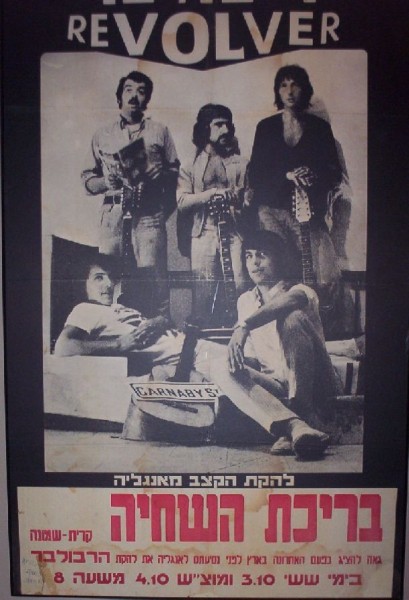 Everyday Stan and I lived at Hotel Nes Ziona was special in one way or another. In simple words it was great fun for the most part. We worked mainly on the weekends and rehearsed a couple of times during the week so Stan and I had a lot of time on our hands to do whatever we wanted. If we weren't working on our music we were hanging out with all kinds of people in our room. At any time there could be up to ten people in our room. We would all be smoking, talking about all kind of things, and we would be having a great time. Occasionally a touring Danish group would drop by and we would have some great smoking sessions together. One night South African Geoff dropped by with a chick called Cheryl. They brought along a bottle of vodka. I was with Efrat and Stan, and English Mike, Nati Blum (Our Israeli friend) and Solly from Montreal. We were smoking up a storm and around three am the bottle of vodka appeared. English Mike dared Cheryl to drink a whole tumbler full of Vodka and everybody egged her on to do it. I watched her down the whole glass and I thought "Wow she did it, she'll be as sick as a dog". It seemed to have little or no effect on her, and about an hour later I left with Efrat and we flagged down a taxi. Saying goodnight to Efrat, I walked back to the hotel and back in the room Cheryl was still there in reasonable shape but tottering a bit. We all smoked a joint and then Stan said it was time for bed and everybody left except Cheryl. Stan got into his bed and Cheryl came to lie on the end of it. Cheryl was unattractive, overweight and rough looking, with the effects of the vodka beginning to take their toll. Although Stan never really paid too much attention to the quality of the girls that he slept with, Cheryl obviously did not turn him on and he started to stretch out as far as he could in order to prevent Cheryl from getting on his bed. When she persisted he told her that he couldn't go to sleep properly without stretching out and calmly kicked her off the end of the bed. She got up and walked out of the room and left. I've often wondered how she got to where she was staying but all in all I got to hand it to her after all she had smoked and drank she could still get up and walk.
Hotel Nes Ziona the place of ill repute… If the whores were not servicing their clients across the street in the bushes they were doing them in a room rented at the hotel. There was considerable hash dealing and trafficking going on there you could buy a pair of candlesticks with false bottoms and ship them to a university in the USA or have somebody carry the hash on them hidden under a corset that was worn around the waist. A hefty American chick that had a young Israeli boyfriend left with her cargo and got busted at Tel-Aviv airport on her way to the States. Her boyfriend must have been working for the Narcs as a few days later we were woken up early one morning by the sound of Solly shouting in his room. He was being busted by the drug squad who found his stash and a knife with hash residue on it. At that point Stan and I agreed that it was time to tighten up. We let everybody know that there was to be no more smoking in our room. Sometimes when Efrat would stay there while Stan and I went to play our gigs we would return and find the room full of people which pissed us off as were playing it safe. Not long after, one morning we got an official knock on our door. It was the drug squad. The two officers flashed their badges and walked in. They were followed by the boyfriend of the hefty chick who got busted and they began to search our room. By a sheer stroke of luck we had no smoke on us as we had just run out. They opened up the closet and went through our clothing, looked under the beds and when they checked the window ledge they saw the residue from where we had stubbed our joints out and emptied the pipes. We heard one of them say in Hebrew "ken hem marshneem po" which is yes they're smoking here. Stan and I started to talk to them and we told them we were from the Churchills band and Stan tried to distract them by showing them the porno magazines he had bought in Denmark. One officer told us that his nephew was Shuki Algranati from the Lions band. Just when we thought we were home and dry they called for another guy and in walked this little, Yemenite character the kind you would see standing under the clock in Jaffa square selling fingers of hash. He stood in the room and inhaled a deep breath. Then he walked over to my bed and pulled back the sheet. He pressed his finger on the mattress and raising it up he displayed a crumb of hash stuck to his finger which he then transferred to the finger of Shuki Algranati's uncle. All the conversation was in Hebrew and he asked who slept in that bed and I answered that I did. He pushed his finger toward my face and spoke in English and asked me if I knew what the particle on his finger was. Before I could answer he said "This is hashish". Stan said he wanted to take a look at it and after examining it agreed that it was. The officer told me that just a little crumb like that could cause me a lot of problems and turning around he calmly flicked it out of the open window. He assured us that this time it was just an "Attention" and that they would be back and we wouldn't know when and that time there would be no chances. They walked out of the room and Stan closed the door behind them and we both breathed a sigh of relief. "You see" Stan said "I told you there shouldn't be any more smoking in our room". The drug squad never came back and it wasn't long before we reverted back to the old scene back at the hotel. Stan and I continued to smoke but we never allowed any smoking parties after that.
The time finally came when the Churchills walked into Kolinor Studios to record their first and only long playing record. A deal was made between Yehuda and Jacques Katmoor that in turn for using the music in his movie Katmoor would cover all or part of the recording expenses. It's forty five years ago since we made that recording and I don't remember in what order we recorded the songs or how many we completed in a session so what follows is whatever I can remember from then. I will say that the songs were recorded fairly quickly. We were well rehearsed and there were no instances of having to do multiple takes to get the song down. One or two takes and that was it; we could proceed with the overdubs. The sessions were usually booked in the mornings which Stan and me were not so happy about. That was the time when we were usually asleep. We made a vow to go to bed earlier but that rarely happened so we ended up getting a supply of amphetamines in a small bottle from one of the Canadian residents at the hotel. He told us that he got them from a pharmacy in the old city of Jerusalem run by a couple of Arabic guys and they would just sell them to you over the counter. I have no idea how we were able to wake up there was no phone in the room and we had no alarm clock but when you have the chance to do something that you had always dreamed about then I guess the will to do that, comes up with a way.
"Take a Look around You", was probably one of the first tracks we recorded. We got the basic backing track down on which Miki played bass, Haim played lead guitar, Ami played drums and I played rhythm guitar. Kolinor Studio had a four track machine so we had to mix down as we went along in order to provide space for additional tracks to be dubbed on. When it came to the vocals Stan put on the lead together with Miki and Haim who did the vocal backups. For some reason I was having trouble pitching my part (unusual for me) so Haim actually covered my part. Then we decided that we would put l shouting and screaming at the intro and again towards the end of the song. Stan and me were always eager to try to get away with whatever we could on record and in the second sequence about four bars in you can hear Stan shout "Shit" which back then was unheard of on records, unlike today where you can hear every curse word known to man and all kinds of sexual references on record. Stan, Haim, Miki and me joined together to put on the vocal embellishments. The length of the song was determined by Jacques Katmoor as he wanted it to match up with a certain segment. The engineer on all of the recordings we made at Kolinor was Amnon Roberman and he was assisted by Dori Herschgal. Stan produced the album with input from Miki.
The real title for "Song from the Sea" was originally "Song from a Sea" but that got lost and it was too late to change it when we saw it on the album. We all played our usual instruments and I dubbed on the fuzz guitar fill-ins using an old fuzz box that I had bought in the Tornados but had never used it.
When you listen to "Pictures in my Mind" you are hearing the band's first use of an oscillator. We were constantly on the lookout for unusual and different effects and Dori came up with this box with a small screen with green graphics that displayed the pitch oscillation of the whistling sound that it produced. We figured out that with practice and turning a small dial below the screen you could follow the melody of the song at the same pitch. This is demonstrated at the intro where the oscillator fades in and reaches the same pitch as the song in the first two bars. Haim is playing an electric twelve string that Alan Stockman from Revolver was kind enough to lend us. This song is short, once again its length was determined by the segment of the movie that it was to accompany. In the completed movie in didn't come out that way.
I have no idea where we came up with the title of "Comics" unless it was due to some reference to the movie. The natural title would have been "It's So Hard" but that was a bit obvious so we were happy to use the title "Comics" just to cause a little wonder and interest of why the song should have that title. On this track I was able to utilize the vibrato on the Fender. Even though it had no tremolo arm the bridge was angled up enough that by pressing on it with the heel of my hand I could raise the pitch slightly and by applying a fast pulsating pressure with my hand I could get that quivering vibrato effect. I was really enjoying the versatility of the Fender. I could never have done that kind of stuff with the Gibson. I also played a power chord backing for the rhythm and Haim and I played the main riff in octaves together. Stan did the lead vocal with back up harmonies from Miki and me. I also played the lead guitar solos. Ami played a driving beat and Miki's bass lines we aggressive and powerful. On the fade out we all started talking and Miki's falsetto can be heard singing "It's so fucking hard" and Stan saying "Talking about being hard".
"When You're Gone" is special for me because it was the first song that I wrote for my wife Efrat. It was also significant because I had written it alone and due to the personal nature of the song it was accepted that I would sing it .Stan liked the song too and we thought that it would be interesting if we would share the vocal and he would sing the chorus. And that's how it went. This song also has a very special sound to me and thanks mainly to Stan Solomon who heard it like this in his head and recreated it on record. We often referred to sounds as being "acid" By that we meant that when you would listen to this sound it would make you feel like you were on acid because that's the way it sounded when you were on acid. Haim's guitar sounded more like a saxophone than a guitar and I played behind his solo with this echo laden sound. Inspiration for that came from Robbie Krieger's solo on the Doors song "You're Lost Little Girl." I'm singing in the sincere British pop voice, a bit Cliff Richard and a bit (God forbid) Peter and Gordon and Stan's crooning away in his "I'm totally stoned out when I'm singing this" voice. He wasn't totally stoned out when he was singing this; he just wanted it to sound like he was.
As I have previously mentioned "Strangulation" was written by Stan and Miki and the song was about Stan's lost love Birit. Miki came up with all the riffs and Stan wrote the words and melody. I played solo guitar. Stan intentionally faded in the solo guitar in the break and I was really enjoying playing that old red Fender. The number has a kind of Hendrix flavor to it due to some of Stan's words and phrasing. "You know what I'm talking about" comes directly from Jimi and some of the guitar riffs are in the vein of him too. Stan also put in a few of his James Brown screams here and there. In the fade out you can hear Stan say "Oh to leave Israel man!" which showed that once again we were yearning to play outside in Europe again. It's not that we disliked Israel; it was because we could not find an audience who knew how to appreciate and dig the music that we played. And right at the very end of the fade out you can hear Stan say "Mountin' all the time yeah, yeah". I'll leave it up to the reader to interpret whatever Stan meant by that.
If you look on the back of the Churchills Album you will read in the "Thanks to" list, Amnon- arguments, and those two words sum up what it was like to record at Kolinor. Amnon was a decent kind of a guy but it's not his fault that he had never recorded true rock music before or had to deal with working with a bunch of long haired punks or so he probably thought. All his recordings of mainly acoustic instruments were just straight flat sounding recordings. There was very little in the way of embellishing effects used. We had gone through trying times with him before when we recorded "Too Much in Love to Hear" when it looked like we would never get a backwards guitar break accomplished. But after several 'You're crazy" complaints from Amnon he finally caved in and did what we asked for. He really thought that we were off our heads. Now, it was so much more intense as we were recording ten original songs. When we were in the studio and looked through the glass window into the control booth we would often see Stan waving his hands in the air and Amnon shaking his head then they would get into some intense conversation followed by more hand waving and head shaking until Stan would finally say on the intercom "Ok Robbie let's give it a try, I think Amnon understands what I want" and we would count in the number. Yehuda was usually standing in the background and would have a worried look on his face. The wrinkles on his brow would be really pronounced. Occasionally he would walk over to Stan holding his head in his hands and then he would outstretch his arms in an imploring gesture. We could read his lips through the control room window. He was saying "Stan, please, Stan please". Then he would point to his watch and we knew that he was complaining about the time Stan was taking up discussing and arguing with Amnon. We were using our Marshall half stacks in the studio and in order to get the sound you wanted you'd have to turn up pretty loud so on top of everything at our first session we blew up something in the control booth which pissed Amnon off and he urged his assistant Dori to get about fixing the problem. This brought about another big arguing session with Amnon where he wanted us to turn down our amps. We fought back saying that that was the only way we could play as that gave us the sound and ambience we wanted. We didn't have elaborate pedal boards in those days where you could get a huge kick ass sound at a Mickey Mouse volume.
"Straight People" was a Churchills protest song and was aimed at all those pushy people who were uncool: who shouted out shit to us when they would see us out on Dizengoff and hassled us at the clubs to play what they wanted to hear which was the same stuff that was shoved down their throats every day on the radio. It wasn't much better in Italy or Greece either. We always got some kind of remarks from passersby but we rarely understood what they were saying so we didn't care but still got aggravated by it and that's where the song began for me. Stan and I finished it off together sitting on our beds in Hotel Peters Copenhagen Denmark. Nobody would shout out stuff at you in Denmark. If they wanted to communicate with you, they would just walk up real cool and start talking to you. For us that was cool as long as they didn't make a nuisance out of themselves. Once again Dori is having a blast on the oscillator. Playing through the whole song it reminds me of the soundtrack from the British TV Sci-Fi series Dr. Who. The ad-lib instrumental part at the start of the song was indeed an ad-lib. It was Haim, me, Miki and the oscillator. I started it of by drumming with my fingers on the back of the neck of my Strat and just let the open strings vibrate which created a kind of a humming effect: and then I slid the strings of my guitar up against a microphone stand which sounded a bit like a steel guitar and a sitar. Haim was using a guitar with a Bigsby type tremolo arm. Neither of us remembers what guitar it was but it may have been a Rickenbacker that we may have borrowed from Revolver. When you applied pressure to it the tremolo arm made this clicking noise which normally would have been undesirable. However we decided to leave it like that because we thought that it added to the mystery of everything, leaving the listener to wonder what it was. It was totally by luck that the ad-lib part in the intro led into the song so perfectly. You'll hear me gradually fade in with my rhythm at exactly the same time as Haim is playing his notes which fit perfectly and set the tempo and feel of the song. Then Ami picks it up and drives it on with Miki. It was a hit at all the audiences who did not dig or appreciate what we were offering in original music. Was it in any way connected to "People are Strange" by the Doors? Yes it was and the inspiration came from there. It was an example of the Churchills getting influenced by another band's song. We played "People are Strange" as part of our set but we took the essence of the Doors song and wrote our own song around the influence of "People are Strange" to get our point across. The multi-track sped up voices at the end depicting the straight people merge into the next song, "Subsequent Finale".
We decided that the second side of the album should contain songs which flowed in to each other so there would be no silent gaps between the songs just as the Beatles had done with their Sergeant Pepper album. The voices of the "Straight People" blended into Haim's intro on his mandolin followed by me with the run down I had come up with when I wrote it at the hotel which is then covered by Miki. Ami brings us in and off we go into "Subsequent Finale". This song indeed shows a different side of the Churchills with the ringing tones of the mandolin setting the mood as the prominent instrument. Stan, Miki and I did the harmonies that led into the solo. Haim's Greek style influence really shows here. I took over at the end of Haim's solo when Ami went into a marching beat and I played an eastern flavored part using the soft tone on the Strat. It was strictly a one take solo which led to another build up into the driving beat of the final verse. Ami Trebich's drumming on this song is excellent. It adds to the interpretation of the song, something the song never would have had if the song would have remained just the way I wrote it and envisioned it.
"Subsequent Finale" fades and the oscillator leads us into "So Alone Today". It's a remarkable number and probably the weirdest on the album. It was also affected by the problems we ran into with working with an engineer who although was very competent was very underexposed to all the modern changes in sound and recording techniques. He probably thought we were totally insane when we started the recording. Stan said that he would like to hear a sustained feedback tone held throughout the duration of the song. So what Amnon saw as our first track of the recording was me standing alone in the studio in a position in front of my amp where I could sustain a continual feedback tone. I swear it would still be going today if I could have stood there that long and the amp would not have died. I wavered the pitch of the tone using the screw driver stuck in the tremolo receptacle. Amnon tried his best to take it all in stride but underneath you could see that he was mystified and astounded by the things we did or asked him to do. Dori the assistant was quiet but was probably more interested than shocked by what we asked them to do. After the feedback track was down we recorded the backing track. Stan and I had originally written the song over a riff I had come up with. Once again we have a song written about his lost love Birit. The lyrics were all Stan's. When the idea of reversing the backing track came up we realized that in order for the backing to fit with the verse and melody line format we would have to play the song backwards so that when it was reversed it would come out forwards. It didn't take long to get the backing track down and then the fun started. Stan told Amnon that we wanted him to play the track backwards. Amnon could not understand why in the world we would want him to do that. Stan tried to explain that it was because of the sound it created. Amnon said that it sounded good the way it was, and on and on it went until we got him to agree. We listened to the play back and Stan layered in my feedback guitar and the band agreed that it was a good weird sound. Stan was so delighted with the results that he decided to put the vocal on. Some of his words and the phrasing and style of his singing show a definite Hendrix influence. I joined Stan on vocals in the harmonies. When we devised the backing track we left two sections for guitar solos which we also intended to play backwards. We just played along on one chord so there would be no changes and it would be easier to create a weird solo over. Haim was designated to play the solos and put down a couple of good ones. Overall we were very pleased with the results until the next mixing session when we found out that Haim's solos had mysteriously disappeared having been wiped out. I don't remember why Haim didn't redo those solos but we ended up getting the oscillator once again. It might have been that Stan actually may have operated the oscillator. It was rumored that Kolinor deliberately lost the solo guitar track as they were embarrassed that anybody in the recording business in Tel-Aviv who heard it and knew it came out of Kolinor, would think that they were crazy. When I listen to it today I hear it as a cold, spacey sound and can imagine some time traveler somewhere off in the depths of space with that cold feeling of being so alone.
It was at the recording session to record "Debka" that I first got to meet Stan's father. Stan had told me that Golda Meir had invited Sam Solomon and his partner Maurice Zinman to come to Israel to offer their expertise and recommendations on how to set up clothing manufacturing factories on a large scale in Israel. It seemed like Stan's stories of how his father was one of the richest men in Canada, which most of the Churchills disbelieved, was indeed true. If Golda Meir had invited him he must have been somebody of importance. Years later when I was working for Stan in Miami and was searching in a filing cabinet for some papers he had requested, I came across the actual letter of invitation sent to Sam Solomon, hand signed by Golda Meir. A few days before Stan's parents arrived he decided that he would go out and cut his hair. The action that he took left me feeling disappointed and pissed off. I couldn't understand why he would have done such a thing. It demonstrated to me that he must have felt some kind of obligation to his parents, If he was so against having to knuckle down and become a businessman like his father and join the family business why would he cut his hair to please his parents? Why would he think that the length of your hair would change who you really are inside? It's sad and painful to write this as although I didn't realize it at the time, this was the beginning of a road that eventually led to Stan's departure from the Churchills.
Noam Sharif showed up at Kolinor Studios with a young lady by the name of Ruthy who played a clay-jar drum. We had met her briefly once before when Stan and I were invited by Noam Sharif to attend a rehearsal with the orchestra that he was conducting at cinema Tel-Aviv. We created a lot of interest from the orchestra members when they saw two long haired hippies appear in the auditorium casually strolling down the aisle and sitting down about three rows from the front. We heard "Ha Churchillim po" the Churchills are here. Stan and I were delighted that we had been recognized. Seeing the puzzled looks on the orchestras faces we could only imagine that they were thinking "What in the hell are these rock musicians doing here?" Noam Sharif came over to us with Ruthy in tow and introduced her to us. Noam was pleased that we had come and told us that the next piece the orchestra would be rehearsing was an Arabic composition in which Ruthy would be playing. It was a novel experience for Stan and me to watch the rehearsals take place and at the end some of the musicians came over and chatted with us. They were surprised that rock musicians would be interested in classical music. We assured them that we respected it for what it was, which was music. I still love classical music although I don't listen to much of it.
Just after Noam arrived two Arabic musicians showed up with their instruments; their names were Abraham Cohen and Eliahu Sassa. The weird lute-like instruments they were holding were called a Canoun and an Oud. Stan was sitting in the producer's chair in the control room while we were all in the studio. As we began to rehearse "Debka" with Ruthy, Noam and the Arabic musicians I noticed that two well-dressed gentlemen had entered the control room and were chatting with Stan, Yehuda Talit and Amnon. I guessed that Stan's father had arrived. Sam Solomon leaned against the wall and watched us as we rehearsed with what looked like great interest. Stan commanded the session, issuing instructions to the engineers and the band in a confident manner which was probably for his father's benefit. Noam Sharif explained that he wanted the song to begin with an introduction, ad-lib segment which would create the illusion of an example of an Arabic way of life. He explained that there were certain sounds that they used to express emotions like Huzzzzzz and a good belch at the end of a meal indicated a state of contentment and appreciation of the food. He also explained that they enjoyed smoking a Nargilah (water pipe). We had enjoyed going to the smoke house that was in the Old City of Jerusalem and smoking hash through a water pipe so Stan and I were sold on that idea. We had Abraham and Eliahu jam out together for several bars to create a background for the intro. At a later session we added on other effects. Noam also told us that he wanted a long fade out at the end where everything would get chaotic with screaming and shouting and whatever we thought would sound good. It was surprising to see this straight-looking conductor of the Tel-Aviv Philharmonic Orchestra freaking out in the fade out; dragging his elbow and arm up and down the keyboard creating these avant-garde effects of chaos and confusion. A day or so later I got to meet Stan's mother. Needless to say I didn't get my hair cut. She and her husband questioned me as to why my hair was long. Sam Solomon said "You're a good looking guy, why do you spoil that by having that long hair?" I put on my most polite demeanor, as I always did and replied that it was just me and that's the way I wanted to look. Throughout our conversation I played the English gentleman. As we said goodbye Mrs. Solomon turned to Mrs. Zinman "What a nice young man" she said "He's so humble".
On the liner notes on the Churchills Album you will read Dori sound generator-burps. This refers to the session where we added the effects to the intro of "Debka". Dori was the one who on command let go that resounding belch in the intro. We added some echo to the general sound so as to create the feeling that you were sitting at a table in a stone Arabic building enjoying a meal and partaking of the smoke of a Nargilah, belching and coughing with joy. The sound of the water pipes was made by Samy Birnbach who would later form the band Minimal Compact and Sheldon then bass player with the Electric Stage. Stan had invited them to the session. They blew through straws into glasses of water to make the bubbling sound while we coughed and made sucking sounds. We also put many vocal additions to the fade out. Stan can be heard amid the chaos screaming Debka in his best Jim Morrison voice while I threw in several "Habibi's" and Haim shouted out "Homor" which in Hebrew means donkey and is used in a derogatory form insinuating that someone is an idiot .Once again the oscillator is used at the very end to create the sound of a bomb whistling down from the sky and culminating in an explosion as the bomb hits. The significance of the explosion is interpreted in two ways. It refers to the constant threat of war in the Middle East and is also meant to infer the "crash" or coming down from an acid trip.
Having completed the recording of the album it was time to create the album cover. We showed up at a studio on Dizengoff Street on afternoon for the session. The photographer's name was Norbert. He was an older guy and to be honest we thought that we were going to end up with some kind of run of the mill photographs depicting the band in typical poses so we immediately began to try get our point across to Norbert to illustrate that we wanted some unusual out of the ordinary shots taken. To our surprise Norbert was very receptive to our requests and he went on to propose some ideas to us that he had come up with. He suggested that the front cover would feature our faces and suggested that we lie down on the floor in a circle with our heads meeting together in the middle. He set up a large camera on a boom stand which was centered over our heads. Miki took a scarf which he had found and tied it around his head Ami lying next to him took the end of the scarf and put it in his mouth. Haim put a magnifying glass, the type that a jeweler would use, in his eye and put on his famous sideways smile that used used to do to make us laugh. Stan adopted a weird pose and kept his sunglasses on. I did not wear my glasses and decided to pull some of my hair across my face and over my upper lip to give the appearance of a handle moustache. After the shot was completed Norbert told us that later he would create what I think he called a double negative of the shot which would make it look like it was a negative and a positive at the same time. He said that after that he would re-shoot it through a red filter. The front cover photo being achieved we then went on to create the back cover photo. There was a large cardboard box in the corner of the room which we found was full of all kinds of props. We rummaged through the contents and chose some items to use for the shot. The first thing Stan came up with was that he said that he would stand naked in the picture. Along with Norbert we agreed that there was no way that this would be allowed by the record company or accepted by the public, in fact the only time something like this came into being was when John Lennon and Yoko Ono came out with their Two Virgins album later on in the seventies. Stan reluctantly agreed to keep his underwear on.Ami also decided that he would remove his shirt and donned a sailor's hat and with a cigarette hanging from his mouth took on the stance of a seaman or tug boat worker. Haim came up with a strange looking item of headgear and some sunglasses and poked Stan in the gut with the end of a small umbrella he had found. Miki looked like a male nurse who was taking a sip out of a brandy glass after finishing his shift at the hospital. Finally I put on a Kibbutz hat with Israel emblazoned across the front. In addition to that I peered through the jewelers eyepiece that Haim had used, got down on one knee and held a plastic sunflower.. With the shot completed Norbert said that for the final picture he would place some droplets of water on the lens to create a hazy effect and then use a pink filter to finish it off. All in all it was a good session and we were pleased with the results. We did not get to see any examples of the cover or given the opportunity to approve anything. We just got to see the final result after the cover was completed and was ready for release. In the coming weeks Stan and I were invited to go over to Hed Arzi record company to listen to the first pressing of the record. We got blasted at the hotel and took a taxi to the location and met up with Zev Levine who was the owner of the company. I believe he may have been South African. Stan and I entered his office and sat in front of his desk. Zev put the demo disc on his stereo system and scrutinized us as we sat there listening to the demo. At the end of the second side he asked us our opinion. We answered that it sounded fine, but of course we couldn't tell him that we were stoned out of our minds as we listened
With The Churchills' Album now completed the band would begin to enter a different phase with changes that would affect the future in several ways. Stan had said goodbye to his parents and they returned to Canada. We slipped back into the routine that we knew so well and continued to play our weekly gigs and rehearse a couple of times a week. At Hotel Nes-Ziona Stan and I continued to write here and there but now that the album had been completed we were not writing that much and Stan was beginning to talk about producing other bands and singers. I started to feel the pangs of worrying develop in my thoughts as it looked like Stan was beginning to seemingly lose interest in singing with the Churchills and was directing his thoughts and energies towards becoming a record producer in Israel. However I put these thoughts on the back burner and tried to assure myself that Stan would probably abandon his aspirations and in time we would begin our writing again with the hope of recording a second Churchill album. I also noticed his attitude was changing regarding the live gigs too. He was becoming more agitated by the audience and was showing signs of belligerence towards them.
One night at an outdoor gig we were playing Deep Purple's "Hush" and Stan was in the middle of his solo on the timbales and was trying to ignore the punk who had been standing up close in front of him all night making comments to Stan in Hebrew and generally being a nuisance. At one point when the guy thought he had heard enough of Stan's solo, he began waving his hands at Stan implying that he should stop. He made the mistake of pointing his finger too close to the timbales and Stan whacked him on the back of his hand with his drumstick. The guy freaked and started to look like he was going to make trouble but Miki motioned towards him saying something in a threatening tone, followed by something from Ami who shouted over the noise of the drums, and the guy ran off to complain to the promoters. At the end of Hush the guy together with a couple of the organizers of the gig approached Stan. As it was an outdoor gig there was no stage, we were playing at ground level. There were no barricades or security guards so it was possible to walk right up to the band if you wanted. Miki stepped in immediately and although we didn't understand the conversations Stan and I could see that Miki was aggressively explaining the whole sequence of events and the promoters were getting the full picture and started to direct their displeasure towards the punk. When we could see that the issue was being settled in our favor Stan stepped in and said he was sorry that the guy got hurt but he couldn't be responsible if somebody got too close and was hit by a flying drumstick. The drama was over but we were basically lucky. If the punk would have had about fifty friends with him it might have been a whole different picture. We could have been in a very dangerous situation.
Remembering danger, there was a time when we played another outdoor gig at a swimming pool in Kiryat Shmone which is in north Israel not far from the Lebanese border. About half way through our second set some guy jumped up on the stage and motioned us to stop playing. He grabbed a microphone and began shouting. I thought that this was probably just another crazy punk but the band stopped playing and the guy looked like he was making an announcement. All at once there was a mad rush by the audience towards the exits accompanied by screams here and there. I looked across to Miki and asked him what the hell was happening. He answered with a nervous smile and said "Oh their just firing rockets at us from Lebanon". As it was so close to the Lebanese border it was a popular target for terrorist attacks. "Oh I see" were the words that came nonchalantly from my mouth and then I suddenly realized what Miki had said. This was followed by the whistling sound of an incoming missile followed by a large explosion somewhere nearby; more screams from the escaping audience. "Come on we must get out of here' shouted Ami and we all nervously hurried to dismantle the gear and get it put in the van. I had never been subjected to that kind of danger before in my life and had this oppressive feeling that no matter where I was standing one of those rockets was going to come down on me. With a background of sporadic whistles and explosions and the gear put away in record breaking time, we sped off into the night.
At Hotel Nes Ziona we still hung out with the same crowd, the Canadians that were continually passing through, English Mike, Natty Blum and just about anybody else that appealed to us that drifted into the Hotel. Stan and I were beginning to spend less time together as I was spending as much time as I could with Efrat and we usually liked to be alone together and Stan was going out a lot with Natty and Mike. Natty Blum had a sports car and he would often take Stan and Mike out for rides around the city. Late one night as I returned from taking Efrat home I met them as we entered the hotel and heard Stan saying to Natty "I'm telling you man we're being followed!". When I asked Stan what he was talking about he went on to tell me that he had noticed the same car behind them wherever they went and Mike agreed with him saying that he had noticed that too. I was surprised and wondered who would want to follow them and why. One afternoon when the Churchills came to pick us up in the van to go to a gig in Haifa Stan pointed out that the same car that had followed him was parked on the corner of Ben Yehuda Street and he was right we noticed that the car followed us as we left. Stan told Ami and Miki and they said that it was just probably somebody who liked the Churchills and enjoyed following the band around. Stan didn't go for Miki's explanation. When we reached the outskirts of Tel Aviv the car gave up the chase and turned off. We now began to be more aware of who might be following us whenever we went somewhere. One night as I walked with Efrat to the corner of Ben Yehuda Street to flag down a cab I saw the same car again and noticed that when I put Efrat in the cab that the car drove off and followed the taxi, A few days later Efrat told me that somebody who called himself Mr. Berger had called the neighbor across from her parents' apartment asking to speak to Mr. or Mrs. Vahab (the Vahab's had no phone at the time). Mrs. Vahab was asked if she knew that her daughter was associating with a rock musician and drug addict and advised that she should stop her daughter from seeing him. Mrs. Vahab said that she knew me well and was not concerned about this. It was becoming obvious that something was going on and was probably connected to the people who were following us. Stan and I had been invited by Mrs. Vahab to visit, which we did and she had made breakfast for us on a few occasions. She saw that we were polite and respectful and had no cause for worry about her daughter's safety.
We noticed that the following was continuing and Stan vowed that he was going to bust the investigators and expose them. One evening Natty Blum and Stan came back to the hotel and Stan said "That's it I busted the fuckers" and went on to tell me the story of what had happened. He and Natty had noticed the same car parked on the corner again and decided that they would take a drive and lead the car that was sure to follow them on a chase around Tel-Aviv. As Stan had anticipated the car followed them as they pulled away from the hotel and began to tail them. Stan and Natty led them on a mystery tour in a haphazard manner to make it obvious that they knew they were being tailed. Before too long the tail car realized what was going on and gave up the chase. Natty was able to make a swift u turn and ended up following the car that was following them. Stan and Natty were having a great time as now they were doing the tailing. There were two guys and a girl in the tail car and now they were in a panic as they realized that they were now being followed. As a last resort to get rid of Stan and Natty they made an illegal turn into a one way street and sped off the wrong way down the street. Natty decided not to follow and they lost track of the tail car but all was not over with yet. As they drove over toward Ibn Gvrol Street by the municipality they saw the tail car again and very discretely shadowed it until it parked outside of an apartment building. Natty parked out of site and Stan very quickly got out of the car and walked off in the direction of the tail car. He saw a guy get out and enter the building. Stan walked up to the tail car where the other guy and a girl were waiting and he tapped on the window, smiled and bid them shalom. They were totally shocked and surprised and Stan walked away into the apartment building. As he entered he could hear some conversation taking place somewhere up on the third floor so he crept quietly and stealthily up the stairs and peered up through the hand railings and saw the guy from the car talking to somebody in the apartment. Before too long the conversation ended and the door closed. As the guy made his way down the stairs Stan revealed himself and the guy just about fainted when he saw Stan, who in his usual cocky manner bid him shalom with a huge smile. The guy continued down the stairs and Stan proceeded to climb the stairs and knocked on the apartment door. It was opened by an older lady and Stan caught a glimpse of a guy seated at the table eating his supper. When he caught sight of Stan he almost choked and got up quickly from the table and shouting something in Hebrew to the lady he disappeared into an adjoining room closing the door behind him. The lady then closed the door on Stan and that was that. Stan looked at the name plate on the door which was written in Hebrew and English and it read Dov Tavor. After the tailing escapade and Stan's exposure of Dov Tavor the tail car was no longer to be seen parked near the hotel. We looked upon the performance of our stalkers as being amateurish and we were very surprised at the bad job they had done in their botched investigation. The Israelis were renowned for their expertise in undercover investigation and spying but this performance was totally ridiculous as it seemed that they were deliberately trying to make their presence known to us and made no attempt to hide their activities. We had no idea at the time why we were being followed we could only think that it was something to do with a government organization such as immigration. It would be several years in the future when we would finally get to find out who was behind the investigation and then it would all be clear to us.
Around this time we also had an offer from another film company to provide some music for a movie that was titled "The Dress". As far as I can remember they only wanted us to record one song for the movie and we decided to record "Sunshine Man" a recent composition from Stan and me. Sunshine Man was basically a simple little tune that Stan and I put together but we soon decided that we would embellish it with various different beats and turned it into a bigger production so that it did not remain as a simple little song. As we had done on The Churchills Album with "Subsequent Finale" we decided to use the mandolin again. We used a Bolero Spanish approach to it which lent a more dramatic texture to the number. As the song progressed we changed to a straight four beat for the middle part and stuck in a neat slow down phrase which reintroduced Haim on the mandolin again. I played the lead guitar parts which I came up with. For the last verse we used a galloping regimental style beat being unable to resist the temptation of throwing in a short 3/4 phrase at the end. Stan decided that he would finish the whole thing off with a reverse recording of a flute playing with a jingle jangle background just to let everybody know that here comes the sunshine man tooting his flute to announce his arrival. At the recording session the movie makers requested that we each play the craziest thing we could imagine on our instruments. This was done by each of us in turn as soloists. We couldn't figure out why they would want us to do this but we obliged them anyway. From what I remember of the movie I don't think that they used too much of the song "Sunshine Man", rather they chopped up the backing track without the vocals and inserted the segments here and there throughout the movie.
There was a buzz of excitement among the Israeli members of The Churchills one afternoon when Stan and I showed up for the practice session at the Masakha club. Ami Trebich stated that he couldn't believe that the great Israeli singing star Arik Einstein was coming to the rehearsal to take a look at the band. Stan and I had heard a little about Arik before but we didn't know too much about him except that he was a very famous singer and sang some kind of Israeli folk music. As far as we were concerned it was no big deal to us but to Haim, Miki and Ami it was something huge. At some point when we were rehearsing, the door at the back of the club opened up and in walked a short red haired guy with a ruddy complexion followed by a much taller guy. They were Svi Chissell and Arik Einstein. Arik was tall and lean and was dressed in faded blue jeans, a long sleeved cream colored shirt and beige loafers. When we saw him in the coming months it seemed like he was always wearing the same outfit of clothes. We stopped playing but Yehuda arrived just then and motioned us to keep playing. Arik stood way in the back of the club and Miki was concerned that maybe we were playing too loud. Yehuda had us play another song or two and we took a break. Arik approached the stage as we were putting our guitars down followed by Yehuda and Chissell. Arik introduced himself to the band and introduced Chissell (as he was called) as his manager. Stan and I didn't understand much of the conversation so Yehuda explained to us that Arik was intending to record a new album and was looking for a band to help with the recording of it. There was also some interest in Stan being involved in some ways as a producer. The door in the back of the club swung open and in walked another guy. The sound of a Vespa motor scooter pulling up outside the club heralded his arrival. He was robust in stature and was dressed in khaki shorts, a matching shirt and sandals. He sported a full beard and looked like he had been on a safari somewhere. He chatted together with the guys and then without introducing himself he asked Stan and I if he could speak with us outside. We had no idea who he was but sat down outside on the stairs with him. He asked us if we could write songs and we said that we could and explained that we had just finished recording our first album and had composed all the music ourselves. He stated that he had heard about that and that he also understood that Stan had produced the album. He went on to tell us that there were plans being made to record TV programs featuring comedy skits and music in which Arik Einstein and some other Israeli artists would be involved in. He went on to ask us if we would like to take part in the project and we answered saying that we would. He said we would be needed to write songs, possibly appear in some shows and for Stan to be involved in the music production. When we returned to the club our anonymous acquaintance resumed his conversation with Arik and Yehuda, and Stan and I were approached by Ami who with a look of awe on his face, asked us if we knew who it was that we had just been talking to. We told him that we had no idea at all. Ami explained that this was Uri Zohar who was a great star in Israel. He was an actor and comedian. Our first encounter with Arik Einstein was a success. He had liked the band and was looking forward to working with us in the future. The Churchills' collaboration and association with Arik Einstein would soon raise them up to the mainstream of the Israeli music scene.
Not long after our meeting with Arik, Stan and I received an invitation to attend a meeting with Arik, Uri Zohar and a few other people involved with the TV project. It was to be held in an apartment on King David Street. It was just a way up the road from where Stan and I had lived together with the Tornados and as we passed the building Stan said "Hey remember that Robbie?" and we both smiled as we remembered those special days. At that first meeting were Arik Einstein, Uri Zohar, Svi Chissell, cameraman Boaz Davidson, an up and coming singer songwriter Shalom Hanoch, Stan Solomon and Robb Huxley. It was a hell of a first get together. Chissell was sitting at the dining room table crumbling up the hashish and mixing it with the tobacco and rolling up the joints. He was quite an expert. Pretty soon we were all quite blasted and there was a lot of talking and laughing going on. Shalom played a few numbers that he had and Uri Zohar who was an incredibly funny individual impressed Stan and I very much. He was very intelligent and spoke excellent English and could talk about a variety of subjects. His personality was quite overwhelming.At one point Uri turned to Stan and me and said he was going to tell us a story. He proceeded to tell us about a statue located somewhere in Europe that featured a fat and happy looking man sitting on a turtle. The statue had been there for over 600 years and the man on the turtle was very content to sit there and watch the world go by. Uri stared at Stan and I with his piercing eyes and said "Now think about that for a minute, think about that!" Stan and I looked at each other wondering where Uri was going with that when he said "Think about that, go away and write a fucking song about it". We didn't know whether to laugh or cry, he wants us to write a song about a man sitting on a fucking turtle for 600 years? Stan and me although a little daunted by this unusual request went back to the hotel and within half an hour or so came up with a song. It was titled "Man on a Turtle".
Man on a Turtle.
Sitting here for over 600 years,
Watching all the people pass bye,
Sitting here for over 600 years,
Moving so slowly I see people laugh and cry.
That's the way it is,
That's the way it is,
That's the way it is.
I'm here in my place minding my own business,
I don't care what happens round me,
See old ladies go about their shopping,
See little children cutting down the tree.
That's the way it is,
That's the way it is,
That's the way it is.
I don't worry my life's my own,
I'm so free,
The turtle is my only friend,
I stand alone,
I'm made of stone.
I'm doing ok nobody's gonna move me,
No one's gonna get it my way,
People have tried, nobody's gonna move me,
I was put here for a long time and I was meant to stay.
That's the way it is,
That's the way it is,
That's the way it is.
Shalom Hanoch went on to write the words in Hebrew but wrote them from the point of view of the turtle and the man.
One afternoon while we were leaving the hotel to go out and get something to eat Stan, Natty Blum and I crossed Rehov Nes Ziona when Stan remarked upon the Volkswagen that was parked on the corner. "It's there again and I bet that's a plain clothes cop sitting in it" So we approached the car and Stan walked up and said "Excuse me officer what time is it?" The driver who was wearing a white shirt, black slacks wearing shades with his black hair greased back looked at his watch and answered "It's a quarter to two" Stan immediately confronted the driver accusing him of spying on us. The driver smiled and asked what Stan was going to do about it. Stan said he was going to call the police to lodge a complaint. The driver laughed and told Stan he could do whatever he wanted to do. Stan walked back across the street and asked Uri who was on the front desk to call the cops. Within five minutes two policemen pulled up in a jeep to investigate our complaint. Stan told them that the driver in the Volkswagen was spying on us and he wanted something to be done about it. They peered into the car and when they saw the driver they started to laugh and joke around with him. Natty Blum overheard their conversation and his interpretation confirmed that the guy was actually a detective and knew the cops. Stan said that he wanted to make a complaint down at the police station on Dizengoff Street. The cops smiled and motioned for us to get into the back of the jeep. Natty declined to accompany us. The jeep with its long haired hippie passengers sped off down Dizengoff Street followed by the Volkswagen and pulled up outside of the station. We walked in with the two officers followed by the detective. It looked like the detective was well known at the station as he was welcomed with smiles and greetings from the officers at the front desk. Stan knew enough Hebrew to understand what the cops said to the detective. They jokingly asked the detective what he was doing with these long haired homosexuals that screw each other in the ass and are nothing more that garbage. When Stan said that he wanted to complain about the detective they told him OK you have made your complaint is there anything else we can do for you? Seeing that we were getting nowhere with this we told them "Well thank you very much" and we turned around and walked out on to Dizengoff and flagged down a cab to take us back to the hotel. "See Robbie I knew that we were being spied on again" Stan said as he lit up a Marlboro. The next day Stan and I were hanging out in our room at the hotel when there was a knock at the door. It was the detective. He asked if he could come in and talk to us. He explained that his name was Dave and that he had made a promise to somebody and would not divulge that person's identity, that he would make sure that Stan did not get into any trouble. He wanted to be friends with us and told us he was not out to get us, just trying to protect us. From that moment he was known to us as Dave the Cop.
We started work on recording the songs we had been writing for the TV show production with Arik, Uri Zohar and Shalom Hanoch and met down at the studio . The musicians we would be working with were Shmulik Aroch, bass guitar, Yaakov Nagar, Keyboards, Arie Kaminski percussion I played guitar and Stan was in charge of production. Some of the songs we worked on were, Lama li lacahat la lev, the Turtle song and a song called I ride alone. At one point in the session Arik and Uri approached Stan and me and told us that they were planning to record a Hebrew version of the John Lennon song "Give Peace a Chance. They wanted Stan to produce it and for The Churchills to play the backing. They stated that it would be a very casual affair at the studio. Many of the top Israeli entertainers and comedians would be there to take part in what was to be a live recording. Sometime in the latter part of 1969 probably September or October the session was booked.
Stan and I showed up in the evening with the Churchills in tow. Celebrities began to show up and before too long the studio was crammed with people. The hashish joints were lit up and the whisky bottles were passed around and pretty soon the studio was engulfed with smoke. Along with this the occupants began to get affected by the stimulants and pretty soon the atmosphere took on a chaotic character. The Churchills began to play the opening of "Give Peace a Chance" and the participants crowded around the two microphones where Uri Zohar who was apparently in charge, Arik Einstein Shalom Hanoch and Svi Chissel were gathered. Alona Einstein who was already looking like she was totally ripped danced, writhed and gyrated in front of the Churchills with a huge joint in one hand and a bottle of whisky in the other. After several attempts to get the whole thing started it looked like things were falling apart and the session was a shambles. There was no order at all with everybody getting in on the act and the session was getting nowhere fast. I looked across at the control booth where Stan stood with the two engineers who for sure had never witnessed such a spectacle in their whole lives. He looked back at me, rolled his eyes and then displaying a helpless smile shrugged his shoulders and came out into the studio to make a few adjustments on the guitar amps. Alona Einstein shoved the joint in his face and he took a couple of big hits and a quick swig of the whisky bottle. As he adjusted the volume on my Marshall he said "This is totally fucking crazy Robbie, this is insane, the engineers are freaking out in the control booth, and it looks like they are stoned from all the smoke in the place."
Stan returned to the booth while Miki tried in vain to do a couple of count ins to get everybody together. Eventually Uri Zohar started to shout for everybody to shut up and tried to get everybody's attention but the effects of the hashish and alcohol had created an ambience of complete disregard and abandonment. Only after Uri was joined by Shalom Hanoch and Arik with vocal demands for quiet was some kind of peace achieved. At last it looked like they were indeed trying to give peace a chance. In the short lull that had occurred Ami Trebich leaned over his drums saying "Robbie this is unbelievable" I replied saying that it was a load of bullshit. Ami said maybe to me it was but if I could only understand what they were all saying in their appearances in front of the microphone I would piss myself as it was so funny. That may well be true but understanding very little Hebrew at the time I was unable to make an opinion on that. To me it was an unruly mess. Finally Uri Zohar got things together and with a shout to Robb and Stan the number got under way. The song went on and on for what seemed like hours with Alona still parading around with the joints and The Churchills along with everybody else getting totally blitzed and tripped out. At one point the Churchills started to see the funny side of things and started to put discords and comical little phrases in the backing which amused us so much that we started to laugh hysterically. Haim Romano leaned back on his amp with tears streaming down his cheeks and Miki and I shared grins and bursts of laughter. The rest of the session drifted into a foggy mist where all memory faded to oblivion. I can't remember how the session finally came to an end but suddenly it was all over and the studio was empty. The only sound that could be heard was Ami packing away his drums and the clang of the metal drum stands as he placed them in the drum cases, somewhere in the distance the sound of the tapes being rewound in the control room drifted through the once smoke laden air which had now cleared up. Once the gear was away I joined Stan in the control room as he was listening to a section of the track. "What a freak out" I said and Stan replied saying "Yeah Robbie and just to think I gotta come in here next week and try to salvage something from this fiasco to put out on a record." We left the studio as the sun was coming up and walked down to the corner where we got into a taxi. Stan said "Take us to Hotel Nes Ziona please" and the driver pushed the button on his meter and took off to our destination. As we drove I asked Stan if he still wanted to become a record producer here in Tel-Aviv and he said that yes he would and he turned to me and said "Robbie I don't think that I want to play in The Churchills any more". I made no reply as we pulled up outside of the hotel but I felt that stab of pain in my stomach and a feeling of great sadness and disappointment flooded my brain.