In which Robb meets the Holder brothers at the Courtfield Arms in the Forest of Dean.
After his audition Robb joins the Whirlwinds. First contacts with Joe Meek.
Whirlwinds go to R. G. M. Sound for audition and experience Meek's recording techniques.
First recording sessions at Holloway Road and Robb's harrowing experience with Joe.
Robb and Pete Holder write their first song together and record it at R. G. M.
Joe announces a name change for the band.
Meanwhile life at the department store went on the same. I worked in the bargain basement carpet department and spent most of my time sweeping the floor or talking to the female sales assistants. One of the salesmen in our department was a man who lived in Dymock which is a small rural area just outside of Newent, where Joe Meek, the independent record producer grew up. His name was John Devereux and he had a house on an acre of land. He had a Guernsey cow and made his own butter, and he kept bees which provided him with honey. He knew that I was singing with the Vendettas in the forest and told me that his neighbors the Holder brothers had a dance band and that they were very good. He suggested that I should contact them because they might be looking for a new singer. I was quite happy being with the Vendettas and didn't give it much thought. When it became clear to John that I had made no attempt to get in touch with them he told me one day that they would be coming down to see me at the Courtfield Arms that Sunday.
Well, Sunday night came and we were playing our usual gig to a full house. During the break three guys came up to me and introduced themselves as Roger and Peter Holder with their older brother Mick who was their manager. They told me that they had a band called the Whirlwinds, that they had the same gear as the Shadows, Fender guitars and Vox amps, and that their singer Max Swift had recently quit the group. They asked me if I would like to come to a practice session. I was quite impressed with their story, especially the part about the gear. I figured if they could afford Fender guitars they must be pretty good. They bought me a pint of cider and I agreed to go along to the practice the next week.
Roger Holder picked me up at 7 o' clock that Tuesday outside of Moreland's match factory which was on the Bristol Road near to where I lived. He had a mini van and showed up with his girlfriend. I had to sit in between them on the emergency brake as there were only two seats in the front of the van. Roger was a real fast driver and we soon got to Newent and shortly to Dymock. We turned into a small country lane at John Devereux's house and followed it until we came to a farmhouse called the Welsh House. Adjacent to that building was an old barn and as we got out of the car I could hear faint sounds of electric guitars and drums. We entered the room and sure enough there were the Vox A.C. 30's and Fender Strats. Roger introduced me to rhythm guitarist Pete Awford and drummer Brian Peachey. Brian, I recognized at once as he had attended the same school as me but was a little older. Of course Pete Holder was there and he played lead guitar on a custom left handed Strat. Mick Holder the manager and younger brother Derek were also there. We decided to start with "How Do You Do It" by Gerry and the Pacemakers, followed by various numbers by Cliff Richard, Buddy Holly and Elvis Presley. I remember we also did "This Time" by Troy Shondell and "Please Please Me" by the Beatles. Having got these songs down everyone was pleased with the way things sounded and I was asked if I would join the band as lead singer. I was happy to accept their offer and agreed to join, explaining that I would have to honor a few gigs with the Vendettas if that was ok with them. That was no problem so we went on to discusses the format of the band. The Whirlwinds played a lot of instrumentals such as "Apache", by the Shadows, "Telstar" and "Riding the Wind" by the Tornados and Pete Hawford also sang a few numbers, so it was agreed that I would come on to do the other vocals after they had played the opening numbers. We also talked about getting me a special shiny suit to wear. So all in all the first rehearsal went along very well. Later that night as I got into bed in the little back bedroom in Clegram Road I thought to myself "What name goes with the Whirlwinds?" I knew for sure that Huxley wouldn't fit but just as I was drifting off to sleep; it popped into my head, Gale, no Gayle, yes Robb Gayle and the Whirlwinds.
When I woke up the next morning I knew that I would have to speak to Phil to let him know that I would be leaving the Vendettas. He knew that the Whirlwinds had come by to the Courtfield Arms to see me so I hoped that he would be expecting to hear some kind of news. He took it ok when I saw him at tea break but he asked me to honor a few gigs we had that were coming up. I told him, no problem. In the meantime I continued to rehearse with the Whirlwinds. A couple of weeks later we were ready for our first gig. We were booked to play at Staunton village hall. Roger picked me up and we drove out to Staunton. We walked into the hall and I looked up to see the gear set up on the stage. Pete Holder and Pete Hawford were getting in tune and Brian Peachey was finishing setting up his drums. I sat down and talked to Roger's girlfriend while they all got in tune. The hall started to fill up as the Whirlwinds came down off the stage to put on their brightly colored jackets. Each band member wore a different color, and together with those sunburst Stratocasters they really looked cool. They started their set with Apache by the Shadows, all doing the same moves together and holding their guitars high in the air. I had never seen them in their stage clothes or playing live before and I was impressed. I was just dying to get up on stage and sing with them. When Pete Holder looked down from the stage and gave me the nod I knew it was time for me to go up. They started the intro for "Baby I Don't Care" and I grabbed the Vox Reslo mic and walked on stage. Dressed in my black suit [ the same one I wore to work every day] and my Buddy Holly glasses, I started to sing and perform all those great songs of that time. None of us ever got paid any money. It was all invested in the band to buy equipment and clothing. A few weeks later we all went to a tailor in Gloucester and got stage suits. The band would be wearing identical dark suits and I had a blue shiny suit which was made out of "Lurex" as lame would be too expensive.
As the weeks passed by we continued to rehearse and play at various locations in Gloucestershire. We built up a repertoire of all the hit songs of that time, particularly hits by the Beatles, Hollies, Kinks, the Rolling Stones, the Shadows and many more. Pete Holder would go into town to buy the records, and then he would work out the chords and lead parts and write out the lyrics. As I was the lead singer it was my job to learn the melodies and the lyrics. Usually this was easy for me as I heard the songs on the radio all day long. One night at band practice rhythm player Pete Hawford announced that he would be leaving the band as he was getting married. His future wife insisted that she did not want him to continue playing in the band. Roger Holder said that there was a rhythm player who lived in Stroud, which is a town near Gloucester, and that he was willing to play with us. His name was Dave Prosser and at the following rehearsal we auditioned him. He was an ok rhythm player and we decided to have him join the band, although he didn't really have too much stage personality. He inherited Hawford's Stratocaster and Vox amp. For my part I also continued playing my Hofner at home while the other band members had no idea that I could even play an instrument. As I had been highly influenced by Buddy Holly and later by John Lennon I secretly wished to sing and play the guitar at the same time. So one night at practice I showed up with my guitar. I told the guys that I would just like to use the guitar here and there in a few numbers. In a way I felt more comfortable when doing Beatles and group songs as many bands were not featuring lead singers any more, and the singing was being done by more than just one singer. The songs were featuring more harmonies and the vocals were done by more of a combined effort. Singers like Cliff Richard, Adam Faith and Marty Wilde were on the decline as the groups were taking over the music scene. So I gradually started featuring my rhythm guitar playing in certain numbers at the venues. At a subsequent practice, Dave Prosser did not show up. Roger and Pete told me they were not picking him up as it was bothersome to drive all the way to Stroud twice a week. Besides they liked the way I played guitar and wanted to let Prosser go and have me take over the rhythm guitar spot. I of course turned down the offer thinking that I was not good enough. The Holders assured me that I was, and anyway they said that they were unimpressed by Dave Prosser and that if I took over the position I would get the Fender Strat and Vox amp to use.
That was all it took, and hearing these words from them I immediately agreed. So Roger drove over to Prosser's house and took back the Strat and the stage suit, which then made us a four piece band and more in line with the current trends. It was like a dream come true for me to have a Fender Stratocaster. It felt so heavy when I put the strap over my shoulders and tuned it up. I proudly showed it to some mates of mine who were starting a band. They had built their own guitars out of some cheap kits using Rosetti pickups which were really poor quality. I remembered how they had sneered at me one time when I showed up at one of their practices, hoping to join their band, and how they had laughed at my little piece of shit, acoustic second hand guitar that I showed up with. Now they were staring with envy at the 1962 Strat in the tweed case with blue plush lining. I was ecstatic.
There was news on the Horizon. The Holders told me that they were going to rent Newent Memorial Hall and hold dances there every Friday night. Their mother would make sandwiches and sell soft drinks while the band would provide the music. The hall was just a stone's throw from the house that Joe Meek was born in and very close to the George Inn, the local pub. We had posters printed up announcing Rock and Twist to Robb Gayle and the Whirlwinds from 8. 30 till 12. 30. Admission was five shillings. As four hours was a long time for one band to play we decided to become the resident band and booked other bands from the area as guests.
The first night we appeared at Newent Hall we broke all records for attendances of any kind of functions that were previously held there. At the same time we were to be booked to play at the Gloucester Guild Hall which was a very nice venue in the city center. A week or so before that appearance they wrote in the Citizen, which was the local newspaper that the Guild Hall was to get rocking. The significance in this was that previous dances that were held there used the old fashioned type of dance bands and that the attendances were so poor that it was a possibility that the venue would be discontinued. Furthermore in a subsequent news article in the Citizen William Dicey wrote that the dances would be doomed to fail as Robb Gayle and the Whirlwinds were not exactly a household name and that surely a more established group that the public were familiar with would ensure a more successful evening. Well Dicey was wrong. That night was a huge success. The conventional band started off the evening and we closed it. Towards the end of our set I took off my guitar and ended up rolling all over the stage which caused a big sensation. We also broke all attendance records in the Guild Hall's history. We appeared at that location many more times in the future months.
Another significant occurrence at this time was that the Holders had heard from Arthur and Eric Meek, Joe Meek's brothers that Joe would soon be coming down from London to visit his mother in Newent. The Holders knew the Meek family very well although they had not met Joe at that time. Roger told me that he and Pete would visit Joe when he arrived and that we could possibly get an audition with Joe at his studio in London. The following week at the Tuesday practice Roger told the band that he had met Joe over at the Meek's house. Joe had come down with Heinz Burt the bass player of the Tornados as Heinz liked the country and loved to go fishing and shooting. Roger said that there was something special about Joe, something magical; there was a certain look to his hands. Pete said that Joe told them that when we were ready, to call him and we would set a date and go up to Holloway Rd to do a recording audition. We were of course all very pumped up hearing this great news.
Around this time Pete and I discovered that we both liked to write songs. I guess we had a kind of closeness, we are the same age and our birthdays are only a couple of days apart. We had both written a little, so we decided to get together and see what would happen if we tried to write together. We were really influenced by the way the music scene was changing when bands were writing their own material, just like Lennon and Mc Cartney. I remember when I first heard "Love Me Do" and "P.S. I Love you"; I said to myself 'That's what I've wanted to write'. We never knew who wrote the songs for Adam Faith, Cliff Richard, Eden Kane or Jess Conrad, but we knew who wrote "Please Please Me" and "Don't Let the Sun Catch you Crying". Pete would come over to Clegram Rd for writing sessions. We would sit in the little back bedroom and play our Strats thru my little 8 watt amp and compose songs, writing out lyrics on scraps of paper.
Certain changes had also occurred with my job at this time. I was told that I was to be transferred from the bargain basement carpets to the carpet dept. up on the furniture floor and that I was to be enrolled in the technical college to take certain courses to aid in my career in retailing. My new boss would be Mr. Dyer, who turned out to be a real ok guy. All the salesmen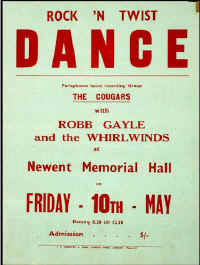 on that floor knew me mainly from the Christmas party when I sang with the Vendettas. John Devereux, the man who put me in touch with the Whirlwinds, always maintained that it was he who arranged my promotion by talking to Mr. Dyer. On days when I was going to practice out at the farm I would take my guitar into work with me. I would stand behind the carpet display, together with a few of the older salesmen and the sound of voices singing "Autumn Leaves" could be heard drifting through the carpet dept. late on a Wednesday afternoon. Mr. Dyer tolerated this. It was ok because he said that I kept the employees happy.
One night on the way to practice Roger told me that Mick Holder, our manager, had telephoned Joe Meek and Joe had invited us to come for an audition on the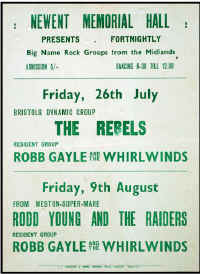 Thursday of the following week. This was very exciting news, so at practice we really worked hard on perfecting our repertoire. Besides the excitement I was suddenly faced with the problem of getting out of work on Thursday, but after a little thought I decided that I would have
to go sick on that day. Afterall this was what I most wanted to do in my life so what the hell? Quite early on Thursday morning the guys came to pick me up in the group van. Mick Holder was driving while the rest of us talked with excitement about the forthcoming audition. We had our gear stashed in the back along with Brian's Trixon drum set. When we drove into London it was a little difficult to find our way around but after asking a few directions we finally made it up to Holloway Road at around 10 am. At the address we had been given we found a leather goods shop with all kinds of hand bags and suitcases displayed in the window, and at first we thought we had arrived at the wrong address; but when we saw another entrance door to the left where the walls had been written upon with all kinds of graffiti displaying the names of Heinz, The Tornados and various other bands and singers, we new we had to be in the right place. Above the shop there were three floors, so as Mick opened the door we were faced with a flight of stairs that led up to a door at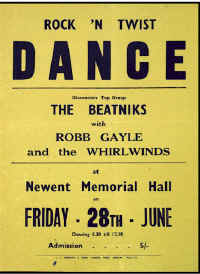 the top. We arrived at the top and Mick knocked on the door. Somewhere in the distance we could hear the sound of music. Yes it was the Joe Meek sound. The door was opened by a young good looking guy, who we later found out was Terry, Joe's office assistant, and almost immediately after that appeared some one who I guessed must be Joe Meek. He was about 5 feet 8 inches tall of medium build, and was wearing a blue mohair suit. He had on a white shirt with a black tie and wore pointed black shoes. His hair was combed in a neat quiff. He smiled when Mick Holder introduced us and I remember he had a certain look in his eyes when he spoke to you. I think that I will never forget the way he looked at me the first time that I met him. He was very happy to receive the fruit that his mother had sent him, and then said that we should bring up our gear. We carried our amps, guitars and drums up the stairs and then got a look inside as we placed the gear down on the floor. There was an office space with a desk with a red telephone on it. As I stood there I noticed that the cradle of the phone was cracked and broken just like some one had slammed the phone down upon it in a fit of rage.
Upon the walls there were glossy photographs of bands and artists especially Heinz and the Tornados also Cliff Bennett and the Rebel Rousers, the Cryin' Shames, the Puppets, the Aristocrats, the Outlaws with Richie Blackmore, Houston Wells, Glenda Collins and Screaming Lord Sutch There was a door that led to Joe's living quarters and a twisting flight of stairs which led to the next floor. We could hear Joe rewinding a tape of some recording upstairs, it sounded quite loud. Terry then motioned that we should take our equipment up the next staircase. As I rounded the top part there was a landing with a bathroom followed by a room where I could see Joe standing over two tape machines. He had now finished rewinding the tape and was listening to some recorded number looking towards the ceiling and clicking his heels together with the beat of the song, occasionally bending over to make some adjustments, turning some knobs on various control boxes. Behind him were two large speakers and a huge amount of reels of tape piled up on the floor with bits of tape everywhere. Right at the entrance to the control room, which had no door, was the doorway to the studio which had a concertina style door. The studio itself was the size of a sitting room. The windows had been blocked off, the walls soundproofed and there was a grey carpet on the floor. A Lowry organ was placed against one wall and an upright piano stood up against the wall adjacent to the control room. I remember running my fingers over the keys and noticed that they gave out a magical tinkling sound when the hammers struck the strings. We later found out that Joe had pushed thumb tacks into the hammers to create this special sound. In another corner of the room was a heavy duty folding screen, the kind you would undress behind. A large old BBC mike covered with yellow foam rubber, was behind the screen. Adjacent to the screen was an area for the drums. They were to be set up behind a couple of heavy screens which were about five feet high .As we started bringing the gear into the studio Joe stopped what he was doing and entered the room telling us where to set up the amps. The two Vox amps were set side by side with the bass amp set up a few feet away. As Brian Peachey was setting up his drums Joe set up a few mikes and told Brian to take the front skin off of the bass drum. Joe then appeared with some old pillows and blankets which he used to bury the mike inside of the bass drum. He also miked up the amps covering them with blankets. Meanwhile Roger, Pete and I were getting in tune. Joe fiddled about a little with the control knobs on our amps and paid special attention to Pete's Swissecho unit. Joe proceeded to walk back and forth to the amps and the drums and then to the control room and back until finally he said ."Ok just play me some songs that you play on stage.". Joe had positioned me behind the screen with my guitar as I was the singer, so I had to look around the side to see Roger and Pete and say "Let's do "Rave On"". I couldn't see Brian at all. We proceeded to play six or seven songs for Joe to hear and from time to time he would open the concertina door and stick his head into the room asking what other songs we had. The audition came to an end and we put down our guitars. For some reason I was overcome by a kind of depressing feeling that I couldn't explain. There I was with the Whirlwinds in Joe Meek's studio in London and it didn't feel good. I wasn't very happy with the way we had played and I felt that we were just not good enough. Joe set the tape to play the recording for us to listen to and the band followed him downstairs. I sat on the stairs looking miserable and dejected just fearing the worst. Even listening to the recordings didn't help. I thought we sounded terrible. Presently Roger Holder climbed up the stairs towards me and said "What are you looking so sad for? We've got a recording contract".
I stood up and followed Roger down the stairs. I began to feel better but my head was spinning; I was thinking and wondering what would happen next. Down stairs Pete, Brian and Mick were talking with Joe while a girl called Pip, who was Joe's secretary, handed out recording contracts to us. We all signed the contracts without reading anything. We were all so exited, who could even think about having to read all that text? When it seems that you have the chance of doing what you've always dreamed of doing, you just do it. In those days, who wouldn't do it? You never thought about the business side of it, you just wanted to sing and play music and be famous, and if you made some money, well that was the icing on the cake. We all shook hands with Joe and just before we left he handed us an acetate. On the label was written "It's Raining" .Joe told us he wanted us to copy the song and the next time that we came up to London we would record it. He put it on the little record player in his living room and we stood there and listened to it. It was a pretty good recording, well performed by some unknown musicians and typical Buddy Holly style. We packed up all the gear, said goodbye to Joe and got on the road back to Gloucester. We decided that we would spend some of the Whirlwinds' savings on a steak dinner and stopped at a classy restaurant. The proprietors and waiters assuming that we could not afford to eat there quickly informed us of the minimum charge. It felt good to know that we could afford it and that we were celebrating our success in getting a recording contract.
Over the next few weeks we continued to play our gigs, work at our jobs and learn the song that Joe had given us on the demo disc. It didn't take us very long at all to get the song off; we just basically learned it like we learned the other songs and instrumentals that we copied from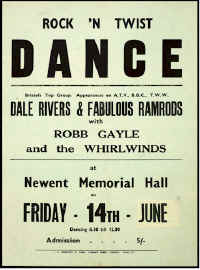 other bands, to use in our repertoire. Before too long we were back at Joe's studio recording "It's Rainin'". I remember Joe set up a mike close to my guitar and told me to play close to it. He wanted to hear the sound of the pick as it scratched on the strings. We soon got the backing track down and Joe said that everybody should  go down stairs except for me as we were going to put on the vocals. Joe told me to stand behind the screen where the big mike was and to sing very close to the mike, and to smile at the same time. There was a small speaker hanging on the wall behind me from where I could hear the backing track. I sang the song through a few times and thought that I was singing it pretty well. At about half way through the third or fourth time the music stopped and everything went very quiet. Suddenly Joe appeared behind the screen telling me that it sounded pretty good and that in another take or two we would have it down. Before I knew what was happening Joe put his arms around me and pulling my face to his. He kissed me on the lips, pushing his tongue into my mouth. I was completely taken by surprise and felt myself go totally limp and powerless just like an antelope which has been overpowered by a lion and knows that there is nothing else to do but lay down and die. He proceeded to ask me what kind of trousers I wore on stage and started pulling at the fabric near my crotch and fondled me. In his soft voice he asked me if I wanted to make it in the business. I told him that I did but I was not like that. He looked at me and said "We're all like that in this business". A thousand thoughts went through my mind. I knew that I couldn't use violence against him as that would probably just mess up the band's chances of making it, and then it suddenly became very clear to me that the rumors that I had heard with regard to Joe Meek being queer were really true. He asked me to fondle him and I did it automatically without thought or feeling. Suddenly there was the sound of some one coming up the stairs. It was Terry, Joe's assistant, or maybe boyfriend. Joe walked away from behind the screen saying that we would do another few takes. I still don't know how I was able to sing knowing what I had just been through. Two more takes and it was over. Joe came in and said "We've got it that was the one". He asked me if I would come to spend a weekend with him. We would write some songs together. He said he would pay for my train fare. I explained that my job at the Bon Marche required that I work on Saturdays so it would not be possible.
We walked downstairs to see the rest of the band filling out forms regarding each member's life lines. They handed one to me, to fill out. I remember Roger Holder making a comment to me regarding the fact that I had been alone with the great Joe Meek upstairs recording a song and that how jealous they were. If only they knew what I felt inside at eighteen years old, the shock and complete realisation that I had been involved in a homosexual experience. It was a secret that I kept inside me for many years; I also remember that when I was filling in the replies to the questions on the Life Lines sheet, against DISLIKES I wrote "Being left alone"
Over the next few weeks we continued to play our local venues and with a few write ups in the Gloucester Citizen newspaper, our popularity began to grow. Pete Holder and I were really keen on writing our own songs. One day after I left work I boarded the bus from Gloucester to Newent with my guitar in hand and headed out for a rehearsal at the farm. I got off the bus in Dymock at the beginning of the lane that led to Aylesmore Farm. Upon arrival Roger Holder told me that we would be rehearsing in the farmhouse sitting room instead of the barn, as it was very cold that night. Roger and Pete had brought all the gear over from the barn and as I entered the sitting room I saw Pete standing at the mike with his guitar, and he was singing the first few lines of a song that he had just started to write. It sounded something like the Beatles and I could hear Pete singing "Please, please, please, please, tell me, what am I to do?" I rushed to get my guitar out and play along. This was a very exciting moment and in the space of an hour we had finished the song. When Roger and Brian came in and played along on bass and drums it sounded even better. We thought we had a hit on our hands or at least it could be used as a B side for "It's Raining", so we decided that Mick Holder should call up Joe Meek and tell him of the new song that we had written. By the time that the next practice rolled around we already had heard from Joe. He told us to come up to Holloway Road and he would listen to it and maybe we would record it.
At that session Joe set up the mikes and gear in the usual way, trailing all the wires underneath the concertina door into the control room. We played the song through a couple of times, singing along, and I guess Joe liked something about it as he said "Ok let's put down a backing track". We did this with Pete and I singing along, just mouthing the words with no sound coming out so that we all knew where we were. After this session we always made a point at rehearsals to play only the backing tracks, thus getting used to being in the recording mode. It helped us no end, in being prepared, when we went to future sessions. After Joe thought that we had a good backing track down it was time for the vocals. This time I was not so afraid, knowing that Pete and I would be singing the song together behind that screen. This situation would not provide an opportunity for any of Joe's advances. Pete and I finished the vocals after a few takes. We all gathered around near the doorway to the control room and listened to the track while Joe moved to the beat of the song, clicking his heels together. We thought it sounded great with all those high falsettos and Beatle style harmonies. As we were leaving in the early evening Pete asked Joe if he would make us a tape of "Please Tell Me" and "It's Raining" to take home with us. Joe said that he would, but under no circumstances should we let anybody listen to it. He mentioned that there were many people out there waiting to steal your ideas. He said that he had some editing to do on the songs and that we should call in about a week. Maybe he would have some news of a release date for us. As we were shaking hands Joe handed Pete two more acetate demos saying "Take these back down to Newent with you and listen to them and learn them. Call me when you're ready and you'll come and record them".
We listened to the songs when we got back home. They were decent songs and we went ahead and learned them. One was called "Baby Baby I Got Eyes For You" and the other, "Don't You Know?" We had no idea who wrote these songs or where they came from and didn't care really; we were just following Joe's instructions, doing what we were told. This was ok but inside of me I knew that I really wanted to record and release our own music. I believe that Joe could have personally written or co written these songs. Joe basically wanted the whole thing. He wanted to create the group, write their songs, produce their records and sell millions of copies; which he did with the Tornados with "TELSTAR"
One night at practice Pete told us that he was going to visit Joe for the weekend to write some songs. This of course sent a lot of thoughts running through my brain. I presumed that Pete had no idea of what might occur if you happen to be alone with Joe. He and Roger had always disbelieved any of the rumors that circulated about Joe, and always defended him; and anyway Joe and Pete had never been alone together as far as I knew. It was a tough situation for me to be in as I could not warn Pete without revealing the story of what happened to me, and I was too ashamed to do that. I just had to let it go and see if anything would happen. By the next time we practiced Pete had already been away for the weekend. Roger Brian and I were waiting at the barn when Pete showed up with his tape recorder. I looked at his face to see if there were any signs that could tell me anything. I felt he had a different look on his face. Roger said that Pete and Joe had written two songs together and that they sounded real good. One was called "Clickette Clack", and the other "How will I Know". Pete was singing and playing on the demo with a drummer and the songs did sound very good. Pete never really talked about what it was like to be up in London with Joe, probably because nobody asked him.
At the next session we recorded "Baby Baby I Got Eyes for You" and "Don't You Know". Joe had invited a guy who played sax and piano. He was a good musician, better than us, but I felt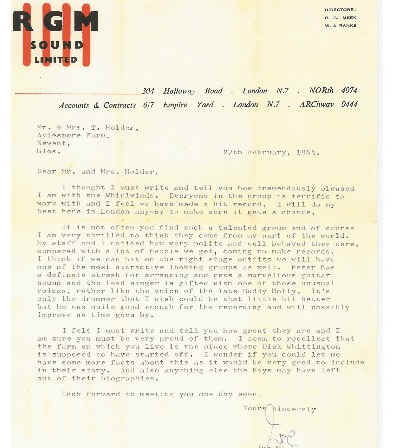 unhappy with this situation as we had no sax player or pianist in the band, and how could we possibly play the song live without those instruments? I remember the session went quite well. Joe could have brought in this extra musician to enhance the band as he may have thought that our sound was not adequate enough to create what he was hearing in his head; or maybe he was just giving the musician a session to make a little money. I believe I may have sung on the two tracks. The only way to know would be to dig them out of all those years of tape stored in England. I'm sure they must still exist. At the end of the session we sat around talking with Joe and the conversation got around to discussing the possibility of what might happen if we had a record released. Joe said that if we got a hit we would all have to leave our jobs and move up to London and play as professionals, and wanted to know if we would do this. Of course we all said that we would, although we felt a little concerned about Brian Peachey our drummer as he had a good job and may not have wanted to take a chance. Joe said that we may have to think about changing the name of the band as he thought that Robb Gayle and the Whirlwinds sounded like they could be a skiffle group. We tried to come up with a few names but nothing sounded exciting until we found out that the Holder brothers had traced their family tree back hundreds of years and discovered that they were descendants of the Vikings from Scandinavia. One of their ancestors had actually founded the place known as Holderness on the east coast of England. We thought about the Great Danes, the Norwegians, and suddenly someone mentioned the Saxons, which sounded very appealing. We thought it was a good choice as the current trend with bands was to have names like the Beatles, the Hollies, and the Searchers so we decided to become the Saxons. Joe said that he would pay for us to get some sharp stage suits made and that we should have our hair bleached blond. In fact he insisted that the next time we would come to record we should all be blond. So that was the end of Robb Gayle and the Whirlwinds. We were now to become an all blond band wearing Beatle style suits, writing new songs based around Saxon themes and stories of the old days and even maybe wearing authentic Saxon clothing on stage, complete with helmets and horns!