JANUARY 2016 – NEW ALBUM RELEASED
THE TRIUMPHS – MEEK AND WILD
CD 24 Tracks with 12-page booklet
1. Meeksville 2. Telstar 3. Runaway 4. Husky Team 5. North Wind
6. Eye Of The Storm 7. Wild Wind 8. M25 9. Green Jeans 10. All Shook Up
11. Wipeout 12. Here Come The Good Times 13. He'll Only Hurt You
14. Loneliness 15. Sunday Date 16. Dreaming Of You 17. Heart Of A Teenage Girl
18. Teardrops Fall Like Rain 19. Big Jim 20. The Coalman's Lament
21. Night Of The Vampire 22. Jack The Ripper 23. Little Sister (Live) 24. Have I The Right (Live)
This is The Triumphs' tribute to the work of famed record producer Joe Meek. Joe recorded many styles of music and 'Meek and Wild' offers a 'jukebox' full of great sounds, both vocal (15 tracks) and instrumental.(9 tracks).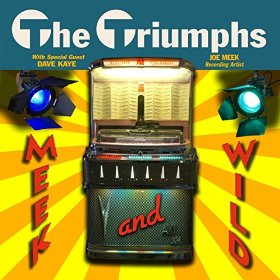 In addition to popular chart toppers like Telstar and Have I The Right, the spotlight also falls on rarities such as Ray Dexter's The Coalman's Lament and, from the Tea Chest tapes, Geoff Goddard's Here Come The Good Times. There are five original tracks, all inspired by the work of Joe Meek. 
The Triumphs (Rob Bradford, Trev Faull, Ken Ledran and Ray Liffen) have as their special guest Dave Kaye, who recorded with Joe Meek. One of Dave's tracks is He'll Only Hurt You, a powerful ballad which he recorded with Joe, but which was never released at that time. Now you can hear it in a brand new arrangement with Dave backed by The Triumphs.
The album's 12-page booklet includes descriptions of all the tracks and pictures of the band with many of the original Joe Meek artists that they have had the privilege of working with, including Clem Cattini, Dave Kaye, Malcolm Lenny (The Packabeats), Ray Dexter, Bobby Rio and Danny Rivers.
UK £9.99 including postage and packing
Europe £12.50 including postage and packing
Americas, Africa, Asia £13.50 including postage and packing
Australia, New Zealand £13.80 including postage and packing
Choose your region and click 'Pay Now' to send payment via secure Pay Pal site
Other methods of payment:
Pay by cheque (drawn on UK bank) made payable to 'R. Liffen'
and sent to 24 Dalmeny Road, Carshalton, SM5 4PP U.K
Pay manually Paypal to rayliffen@compuserve.com
You can also buy the CD online at Bim Bam Records and Leo's Den
The album is also available as a digital download at many outlets including
I Tunes UK          I Tunes US               Amazon.com         Amazon.co.uk            Google Play and also Spotify
---