2015
MEEK AND WILD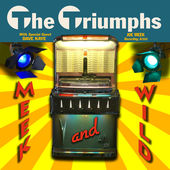 Meeksville
Telstar
Runaway
Husky Team
North Wind
Eye of the Storm
Wild Wind
M25
Green Jeans
All Shook Up
Wipeout
Here Come the Good times
He'll Only Hurt You
Loneliness
Sunday Date
Dreaming of You
Heart of a Teenage Girl
Teardrops Fall Like Rain
Big Jim
The Coalman's Lament
Night of the Vampire
Jack the Ripper
Little Sister
Have I the Right
2012
WELCOME TO MEEKSVILLE DVD (available only to Joe Meek Society members)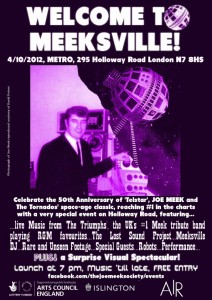 The Triumphs:  Just Like Eddie/Green Jeans/A House, A Car and A Wedding Ring/The Coalman's Lament/Night Of The Vampire/Only The Heartaches
 The Triumphs: Jack The Ripper/Tribute To Buddy Holly/Please Stay/Wipeout
Dave Kaye & The Triumphs: All Shook Up/He'll Only Hurt You/It's Now Or Never
Clem Cattini & The Triumphs: Telstar/Shakin' All Over
 The Triumphs: Johnny Remember Me/Here Come The Good Times/North Wind (Chick Lewis)/North Wind (Houston Wells)/Tell Laura I Love Her/Putting On The Style/Poison Ivy/Sweet Little Sixteen
Dave Kaye & The Triumphs: Have I The Right
The Triumphs: Telstar
---
2010
LIVE AT AMERSHAM CD (exclusive pressing for Joe Meek Society members)
They backed  Bobby Rio on three numbers and then did three of their own and another three studio recordings were included.
---
2010
32 COVERS OF JOE MEEK INSTRUMENTALS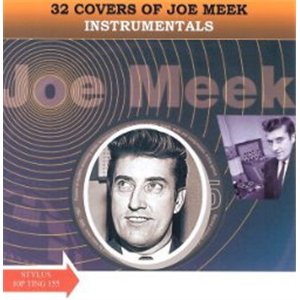 '32 Covers of Joe Meek Instrumentals' which has just been released on the Stylus Label. One of the tracks is 'Sunday Date by 'The Triumphs'. There was a version of this on the 'Live at Amersham CD' which was available only to Joe Meek Society members but this is a 2010 version which has never previously been released. As the liner notes say "this version is exclusive to the CD from the UK's foremost Joe Meek covers band". The CD is availabe from Dave Peckett at dave2109@btinternet.com and from Bim-Bam Records at www.bim-bam.com
---
2009
TWANGS FOR THE MELODY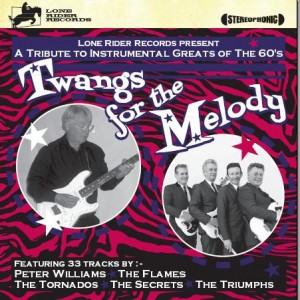 Lone Rider Records CD release 'Twangs For The Melody' includes 2 newly recorded tracks by top Joe Meek Tribute Band 'The Triumphs'.
The 33 track CD compilation pays Tribute to Instrumental Greats Of The 60's with The Triumphs paying tribute to 'The Saints' and 'The Outlaws' with their own unique versions of 'Wipe Out' and 'Husky Team'. Other tribute tracks to the music of Joe Meek include 'Telstar' by guitarist Peter Williams, 'Ridin' The Wind' by The Tornados 'Jaywalker' by John Leyton's regular backing group, 'The Flames.
The CD also contains a 16 page booklet with copious liner notes by Rob Bradford of The Joe Meek Society.
Full ordering details are available at www.johnleytonofficial.com  or telephone Lone Rider Records 0208 943 9953.
---
2009
8 TRACK PRIVATE PRESSING
8-track CD by the Triumphs –  private pressing available only to Joe Meek Society members.
The tracks are as follows:
Joe Meek Medley – Telstar/Johnny Remember Me/Have I The Right/Just Like Eddie.
My Suzanne
Night of the Vampire
The Coalman's Lament
Walk With Me My Angel
Please Stay
Jack The Ripper
Telstar (full-length version as featured on Radio Caroline on Dell Richardson's show on 16 June 2009 – and a different recording to that in the Medley on track 1)