The Supersonicos –
Surf Instrumental From Uruguay

The Supersónicos present integration goes back to 1993, when they started to become known on Montevideo´s alternative circuit. Acclaimed by the critics for the intensity of their live performances, the following year they released Mundo Pistola. A collection of ten songs, raw guitars and ironic lyrics, the cassette soon sold out its first edition.

In 1995, the band introduced a slight change in sound, by adding one guitar, now played by singer Leo. The change is reflected in the cover version of Solo, which featured in Los Estómagos tribute disc, Extrañas Visiones, and in the single Amiga 500. By that time, the band also succeeded in broadening its audience by touring small cities and making their first TV appearances.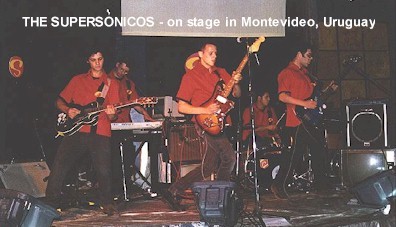 1996 turned to be the key year in the band´s search for an artistic direction all of their own. Due to sound limit problems in small gigs, and also influenced by the "unplugged wave", the Supersónicos revived an old format: playing an almost completely instrumental relaxed show, including cover versions of Ventures, Shadows, Dick Dale, Eddie Cochran, etc.
The concept worked, and so instrumental songs -- formerly limited to the openings-- turned out to be the core of their shows, even in bigger and louder venues.

The band issued on March 1999 their first album on CD (Irrupción En El Cosmos, Urquizza label) with 15 instrumental tracks composed by Supersónicos musicians. This album contains a spectacular version of the Twilight Zone TV Theme. At the invitation of the Skuly Records, USA, they will record a track for an international compilation surf instrumental CD to be issued in US by mid 1999.

Based on their latest live shows, the press has defined the Supersónicos forthcoming work as "spatial, almost psychedelic surf music".

Contact The Supersónicos through their lead guitarist Alberto Urquiza, at super@internet.com.uy