| | |
| --- | --- |
| On-line Zine from Brazil | |
PUBLISHED BACK ISSUES
Instrumental Newsletter # 23 April 2001-04-29

The Jet Black's 2nd album issued on CD

Warner Music reissued one of the best Brazilian all instrumental LP recorded by The Jet Black's on CD. All tracks originally recorded on 1963, were remastered. As a consequence, sound quality is superb! This album shows a more professional band, well rehearsed with a more detailed sound and musically skillful.
Front cover of The Jet Black's compilation CD

Zoe McCulloch - The new generation of instrumental guitar players

She is just 14 and is already a very talented guitarist! When she was just 10, she found the single "Apache" in her father's record collection. Since then, she decided to follow a musical career as a guitarist. She got her first Fender when she was 11 and since then she begun practicing all Shadows tunes, but with her own style and creativity. She has played with Brian Liquorice Locking (ex-Shadows bassist) and Barry Gibson (Burns guitar). In 1998, she was 12 and went to the studio for the first time and recorded 4 instrumental tracks in the CD "Young stars, Firsts Steps". When she was just 13, she was invited to record a song with Jet Harris (1st Shadows bass player). On March 2000, Zoe come back to the studio and recorded the excellent all instrumental album on CD "With Love", with plenty of Shadows tunes. His musical career is following now a new direction, which shows Zoe's versatility on the guitar. She has recorded a mini CD with 4 tunes previously recorded by Abba.

Zoe McCulloch - The Queen of the Stratocaster

Shadows News

We feature lots of short news about Shadows related issues, such as the new Malcolm Campbell book (Shadows At Emi – The Vinyl Legacy), short review of the CD "Marvin Mastertrax Vol.1", Shadowmania event, etc.

Guitar Heroes – Davie Allan

Davie Allan is known as the King of the Fuzz Guitar, the guitar effect which sounds like thousands of bees flying together. He started his career on 1963 with the single "Warpath". On 1965, he recorded an anthological all instrumental album titled "Apache '65" (Tower 5002) with a nice arrangement of the classical Shadows hit, plus 7 unreleased instros composed by Mike Curb. After his 1st album on vinyl (unissued on CD until today) Davie started a prolific musical career writing sound tracks for Hollywood B type movies, such as "Wild Angels". During the 60's, 70's and 80's he has recorded many all-instrumental albums (some were reissued on CDs). In the nineties, Davie Allan comes back to the instrumental scene with excellent albums ("The Wild Angels and Other Themes", "Loud, Loose and Savage", "Fuzz Fest", "Bullseye – A Sixties retrospective", etc.). His last album on CD was issued on late 2000 ("Live Run", Total Energy Records, USA) and shows his powerful fuzz sound, recorded in front of an audience.

Davie Allan and The Arrows, in mid 60s

Rock Instrumental in the 21st Century - The Blue Hawaiians

The Blue Hawaiians are a surf instrumental band from California, composed of virtuosos musicians who do the best they can to keep surf instros alive and well in the new century. Created in 1994 by Mark Fontana, just to open the famous night club Lava Lounge, The Blue Hawaiians have their own musical style, in spite of their influences in the surf instros of the early 60s. The band has recorded 4 instrumental albums (on CDs) and are very active on the TV commercials soundtracks market. They usually open shows for The Ventures and Brian Setzer Orchestra, when these groups performs in the Los Angeles area.
The Blue Hawaiians

Brazilian Instrumental Bands from 60's – The History of The Top Sounds

In the early 60's a group of teenagers from São Paulo, highly influenced by The Ventures, Shadows and Fireballs, decided to create an instrumental band to cover mainly Shadows and Ventures tunes. They were Afonso A. Labate (drummer, 18), Marcos Ficarelli (guitar and bass player, 16), Pedro Paulo S. Ulhôa (bass and guitar player, 24) and Silvio Armando C. Camba (lead guitarist, 19). The group used to play on famous rock and roll radio programs in São Paulo and do the ballroom circuit. In mid 1964, they recorded an all instrumental album ("Hully Gully, Twist, Surf", Albatroz Records, LAP-6521) with creative arrangements for known instro tunes as Vaquero (Fireballs), Lullaby of The Leaves (Ventures), Driftin' (Shadows), Wipe Out (Surfaris), etc. This is a very rare album among collectors and showed Top Sounds musicians skills. They used to manufacture their own amps and instruments. The group disbanded in 1965, when some members were called to the military service in the Brazilian Army.


The Top Sounds (1964)

CDs Review

We reviewed CDs by Vick Flick, Bert Weedon, Zoe McCulloch, The Stingrays, The Langhorns, etc.
INSTRUMENTAL NEWSLETTER - # 22
January 2001

New Brazilian instrumental CD



Brazilian EMI has issued a double CD by The Angels a famous local instrumental and vocal group from early 60's. The band was a set of five musicians who recorded 3 LPs (1963-64). They became known as the backing group of Roberto Carlos, the most famous Brazilian rock singer from sixties. This double CD has 17 instrumental tracks taken from Angels LPs "Hully Gully" (1963), "7 Days On TV" (1963) and "Happy Week End" (1964). It is a must for any collector of South America's instros.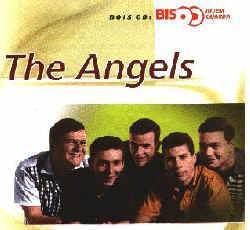 Instrumental rock in France

In the 60's, the instrumental rock scene in France was very active with dozens and dozens of groups such as Les Champions, Les Aiglons, Les Sunlights, Les Players, Les Milords, Les Monégasques, Les Averns, Les Panthéres, Les Flash, etc. Most of those groups recorded only some some singles or EPs, but in general they were excellent. There were some studio groups such as Les Guitarres du Diable, Les Fingers, Les Four Dreamers and Les Drivers) which had some studio guitar aces as Leo Petit. In the early 60's, some UK instro groups (The Playboys, The Krewkats, The Gladiators, The Strangers) migrated to France to take advantage of the good instrumental scene in Paris. The sound of the French instro groups can be listened on the 18 instro CDs issued by Magic Records (France).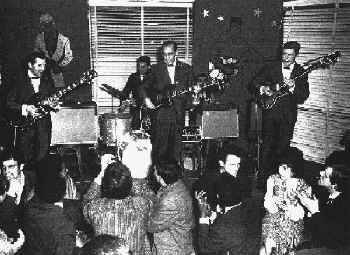 Les Four Dreamers, live in the Golf Drouot (France)

Guitar Heroes - Hank Garland

Walter Louis "Hank" Garland was born in South Carolina, USA. In 1945, when he was just 15, he was invited to play in the famous "Grand Opry" with The Arkansas Cotton Pickers. Hank played with the band until the Musician's Union found out his age. In 1949, when he was already a studio guitar ace, Garland created the famous country song "Sugar Foot Rag" recorded by dozens of country musicians. When rock and roll music was in the charts (mid 50's) he backed many famous rock and roll singers (Elvis Presley, Conway Twitty, etc.). He continues to be a guitar legend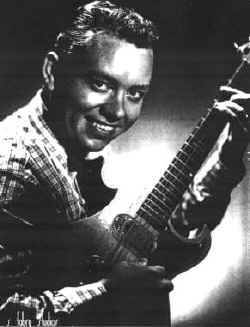 Hank Garland in mid 50s

The History of Os Lunáticos

They were a Brazilian instrumental band from São Paulo, founded in 1962 by Mauricio C. Britto and Carlos E. Aun and highly influenced by the sound of Ventures and Shadows. They were very popular in the ballroom circuit. Their first name was The Mooners, which was difficult to remember by their fans. When they started their career on TV (1965) the group decided to change their name for Os Lunáticos (The Lunatics). They used to back some very famous Brazilian rock and roll singers such as Jerry Adriani, Roberto Carlos, Wanderley Cardfoso, etc. In spite backing some local rock singers during their recordings, Os Lunaticos (The Lunatics) never went to a studio to tape their own record. Some of their former musicians are still active, playing in night clubs, ballrooms, etc.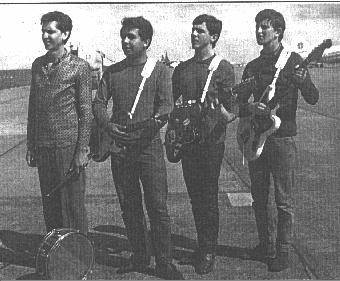 Os Lunáticos in 1965, photo taken São Paulo Airport

Instrumental CD review

In this issue we review CDs by The Supersonics, Betinho & His Group, The Ventures, Chet Atkins.

INSTRUMENTAL NEWSLETTER - ISSUE 21 - OCTOBER 2000
THE HISTORY AND DISCOGRAPHY OF THE JET BLACK'S
The Jet Black's were the most famous Brazilian instrumental band from the1960's. They started in 1961 as The Vampires playing in the ballroom circuits and some radio programs. They used to cover Shadows and Ventures tunes on most of their presentations and recordings. In 1962, a known rock and roll guitar virtuoso, Jose Provetti, joined the band as their lead guitar and changed the band's sound and history.
Jose Provetti (nickname Cat), was a well trained guitarist with three years of classical guitar classes. His music skills changed the sound of The Vampires forever. J.Provetti (Cat) did some changes in the band line up, inviting new (professional) musicians to join the group, and with a better repertoire, they recorded their first all instrumental album, titled "Twist", on 1962. This LP is considered by most collectors as the best Brazilian all instrumental album and usually is auctioned for about US$ 100.00, when found in mint condition.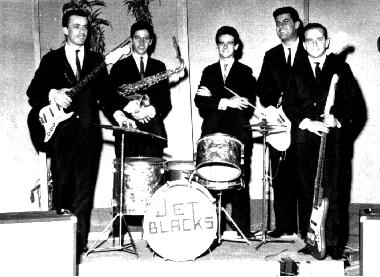 The Jet Black's used to play on many radio and TV programs of the sixties, including the most famous rock and roll Brazilian TV show, from that time: Jovem Guarda. This program was transmitted live to many Brazilian states with a big audience and Jet Black's were the group hired to back most of the rock singers.
Their discography is really big, with records issued in Brazil, South America, Portugal and Spain. In overall 16 LPs were issued (including 5 compilations), plus 16 EPs, 15 singles, and five 78s. Only a small part of their original discography were reissued on compact discs discs (5 CDs).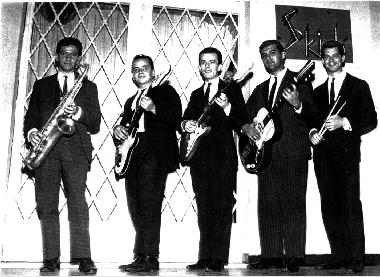 The group disbanded officially on mid 90's after recording their last tune: a new version of Apache. Two Jet Black's founders have passed away already: Jose Provetti (Cat), original lead guitarist, died on 1996 and Jurandy Trindade Abreu da Silva, original drummer, died in 2,000.
The Jet Black's complete history and discography can be read for the first time, in the Instrumental Newsletter, October 2,000 issue.



INSTRUMENTAL NEWSLETTER - ISSUE 20 JULY 2000
New Brazilian surf instrumental CD
A new Brazilian all instro CD was issued on April 2,000 by XQuality Records (XQ0003, 2,000). Recorded by a trio of well experienced studio musicians: Ricardo Melchior (lead guitar, ex-The Jet Black's), Nene Benvenutti (bass, ex-Incriveis) and Gino (drums). The CD "Surfin'Guitar" has 15 tracks. Most are known instro covers but with clever and new arrangements and fantastic playing. It can be ordered from RICARDOMELCHIOR@aol.com.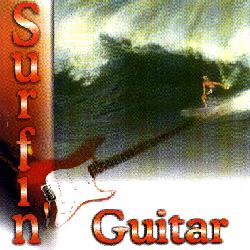 Shadowmania 2,000
On May 27th, it was held in Camberley, Surrey (UK) - Shadowmania 2,000, the biggest world event dedicated to the Shadows fans. Instrumental groups from France (Guitar Express), Belgium (Guitar Syndicate) and UK (Jet Harris & The Rapiers) played a selection of old Shadows tunes. Young guitarists as Nick Kellie (16) and Zoe McCullough (just 14!) have shown why the instrumentals will survive in the next century! The last band to perform was Bruce Welch & The Moonlight Shadows, with Alan Jones and Cliff Hall (two ex-Shadows musicians). Read complete Shadomania report in our July edition, written by Rob Humphreys, our web master.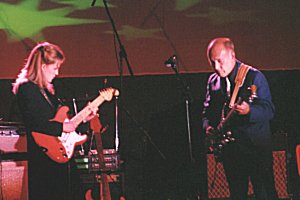 Zoe McCullough & Jet Harris live in Shadowmania 2,000)

The American Shadows
They were a very active Braizilian instrumental band in the mid sixties, mainly in the ball room circuit. Their main inspiration, was The Shadows music, of course. But, they were not a Shadows cover band. They had their own repertoire of instrumentals composed by their musicians. On 1967, they recorded their 1st EP with 4 songs, which were well accepted by the local media. Unfortunately the group disbanded in early 1968, because most of their musicians joined the Brazilian Army (military service). Fortunately, they joined together in 1999 with their original line up and are playing again and recording a new album on CD. Read their story and discography in our July edition.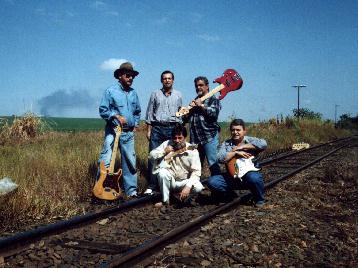 The American Shadows (Brazil)
Guitar Heroes - Jet Harris summarized biography
Terry (Jet) Harris has been one of the most controversial musician in the history of the rock instrumental. His career has been marked by highs and lows since he joined The Drifters (Shadows), in 1959 to replace Ian Samwell. He played with The Shadows from 1959 until 1962 when he left the band to follow a solo career. He recorded some excellent all instro albums, and his trademark is the sound of his 6 strings baritone guitar. He is playing again in UK backed by The Rapiers. Read Jet Harris complete story in our July edition.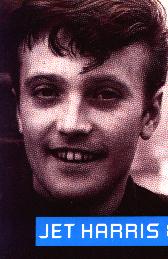 Jet Harris in the 60's)
CD Reviews
In our July 2,000 edition we reviewed instrumentals CDs by The Light Valley Shadows (Sweden), The Sparks (Brazil), The Youngsters (Brazil), Luizinho & Hys Dynamites (Brazil), Kadu Lamback (Brazil), Nick Kane (UK), Djanir & His Group (Brazil), Pollo del Mar (USA), The Firebalss (USA), Autoramas (Brazil), The Rapiers (UK), Hank Marvin (UK) and 3 Balls of Fire (USA). Read complete CD reviews and recommendations in our July issue.


INSTRUMENTAL NEWSLETTER
ISSUE 19 - APRIL 2000

For the first time, since we have started to publish our Newsletter we attended two rock instrumental conventions held annually in London by the Duane Eddy UK Circle of Friends (DECUK) and by the Pipeline Magazine. Both Conventions are very well known by most of the European instrumental collectors and are an excellent opportunity to meet old friends,buy lots of CDs and rare vinyls, memorabilia, and of course watch some excellent instrumental bands performing Duane Eddy, Shadows, Ventures, etc instro tunes.

Both Conventions are held annually during Easter Sunday at the International Students House, in downtown London, and they are a must for instro collectors.

Duane Eddy UK Circle Of Friends
(DECUK) Convention

The 22nd DECUK Convention started at 12.15 on April 23rd, 2000, when Arthur Moir, the President of DECUK (the Duane Eddy British fan club) invited the audience (estimated on 150-200 persons) to watch some nice videos with a very rare Duane recording, "El Corrido", a nice Spanish tune.

After that introductory video, Arthur presented us a nice surprise: an edited version of an episode of "Have Gun, Will Travel" the famous TV western film, from 1962 with Richard Boone as the main star and.....Duane Eddy as an actor (not bad) !!! The history was the usual western story showed on most western movies but it was nice to watch Duane on his early twenties performing that movie film. Excellent!

Arthur Moir presented us also many other videos by Duane playing on some US TV shows, including a full version of the recent "Witness Story - The Twang Years" aired on April 5th, 2000. Fantastic! After some videos, plus an interval to buy more CDs, LPs, memorabilia, some Cokes, Arthur came back to the stage and announced the great "The Twang Gang" band composed by pro and amateurs musicians that have emulated that twang sound. The group was composed of : Philip Pell, Dave Gibbons & Rod Carter lead guitar, Martin Waller sax, Mike O´neil keyboards, Steve Dalton bass, Lloyd Ryan drums e Spencer Scott steel guitar. Their repertoire: The Avenger / Moovin'n'Groovin' / 40 Miles of Bad Road / Sidewinder / Detour / Peter Gun / Shazam / Toe Hold Side Slide / Last Dance / Theme From Dixie / Sugarfoot Rag / The Twist / Twisting Off A Cliff / You Are My Sunshine / Night Prowler / Blowing Up A Storm / Honky Tonk / Yep! / Rebel Rouser and Ramrod.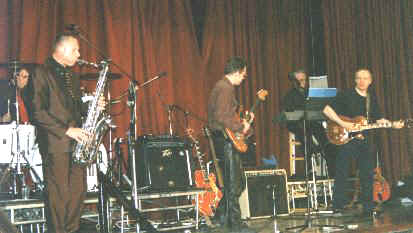 The Twang Gang

The Pipeline 2000 - Rock Instrumental Convention

The 8th Pipeline Rock Instrumental Convention was organized by the editors of the Pipeline magazine, Alan Taylor & Dave Burke. It started by 4.00 PM, after the finish of the DECUK Convention. The Pipeline Convention has a different focus. It's main objective is to divulgate the sound of the current rock instrumental bands from Europe, US and Canada beyond to be an important meeting point for collectors of all around the world.

This year, four excellent instrumental bands performed on the stage of the International Students House: They were: The Centurions, The Falcons, The Hunters & The Rapiers.

The Centurions are a very good group composed by Dave Gibbons (lead guitar), Vic Cross (bass), Martin Waller (sax), Ivor Knight (drums) and Mike O´Neill (ex-Nero & Gladiators, from 1960's) at the keyboards. Their repertoire: The monkey farm / Yeh yeh / Raunchy / Beatnik / Last night / Bleak House /Czardas / Tovarich/ Hall of the mountain king / Light cavalry / Hoots mon / Entry of the gladiators / Boots. They did an excellent presentation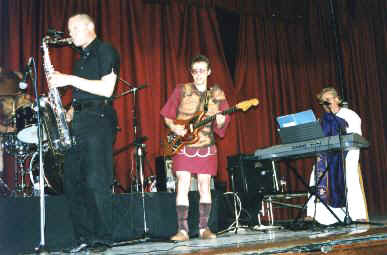 The Centurions


The Falcons came from Quebec, Canada, with Mike Beddoes (lead guitar), Gary Schnepper (rhythm guitar), Bill Bonney (ex-Fentones, on the bass) and Andre DesLauriers (drums). Their repertoire: Hell's gate / Wake up / Apache / Rebel jukebox / Joker's wild / Moonlight / Half nelson / Highway 99 / The Mexican / Shadowland / Cruel Sea. Mike Beddoes is a guitar virtuose with a playing style similar to Mark Knopfler, from Dire Straits. With his Fender Jaguar, Beddoes presented us some tunes from Falcons previous and next album on CD.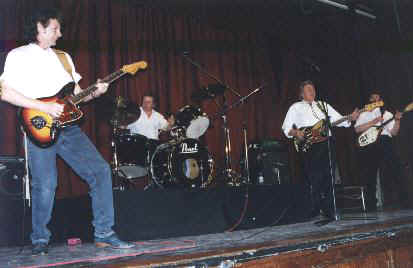 The Falcons




The Hunters presentation was really very good. With their original lead guitarist from 60's (Brian Parker) the group performance was terrific. It was real emotional to listen to tunes like Teen Scene and Runaway, from Hunters albums from 1960's. Their repertoire: Teen scene / How's m'chicks / Swinging shepherd blues / The storm / Golden earrings / Petite fleur / Medley ; Moanin' / Green onions / 'Round midnight / Tequila / Runaway / Teen scene.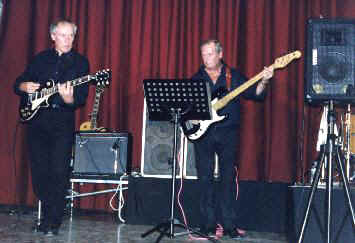 The Hunters



The Rapiers presentation couldn't be better! With a Shadows based repertoire composed of the tunes Shadoogie / Dance on / Pipeline / Raining in my heart / Telstar / Bossaroo / Saturday night at the duckpond / FBI / Gonzales, the band leaded by Colin Pryce-Jones is highly professional, very well rehearsed, with excellent musicians. The Rapiers are going to launch a new album very soon!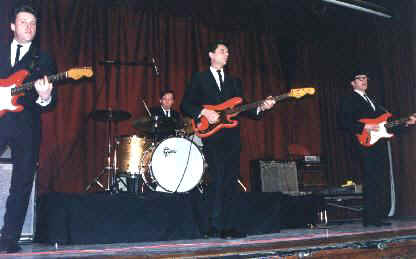 The Rapiers


Hank Marvin - Live At Hastings

On April 26th, 2000 we went to watch the Hank Marvin show at Hastings, about 90 miles from London. We had the opportunity to travel together with Robert Humphreys, our friend and web master and Nick Kellie, a brilliant 17 years old guitarist. After a 3 hours driving (due to the London heavy traffic) we arrived at the White House Rock Theatre at Hastings, a nice town on the UK coast.

The show started at 7.30 PM when Hank's group came on stage: they were: Ben Marvin (rhythm guitar), Matthew Letley (drums), Warren Bennett (keyboards) and Mark Griffiths (bass).
Hank started his show playing a nice arrangement of "Shindig". Then came, "Young lovers/Live and let die/Dance on/Find me a golden street/Sound of silence/A hard days night/Argentina/Atlantis/It doesn't matter anymore/Lucille-Rip it up-Blue suede shoes/Oxygene/Pipeline/Mustang/Gonzales." This 1st set lasted around one hour.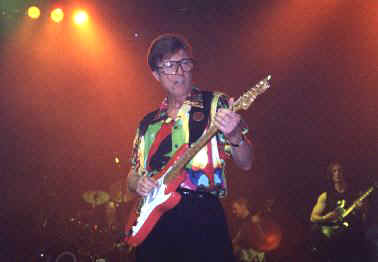 Hank Marvin, Paris Olympia March 17, 2000

After a 20 minutes break for some sandwiches, Cokes, etc. started the second half with "TheGood Bad And the Ugly" then came, "Man Of Mystery/FootTapper/James Bond Theme/From Russia With Love/Guiness/Nivram/Jessica/ Guitar Tango/Cavatina/Flingle Bunt/Riders In The Sky/ Wonderful Land/We Say Yeah/Apache."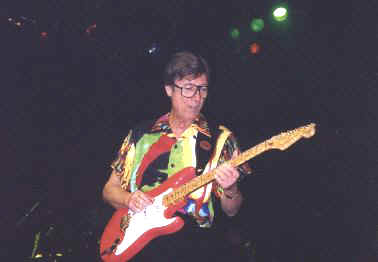 Hank Marvin, Paris Olympia March 17, 2000
Unfortunately we were not allowed to take pictures from Hank Marvin show at Hastings. However, thanks to Eliano D 'Antoni who watched Hanks presentation at the Paris Olympia, just one week before Hasting's show, we are able to present some photos to illustrate this report.

(We thank George Geddes, Jim Grant and Jim Nugent for the DECUK and Pipeline instro groups playing listings. A special thanks to our friend and web master Robert Humphreys for everything he did helping us to materialize this wonderful trip to UK)


January 2000, Issue 18, Volume 5

THE TIGHTROPE -
INSTRUMENTAL SURF MUSIC IN SÃO PAULO

The Tightrope are a surf instrumental trio composed of Benedito da Silva (lead guitar), João Rinard (rhythm guitar) and João Maurício (drummer). Benedito (Benny) and Rinardi are veterans from the sixties. In 1962, they created an instrumetal group, THE LEADERS, who used to play the ballroom circuits. Since 1995, THE TIGHTROPE are performing in São Paulo city, with the show "Surf Music - The Big Wave". The group is playing regularly in colleges,
theatres, ball rooms, etc.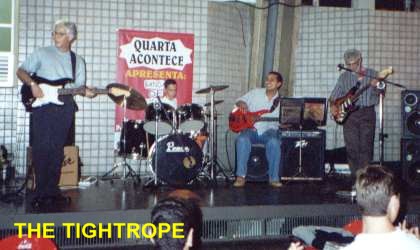 ________________________________________________________________________

NOKIE EDWARDS IS BACK
WITH FOUR NEW JAPANESE CDs

In September and October 1999, King Records label (Japan) issued four new instrumental CDs by Nokie Edwards. The first CD (Slaughter On 10th Avenue, King KICP 8516) is a compilation of old Ventures tunes. The second CD (Plugged & Unplugged, King KICP 701) was recorded in Nashville, USA with American musicians and has 6 excellent tunes performed on the acoustic guitar. The third CD (1991 Live At Yakult Hall, King KICP 702) presents a performance of Nokie, recorded live at the famous Yakult Hall, Japan on 5 May 1991. The fourth CD (1992 Live At The Blues Alley, King KICP 703) also presents a live recording of Nokie Edwards performed on 8 October 1992.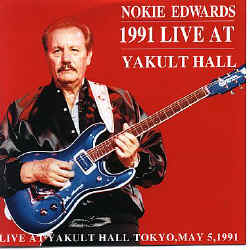 _________________________________________________

HISTORY OF BRAZILIAN OBSCURE INSTRUMENTAL GROUPS FROM 1960s

Review of some very rare Brazilian singles, EPs and albums released in the sixties by very obscure groups such as The Condors, The Kingstones, The Bottles, The Crazy Boys, The Black Boys, The Tip Top's, The Titans, The Sparks and The Revolution. At that time, lots of teenage groups were hired to record just a single or an EP. Some of them (The Tip Top's,
The Titans, The Revolutions, etc) recorded just one album and disappeared. Most of their records were issued by obscure labels that do not exist anymore and do not present any detail about the group members, their city of origin, recording date, etc,. As a consequence, it is difficult to track their history. This report reviews these rare recordings and presents some of the group's data, supplied by some collectors.
________________________________________________________________________

GUITAR HEROES - CLIFF GALLUP

A summarized Cliff Gallup's biography taken mainly from some of Gene Vincent and Cliff Gallup's Internet sites. Gallup has influenced many guitar players such as Eric Clapton, Hank Marvin and Jeff Beck who has recorded an album (on CD) with Gene Vincent & Bluecaps' tunes, just to pay homage to Cliff Gallup. In spite of being a guitar legend, he was a very modest guy and as per his request no single word about his playing with The Bluecaps, was included on his obituary. Cliff passed away in early 1989, at a Chesapeke Hospital, USA. His guitar riffs are still echoing on most of the recent rockabilly recordings.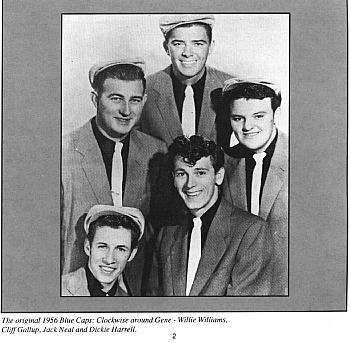 The original 1956 BlueCaps: Clockwise around Gene - Willie Williams, Cliff Gallup, Jack Neal and Dickie Harrell
_____________________________________________________________________

THE SHADOWS - EARLY DAYS (1958-1960)

Very interesting report about the early career of Hank Marvin and Bruce Welch, written by Rob Humphreys, our webmaster. Rob used to watch Hank and Bruce playing as a duo at the Coffee Bar Two I's, in London, before they founded The Drifters. Rob also watched the birth of The Drifters and gives many interesting details about that group composed by Hank, Bruce, Terry Smart (on drums) and Ian Samwell (on bass). Rob Humphreys reports the early performances of Cliff Richard & The Drifters that he saw in the late fifties. A must read article for any Shadows and Cliff Richard fan.
Written specially for our Newsletter by Rob Humphreys
________________________________________________________________________

INSTRUMENTAL CD REVIEWS

Instrumental CD reviews by Fez and Aqua Velvets(two US modern surf instro bands), Nokie Edwards (his latest CD issued in US), Miles Corbin (lead guitarist of the Aqua Velvets), Mustangs (their latest compilation album plus live bonus tracks) and Silver Strings (a band of just one
musician that plays all instruments: Matti Luhtala).


Volume 5 - Issue 17 - October 1999

FIRST CD BY OS ARGONAUTAS

The first all instrumental CD by Argonautas has just been issued in Brazil (Os Argonautas, GENS 006). The band is composed of five brilliant young musicians, who have composed all the 14 tracks of their first instrumental album. They play modern instrumental surf music but highly influenced by Dick Dale, Ventures and Link Wray (their idols). Their music has influence also of the Brazilian and Latin America music and rhythms. During the recent Man or Astroman? Brazilian tour ( early October '99) they were invited to open some shows of that famous U.S. surf band.



THE MUSTANGS - ROCK INSTRUMENTAL FROM FINLAND

Toshiyuki Yamaguchi (a famous Japanese collector) presents the summarized history and discography of The Mustangs, a famous instrumental band from Finland, who have the excellent lead guitar player Matti Luthala who started his musical career with Mustangs when he was just 16. He left the group on 1993 to follow a solo career and play in other groups, but rejoined recently with the brothers Tuominen (co founders of The Mustangs, in early eighties) and are touring again in Finland. They have just released a new compilation CD on Echo Records ("Showcase", Echo, The Netherlands) which has various live tracks.




MAN OR ASTROMAN? 1999 BRAZILIAN TOUR

The U.S. surf instro band Man or Astroman? toured 5 Brazilian cities at big venues with packed audience. The group is known by their modern instrumental style, with lots of guitar effects and nice visual effects on the stage. This was the 2nd Brazilian tour of Man or Astroman?. In some of their Brazilian shows, they were opened by local Brazilian surf instrumental bands like Os Argonautas, who were praised by the U.S. musicians of the Man or Astroman?, for their repertoire and musicality.

HISTORY OF THE ARGONAUTS

The complete history of Os Argonautas (the newest Brazilian instrumental band) as well as their discography, is related by the musician Gustavo Dreher, their rhythm guitar player. Their first shows, their musical influences (Ventures, Dick Dale and Link Wray), their line up changes, their recordings and plans for the future, are presented in details by Dreher.


JET HARRIS - THE RISE OF PHOENIX

A complete report of the Jet Harris live perfomance held on 8 July 1999, in the Millfield Theatre, Edmonton, London and reported by George Geddes (Scotland), including details of the show's repertoire, backing group line-up, instruments, etc. George did a nice job describing the Jet Harris live perfomence as a true rise of the Phoenix! Excellent article for all Shadows and Jet fans!



GUITAR HEROES - GEORGE TOMSCO BIOGRAPHY

Written by Afonso Villano Netto, a renowned Brazilian guitarist who has recorded with the famous instrumental bands The Jet Black's and The Arts, this article presents the complete biography and details of the early musical career of George Tomsco, the lead guitarist of the famous U.S. instrumental band, The Fireballs. The reporter is in contact with Mr. Tomsco and has many interesting details of his guitar techniques, the way he used to tune his Fender on late fifties, the way Norman Petty used to record the rhythm guitar, etc. Very interesting, mainly for guitar players.



CD REVIEWS

Various all instrumental CDs are reviewed on this issue, including CDs by Ventures (V-Gold and Walk Don't Run 2,000), The Lively Ones(Heads Up!The Best Of), Various Artists (Surf Monsters), Colyn V.Pryce Jones (Guitar Heaven), etc.


Volume 4 – Issue 16 – July 1999


This issue was totally dedicated to the celebration of The Ventures' 40th anniversary and contained:


The Ventures full history.
From 1959 – 1999 with extra focus on their early career (1959-60).

The Ventures Brazilian discography. Including the unusual track listing of the Brazilian LPs which were totally different from the equivalent US albums, with rare tracks such as Tarantella).


Review of The Ventures rare recordings. Including some unusual Brazilian LPs with different covers and tracks from the similar US albums plus review of Japanese bootlegs and "Ventures In The Vaults" CD series with comments of each track).


The Ventures biographies. With details of the life, career and participation of each Ventures member, including the less famous players, such as David Carr, Joe Barile, Bob Reisdorff, etc.

DON WILSON AND BOB BOGGLE THE VENTURES' CREATORS IN EARLY 60'

The Ventures discography on CD. Issues by See For Miles (UK) up to July 1999, including comments on the the correspondent US and Japanese albums.

Nokie Edwards complete biography.

NOKIE EDWARDS IN THE STUDIO

A full page review of Nokie's musical career (with The Ventures and solo).

The Ventures US albums discography. A complete listing of all American Ventures LPs issued from 1960 to 1983 (album titles, serial #, recording company and release date listed chronologically).

ALSO FEATURED:
Pipeline 1999 Convention, a summarized review (with photo) of the latest Pipeline Instrumental Convention held in UK, on April 1999.
(Report and photo by Alan Smith, UK).

Shadowmania '99 , a well detailed review of the latest Shadowmania event, held in UK on May 1999 including a full listing of all instrumental tunes played by all bands (Rapiers, Moonlight Shadows, etc.) at the event.
(Report written by George Geddes, Scotland).


- Review of Malcolm Campbell's book "A Guide To The Shadows and Hank Marvin On CD".


- Instrumental CD review, with emphasis on the latest Shadows CD reissues on digipack plus some of The Ventures CDs issued by See For Miles (UK).

April 1999

Features:-

OS ARGONAUTAS
- A surf instro music band from Porto Alegre
city, to the south of Brasil, close to Uruguay.
Os Argonautas were formed in 1997 to play only surf instrumentals. Their repertoire is influenced mainly by Dick Dale. They usually play covers of Misirlou and other Dale's tunes. But they play also local folk songs, Spanish tunes, etc., all in surf instrumental arrangements, which
show the group creativity. They have recorded some demo cassettes and now are in the studio mixing their first all instrumental CD to be released soon. Contact the group through their bass player, Regis Sam at regis.d@compujob.com.br



SURF MUSIC IN BRASIL
Most (if not all) Brazilian instrumental bands
from 1960's were highly influenced by the surf instrumentals released in California, in early
sixties. Bands such as The Jordans, The Phamtoms,
The Clevers, The Youngsters, Jerry Jefferson,
etc., have recorded some surf instrumental
tracks such as Pipeline, Church Key, Wipe Out,
etc. Pipeline was a very popular song in Brazil,
in early 1960's and its riff was a trade mark of
some local bands. In the nineties we have
experienced a surf instrumental revival.
New bands such as Os Ostras, The Gasoline,
Argonauts, The Krents, etc., are very active
on the night clubs circuit.
Os Ostras have recorded two CDs with 8
instrumental tracks on each. In August 1967,
Dick Dale toured in Brazil in three cities
with packed audience. The famous Del-Fi
surf music catalog has been locally re-issued
by Abril Music.



GUITAR HEROES- CHET ATKINS

Chet Atkins has influenced the career of 9 out of 10 guitar players.
He is a master. His guitar technique is unique and his firsts albums (now being reissued on CDs) are anthologicals. It is amazing what Chet did in the 50's recording in 2 or 4 tracks. His summarized musical career is presented in this report.



HANK MARVIN AND THE SHADOWS NEWS
George Geddes, the famous Shads biographer
reports the latest Hank Marvin and Shads related activities with emphasis on the next Shadowmania event.


THE HISTORY OF NIN & YOUR BOYS
A teenage instrumental group created in 1962 by Osvaldo Luis Posi (nicknamed Nin) , a young and talented guitar player from the small town of
São João da Boa Vista. According to Nin, he
decided to go to instrumental after hearing Hank Marvin's riff in the song Dynamite (by Cliff Richard). They were Shadows influenced, but Nin was a
good instrumental composer. In mid 1963 they
recorded their only album which included 5 tunes composed by Nin. This album (Twist Na Astor,
Astor Records A-1013) was issued in a very limited quantity and is today a real collectors item.
The group didn't have much financial resources,
so, they built their own guitars, bass and amplifiers, which was really amazing, considering a teenage
group and only 16-19 years old.
Nin lives now in Arthur Nogueira city and is a very known guitar teacher, having developed his own teaching methods.



Plus:
CD Reviews:
Nine instro CDs by Susan & The Surftones, Jon & Nightriders, Eddie Angel, Les Baronics, The Torquays, The Woodies, The Shadows. etc., are reviewed.

(JAN 1999)



THE VENTURES NEWS
GUITAR HEROES - Scotty Moore

PLUS:
| | |
| --- | --- |
| | A Brief history of the Electric Guitar |
| | Hank Marvin In Concert 1998 - 40th Anniversary Tour |
| | CD Reviews |