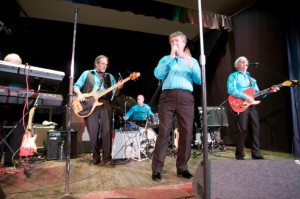 Robb has spent a lifetime singing. He was a boy chorister at his local church and went on to perform with grammar school, college and university choirs. As an adult he has appeared in over 1,000 concerts (from the Royal Albert Hall to Broadmoor, from the Kremlin to Thorpe Park, from the South Bank to the Shasta Dam!!) and in 15 different countries with the Reading Phoenix Choir, the A440 Choir and the Occasions Singers. As part of these ensembles he has broadcast on BBC1, BBC2, ITV, Radio 2, Radio 3 and Radio 4. Memorable events have included BBC Choir of the Year, appearances on "Songs Of Praise" and even once deputising for the BBC Singers. More recently (as part of Occasions) he has backed Blake onstage in concert and been a backing singer for the professional West End touring production of "Godspell".

A published Music journalist and author (his articles and notes have appeared in "Q", "Mojo", "Record Collector" and "Music Collector") he has worked as a consultant for many record labels, advising on and compiling / annotating over 50 archive reissue LPs/CDs. He has also worked for the Cliff Richard Organisation as well as Hank B Marvin and The Shadows. Currently he is chairman of the Joe Meek Society. He has broadcast on local radio as well as Radio 2 and BBC / ITV. Because of these ventures (spanning nearly 40 years), Robb has built up many contacts and friends in the music business.
On the more Pop side of music, Robb has been lead vocalist with the Choice and RGM/Joe Meek tribute group the Triumphs – appearing with them in both the Home Counties and Gloucestershire. Two appearances at London's Ace Café were particularly memorable as was a Joe Meek Memorial Concert at Amersham's R 'n' R Club. As part of the Triumphs he has appeared with and / or backed former 60s artistes such as John Leyton, the Tornados, the Honeycombs, Mike Berry, Dave Kaye, Malcolm Lenny (ex- Packabeats), Bobby Rio and Danny Rivers – plus DJ – cum – singer/guitarist Mike Read.
Robb performs with two different duos, appearing at care homes and day centres throughout Berkshire and Oxfordshire. He is a very experienced performer/singer/entertainer. Now he is keen to develop his own solo act (with backing tracks) performing many classic songs from the 1950s and 1960s. He occasionally performs songs from earlier and later eras, but the 1950s / 60s is his preferred genre.
Photo shows Robb onstage with The Triumphs RGM/Joe Meek tribute group